Located in Guanacaste, in the Nicoya Peninsula, on Costa Rica's Pacific Coast, Tamarindo used to be a quaint fishermen's village. Tamarindo has warm, pristine beaches, lush forests, and abundant wildlife. Nearby lies the Tamarindo National Wildlife Refuge, with its forests, mangroves, and estuaries. There is also the Marino Las Baulas National Park, where every year, from  December to January, sea turtles of the leatherback variety come ashore to lay their eggs. Then big tourism "discovered" Tamarindo. Nowadays beautiful Playa Tamarindo is a popular holiday hotspot, with hotels, restaurants, spas and other amenities. It is also a haven for surfers. Several world-class competitions are held here every year. The best thing about Tamarindo is that the town has not lost its laid-back atmosphere and local flavor. Adding to the fun, this January 3rd to January 8th, 2019, it will hold the 3rd annual edition of one of the youngest music festivals in Costa Rica: the Ocaso Music Festival (OMF).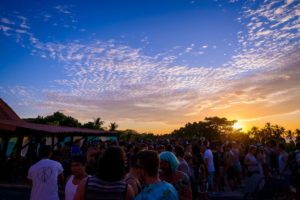 – Costa Rica's festival scene is very active throughout the year. You can be part of all sorts of events. They span many of musical genres and activities and beckon to a world crowd.
– Check out Envision, for instance. This transformational festival will take place from  February 28th – March 3rd, 2019.
– Ocaso Music Festival has been dubbed "the best underground music festival in Central America for fans of house & techno".
This festival comprises several "musical zones": next to the pool, on the beach and in the jungle. One thing that makes the experience unique is that not two performances happen at once so attendees can maximize their enjoyment.
Notes for the Uninitiated
– House and Techno are two styles of electronic dance music. As they have a lot in common, you may think of them as Romulans and Vulcans.
– Techno is considered typically non-melodic, without vocals.
– House sounds slower than Techno which is faster.
– Experts consider House to be more commercial than Techno.
– Some well-known international Techno and House artists are Carl Cox, Danny Tenaglia, Mark Farina, Miguel Miga.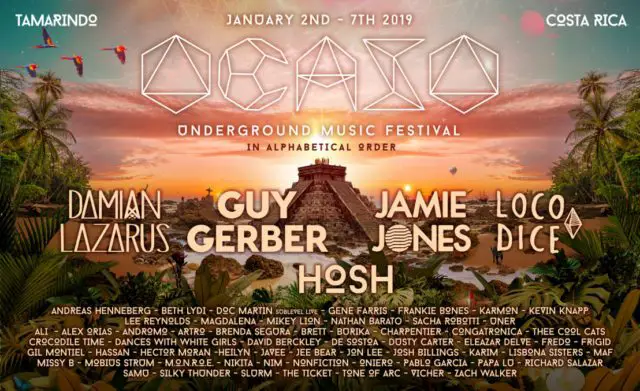 Star Lineup
A plethora of performers (34) has been announced for the event. To name just a few: Damian Lazarus, Guy Gerber, Jamie Jones, Loco Dice,  HOSH, Andreas Henneberg, Beth Lydi, Doc Martín, Gene Daréis, Frankie Bones, Kevin Knapp and more.
Tamarindo is approximately an hour and a half hour drive from the city of Liberia, and about four or five hours from the capital, San Jose. Another option is to rent a car, so you can explore.
If driving through unfamiliar roads in a rental car is not your thing, then you can fly in from  San José (SJO). There are also shuttles or you can take a bus. Several go directly from San José to Tamarindo.
Q&A With Ocaso's Father
Devin Ellis,  OMF's creator is originally from Los Angeles, California. He now lives on an organic farm in Southern Oregon.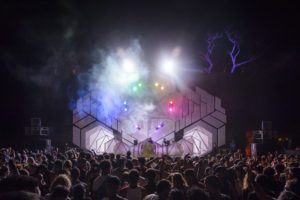 TCRN: Hello David. Please tell us about the festival.
DE: Ocaso began as an idea I had while attending a similar festival near Tulum, Mexico in 2015. I sat and thought to myself "Why is there no underground techno/house festivals in Costa Rica?" I decided that night that I would try to start a new festival brand in Central and South America.
TCRN: What is your previous experience in event planning and promoting?
DE: "I started producing underground house and techno events in Los Angeles in 1995 as the scene was just developing on the West Coast of the US."
"Southern California is a very complex market and as it grew it did not really allow for independent promoters, so I wanted to find a place in the world where my knowledge and history with producing dance music events would be more of an asset."
TCRN: Why did you choose Costa Rica?
DE: Costa Rica has always held a place in my heart. The love, sense of family, and unity is like no other place on Earth. I also wanted to find a place that has historically good weather during January. That brought us to Guanacaste and specifically Tamarindo. Once we found La Senda, I knew we have found our permanent home for Ocaso.
TCRN: This is an environmentally aware country. How does Ocaso fit into it? What are your plans in order not to spoil the location's natural beauty?
DE: Ocaso is a leave-no-trace event. This means that we leave our locations in superior condition than when we arrive every year. We recycle all of our waste and use only organic, locally sourced food products for our concessions. We are also putting the funds towards a beach clean up for Tamarindo Beach the week after Ocaso in order to clean up after the large New Year's events. We have nothing to do with the NYE events on Tamarindo beach but we noticed that they create a large amount of trash in town and we wanted to help with the problem by providing a team to clean up and improve the situation for the community.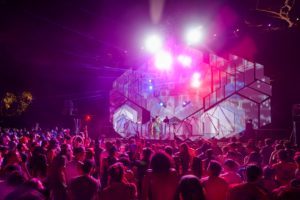 TCRN: Are there any sponsors for Ocaso?
DE: We have no sponsors. Ocaso is a privately funded event with no hidden interests or sponsors. We value the artistic integrity of what we are trying to create and do not want that to get blurred by business or large corporations.
TCRN: Tell us about the security measures for the festival.
DE: The security team and the plans we have in place for Ocaso are like no other production in Costa Rica. We pride ourselves on putting the safety of our attendees before anything. This is why we have multiple levels of security and we are also working in close contact with the Costa Rican authorities to make sure we are doing everything we can to coordinate and keep Ocaso and the city of Tamarindo safe for all attendees.
TCRN: What are your expectations for this year's edition of the OMF?
DE: We really have no expectations. We only hope to continue to grow the show on a grassroots level, mostly through word of mouth from previous attendees. The vast majority of the attendees are coming from Central America so we are very excited about the amazing love and support we are getting from them. We only hope to continue to create a safe and loving environment, so people from all around the world can come to enjoy the artists at Ocaso as well as all the natural beauty that Costa Rica has to offer.
TCRN: Costa Rica is well known for its "Pura Vida" attitude? What do you think about it?
DE: As an organic farmer, "pure life" is a mantra that I use to guide my own life. Having a healthy body and mind results in a much happier person. The Pura Vida attitude and the love we get from Costa Rica is like nothing I have ever experienced. I want the world to experience the culture, love, and positive vibrations that live in Costa Rica.
TCRN: How is Ocaso different from other festivals around the world?
DE: Ocaso, or sunset in English, is based upon the energy that the sun and moon provide. There are a few things that set us apart from other festivals. Our intimate size creates a close sense of family and community that does not exist at many massive festivals. We are doing everything we can to put a personal touch on each and every aspect of the festival by communicating directly with our attendees.
TCRN: How about the audience?
DE: Our audience has been absolutely amazing. When I first started planning, we thought that larger portion attendees would be coming from North America and Canada to escape the cold winter weather. In past years, the audience has actually been about 80% Costa Ricans, so we have changed some of our promotional plans accordingly. The energy that comes from the people of Costa Rica is absolutely amazing and I think it is one of the most defining factors of Ocaso.
TCRN: This will be Ocaso's third edition. What's new?
DE: We have many new additions for Ocaso this year. The large group of headlining artists is on a totally different level than we have had in the last two years. We also have added some amazing new things to our products as well as adding a group of live costumed performers that will be at every event. I don't want to give away too much, but let's just say we are trying to really WOW our audience this time around.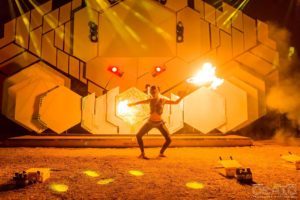 TCRN: Are there any anecdotes, fun facts, funny moments?
DE: Well, there are certain things about producing events in Central America that can get tricky. The first year, we had to provide proper CDJs and mixers to be in line with industry standards. They did not exist for rent in Costa Rica at the time so we had to purchase them in Los Angeles and bring them with us on our flight down to Tamarindo. Our airline lost the luggage and it did not arrive in Costa Rica until days after the event. We ended up scrambling to find everything we needed from private parties. It all ended up working out because we have such a great team, but it was nerve-wracking, to say the least.
TCRN: What are your long-term goals for Ocaso?
DE: The goal for Ocaso is to continue to grow at the rate we are growing now, and we want to be careful not to grow too fast. We don't ever want to push the festival on anyone. We just want to create a space that is so enjoyable for everyone that more people want to come to experience it every year. We really don't want to expand too much more. Ocaso will never be a 20,000 person festival. We do hope to add weekend camping options to the festival for 2020, and we also want to expand the Ocaso brand into additional cities in Central and South America over the next 24 months.
Thank you, Devin.
The event's address is La Senda, Tamarindo, 50309, Costa Rica.
Several operators offer different packages. These include options according to the attendees' particular needs and budgets.
Tickets and info are available at:
https://support.festicket.com/hc/es