Playa Tamarindo is the main beach of the district that bears the same name. Also, it is one of the most renowned tourist destinations, as well as one of the most accessible places in the northern region of our country.
Enjoyment for all
This beach is located in the Bay of Tamarindo, within the Las Baulas National Marine Park. It is distinguished by its gentle waves and crystal clear waters, although it also has strong currents and sparsely submerged rocks. Its sand is yellowish, exuberant vegetation, reefs and beautiful landscape in general. It has an arch shape and has a small slope, therefore the safety for those who bathe there is very good. You can also carry out different activities such as hiking, fishing, surfing, among other great activities.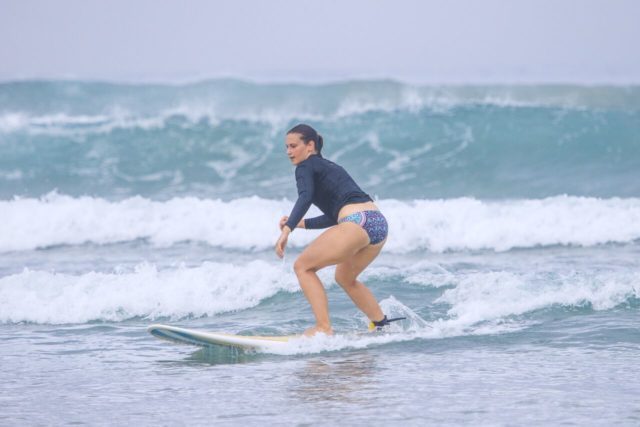 Since Tamarindo is a Wildlife Refuge, it protects the spawning of leatherback, olive and green turtles, which arrive between October and March. The park offers exhibition hall facilities, general information, drinking water, latrines, trails, and local guides.
While it is true that some of the most beautiful beaches in the country are difficult to access, this is not the case with Tamarindo Beach, which has forged an extremely popular reputation so that all visitors can enjoy the beauty of its beautiful spaces.
This destination is very popular with tourists due to its current development, as are the paved roads, but it is not a city that is crowded people or businesses. There are so many activities for all kinds of tastes, that the visitor's time here will not be enough in order to perform them all.
Today, it has become easier to get to Tamarindo thanks to the favorable road development, which includes not only paved roads but also bridges. However, there are other available options like, for example, taking a regional flight from the San Jose airport to the Tamarindo domestic airport.
Flying is faster, of course, but driving can be an adventure that will allow you to experience the authentic Costa Rican countryside. You can also fly to the Daniel Oduber International Airport in Liberia, this is the easiest way to get to Tamarindo since it is only 1 hour.
Experience its pristine waters!
Water is clearly the main characteristic of many coastal towns in the country, and Tamarindo undoubtedly occupies a primordial place. Whether the visitor is looking to swim, refresh or be able to engage into several adventures, there is always something here for all kinds of marine lovers. If you do not have access to a vehicle, you will go to the beach with your towel and prepare to have a fun-filled day. Those who are more adventurous will be able to rent diving equipment and spend the day exploring what is below the surface of the water.
If the person does not want to go underwater, activities such as surfing, kayaking, sailing and sports fishing are some of the activities that are practiced here. Surfing is very popular in Tamarindo, whether you want to practice it or just watch surfers from the beach. This area is a good place for novice surfers. However, waves and wind are known to be calm, so those who only have a little experience will be able to surf very easily.
If the visitor does not have the necessary experience, you can always have the facility to sign up for some surf lessons. Tamarindo will be an unforgettable place to learn the basics of surfing. If the person is more experienced, they can sign up for personalized surf tours.
In Tamarindo, visitors have the incredible option of enjoying a lot of outdoor activities, from horseback riding, biking, rafting, hiking, golf and much more. One of the most popular outdoor experiences that allow us to enjoy a lot in Tamarindo is the Las Baulas National Marine Park. Costa Rica is a country where we believe in the preservation of the natural beauty of the land and the protection of animals in danger of extinction, and this national park does just that.
This place is a protected area that serves as a sanctuary for the population of sea turtles. These magnificent creatures use this area as a nesting site, without fear of being caught or their eggs were stolen. You will also appreciate many other animals in the park, which includes more than 150 species of birds.
Finally, the cuisine of our country is and will always be exciting. Today Tamarindo offers some of the best dining experiences, which are available at local restaurants. For those staying in a beautiful holiday home where they are allowed to prepare their food, the area offers traditional local markets where they can make their purchases to enjoy Costa Rican flavors.
After an exciting and great day exploring Tamarindo, we will be able to appreciate a beautiful sunset. But the fun does not end at the beach, there are a variety of bars and nightclubs open for those who visit to have a drink and dance on the dance floor all night long.