By Zahrah Sita
Guest Contributor
Ready to transform? The annual Envision Festival is about to begin!
The spiritually oriented event focused on the arts, music, permaculture, community, and health begins Thursday and lasts all weekend.
Held every year for the past six years in Uvita, along Costa Rica's Pacific "Costa de Ballenas" or Whale Coast, Envision draws visitors from a number of countries.
As part of the superb musical roster this year, hailing from the U.S. west coast, is Random Rab, who has performed at the festival since its inception.
Random Rab's unique electronic groove sets are a popular draw for many festival attendees, and this year he is sure to gain new followers.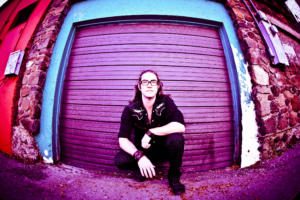 Random Rab, music master and instigator of epic dance experiences, has been leading transformational sunrise sets at Envision for the past several years. This years sunrise set with Random Rab will take place on the final morning of the festival – Sunday the 26th.
Rab chatted this week with The Costa Rica News about his experience at Envision Festival, his music, and more in a live interview:
TCRN: What are the biggest influences on your music?
RR: Melodies and harmonies, melodic structure, and compositions that tie in subwoofer-filling bass lines and hip shaking beats – to create a big cosmic soup of music.
TCRN: What's the biggest change you've seen in Envision over the years?
RR: Obviously more people, the first year with a few hundred people made it feel like a private party … It's also more organized, yet the festival still retains its original spirit.
TCRN: Tell me about your sunrise set.
RR: Sunrise is really special in Costa Rica. The sun is actually closer to you than almost anywhere other than the equator. And you are there with the jungle, and the monkeys start singing. People gather back together as the light changes — looking out at the crowd I can see everyone look like one big family.
TCRN: What's the highlight of Envision for you?
RR: Each year at the sunrise set, there's been a giant group hug that spontaneously forms with hundreds of people embracing. That moment is one of the peak moments for me.
We at TCRN wish all festival goers safe travels, a fantastic experience, and, of course, plenty of free flowing on the dance floor at the Sunday sunrise set.