Costa Rica is a shining example worldwide of what has to be done to achieve a more ecological, more conscious, more loving future for our planet.
Throughout the country there are groups in various sectors that promote recycling, many of them are responsible for creating annual schedules for the collection of both recoverable and electronic waste.
There exist also specific rules that must be followed by all those people who are interested in giving their contribution to the land and being part of the initiatives, just to mention one is that citizens must remove the waste properly packaged and with a label indicating that it is for recycling.
For example, with respect to the collection of materials some of the categories and subdivisions are:
Cellulose recyclable waste, the material that is collected is divided between Paper and Cardboard: It can be cardboard, paperboard, egg carton, newspaper, colored paper, among others.
Plastic containers: within this group are water bottles or soft drink, bottles of detergents and cleaning products identified of course with their symbols.
Tetra Pak Canisters and Containers: The materials, in this case, are aluminum cans, tin containers, and packages identified with the Tetra Pak symbol.
Glass: It can be crystalline, amber or green.
What are the recoverable wastes? They are all those recovered from the stream of ordinary solid waste. And the electronic waste? They derive from electronic devices, both domestic and commercial, among them, computers and cables.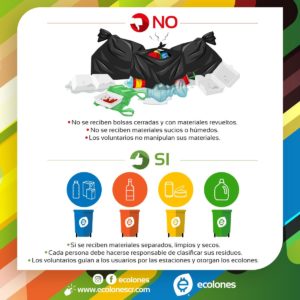 The municipalities in Costa Rica have an important contribution for recycling, many of them like the Municipality of Heredia, Municipality of San Ramón, and Municipality of San José, are responsible for motivating their inhabitants for the collection of waste.
It is important that the Costa Rican population be aware of the places where waste can be taken for recycling. Some of them are: "Ecological Services", located in the Zona Rental (San José), also La Calma Recycler, located in San José; "Reciclaje Valenciano", located in Alajuela and "Recicladora Capri", located in San José.
Ecolones always constant in ecological activities
Ecolones is the first virtual "ecocoin" of Costa Rica, created with the purpose of giving a quantitative value to the processes involved in recycling waste products like recovery, separation, and classification, as well as promoting active recycling campaigns, and generating positive changes in the consumption habits of citizens in general.
This program (Ecolones), includes consumers, collection centers, and municipalities, not to mention the joint work of public and private companies.
The most recent Ecolones campaign made a recollection of plastic bottles in La Sabana, it was an activity with a huge participation that left as a result of 12 tons of recoverable waste material on-route of reaching the 25-ton world recycling record, with always the same desire and satisfaction of contributing to our planet´s safeguard.