I never thought of myself as someone who was not aware of how I was feeling, or in truth as someone who would ever allow herself to lose herself again. See, I think when we have been to the bottom of the barrel; when we have rolled around in the muck lost and hurt then I think we make a promise to ourselves to never allow that to happen again.
But, life is a spiral, not a straightaway and so sometimes we lose ourselves again. Maybe not through the traumatic way in which we do when we experience divorce, death or the loss of a pregnancy; but we become disconnected from our essence and we forget the fire that we have for life. We forget who we are because we get busy with life, by taking care of parents or young children, with working and fitting everything in a 24-hour period that should take doubles that.
I was aware that I needed time for myself after my divorce, but once I had gotten into the routine of Super Mom Do-It-All, I had forgotten that I need time with myself too; that I need to make sure I honor the woman that I am before the roles that I fill, like a mother. But doing deep soul work is not something that occurs only once and then we are off the hook from ever doing it again, it does not only happen when things are wrong because the reality is sometimes it is not the difficult moments we have issues within life-but the wonderful moments as well.
After my divorce, I had grown so much that I had not realized I had not plateaued, that perhaps on this journey of spiritual awakening there is no moment we reach where suddenly we are done. To be on the path to awakening means that we are committing to the journey, not to actually reaching the destination because there is no end. We realize that while we can have progressed far from where we were it does not mean that we actually have reached a true point of enlightenment.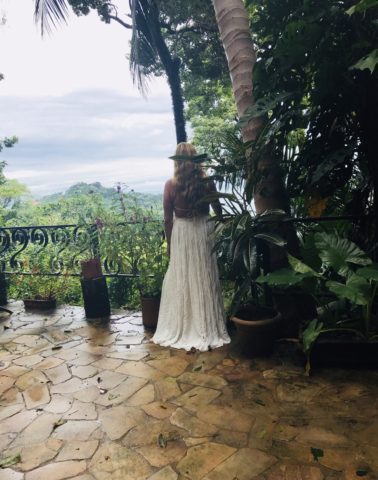 When I was preparing to leave for Costa Rica for the first time I was stressed but I did not think I was disconnected. There had been a lot of trauma experienced in the months prior because of the family dynamics, but again because I was in that mode of Super Mom, I was focused on everyone else besides myself. I was concerned about my children, about work and really never had that emotional or spiritual check-in with myself about my own wellbeing.
Arriving in Costa Rica I felt like I let out a breath I never even knew I had been holding. It felt like I had finally enough space between myself and the life that more wore on me that inspired me that perhaps I had found a place within the world where I was truly meant to be. After touching down, my 2 girls and I traveled to the Manuel Antonio area and suddenly understood why Peter Pan never wanted to leave Never Neverland. It was not that it was perfect, as we arrived with only the clothes on our backs after the airline had sent our luggage elsewhere, but there was a stillness that permeated the atmosphere there.
It was this peace that began to filter through my own soul and suddenly I began to realize who I truly was apart from the life I had built.
Deep soul work can include retreats, it can include Ayahuasca experiences, yoga or meditation but sometimes the deepest soul work we can do is just simply to remove ourselves from the day to day monotony. The first night in Manuel Antonio I remember bathing and settling my girls in their beds, kissing their foreheads and then going out on the balcony by myself. There was the soft glow of candlelight flickering against the stucco side and I made my way to the red hammock that was strung up in the corner near where the jungle was infringing on the patio, and as the Howler Monkeys called out to one another in their own type of eerie language, I sat down and cried.
It was not just a few years but the kind of sobs that shake lose everything that we have been holding inside; the fear and hopes, the let downs and strength we had to have despite no matter what happens. I let it go, all of it, and it was in that moment I realized that sometimes we build walls up against truly living and being present. It is not that we are unhappy, but for many of us, we become desensitized to our own lives because we do not feel we can live in the moment, or let our guard down and be vulnerable every minute or even that we can rely on others and so we build walls within our own existence.
We become fine with not actually being fine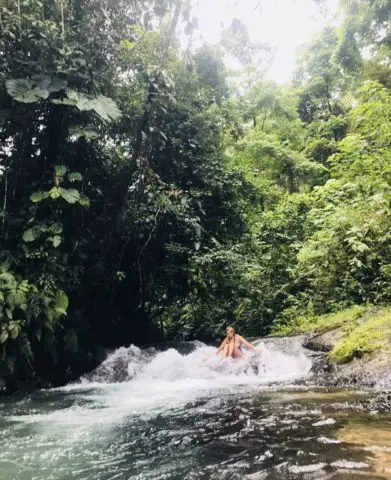 But when we are in the day to day, work, errands, doctor's appointments, soccer practice, birthday celebrations we become so preoccupied with doing what we are supposed to that we do not often realize it may not actually inspire us to truly feel connected to ourselves in our own lives. The Manuel Antonio area of Costa Rica has their own vortex of high vibrational spiritual energy that is alive in everything in that area; from the mountains, trees, wildlife, beaches, and even water. Just being there, just immersing yourself in the water feels like a spiritual practice. It was the ability to slow down, to eat the fresh vegetables and fruits from local markets, to walk barefoot in the jungle under the waning crescent moon and to just remember the important to stop and breathe.
And so it was within those moments thousands of miles away I began to understand what it felt like to be me again, what kind of life truly resonates with my soul, and ultimately to continue that feeling of deep soul work so that never again would I let myself forget who I truly was.