Before the recent eruption of the Fuego volcano in Guatemala, considered the most violent of the last 40 years in that country, as well as the one that has occurred in Kilauea in Hawaii, a new perspective on volcanoes has emerged for specialists, especially in Costa Rica, and the possible entry into activity of its own volcanoes.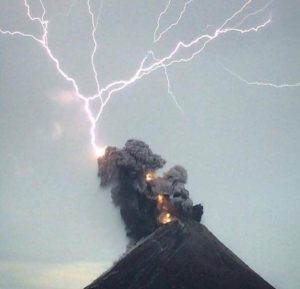 Due to the magnitude of the destruction that has occurred in Guatemala, where the volcano not only emanated ashes but also gases and rocks, causing the death of a large number of people and considerable material damage, some connoisseurs of the history of volcanic activity tend to compare it with Vesuvius, which surprisingly destroyed the city of Pompeii in Italy, in 79 AD.
For experts, the sudden change of volcanic activity must be taken into account by everyone, mainly by countries that have volcanoes that are active or dormant which could eventually become active.
Likewise, generating reliable real-time information for the populations near volcanoes is fundamental when it comes to saving lives, especially knowing how to react in cases of an eruption, planning evacuation routes, as well as where to go in case of an event of this type.
It is important to note that in Costa Rica there have been 290 volcanic outbreaks, but most of its volcanoes are currently in a dormant status. However, we must remember that in the year 2016 the Turrialba volcano generated a cloud of ash that kept the population on alert for a possible much greater activity.
How volcanoes work
It is difficult to determine the magnitude of the reaction of a volcano that enters into activity. Nevertheless, it is important to know and keep an up-to-date record of how this action has evolved, in order to have a much closer vision of the consequences that an eruption might have.
In the case of the Fuego volcano in Guatemala, what the specialists call pyroclastic flow was generated, it is a mixture of several elements that produce material damage in a more violent way.
For its part, the Nevado del Ruiz volcano, located near the Colombian town of Armero, which had been without activity for 69 years, acted differently, melting a glacier that generated a fatal landslide in 1985, causing the deaths of 25,000 people, hundreds of missing and leaving the town completely buried.
Costa Rica has also had tragic episodes throughout history: those of the Poás Volcano in 1953-1955; Irazú in 1963-1965; Arenal in 1968, Rincón de la Vieja in the 1990s; and Turrialba in 1864-66. This latter, from 2013 to 2016, was expelling ash, gases, and rocks, affecting approximately 8,252 animals and 261 hectares of crops in the surrounding areas.
It is worth to be mentioned what happened in the Arenal volcano in July 1968, whose sudden eruption caused the death of 87 people and the destruction of the towns of Tabacón, Pueblo Nuevo, and San Luis.
How volcanoes affect tourism
Despite the danger that the proximity to an active volcano represents for the subsistence of living beings, Costa Rica has known how to take advantage of these particular mountains that attract many tourists to the region.
Hot springs and monumental mountains are visited by locals and foreigners throughout the year, but in spite of this reality, there can be necessary modifications to this trend, altering it in a negative way for security reasons.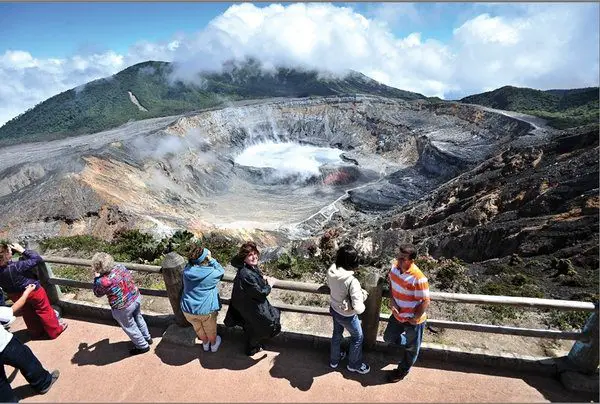 Costa Rica has been working on the activation of the Poás volcanic park, which was closed during April 2017 due to constant emanations from the volcano. However, due to security measures, not only this but all the countries with active volcanoes have restricted access to areas near them.
Similarly, other countries have taken measures in this regard. In Panama for example, due to the eruption of the Guatemalan Fuego volcano, Arkin Tapia, a geographer for the Institute of Geosciences of the University of Panama, calls to attention the activity of the Barú volcano. Noting that "we are in a time when the Barú volcano might have eruptive manifestations, after 500 years".
The 10 most potentially dangerous volcanoes in Latin America
According to the activity they have and with regards to the damage they have caused at some point in history, we have a top 10 list of these dangerous giants along Latin America.
The Popocatepetl, Mexico: Located between the states of Puebla and Morelos, it is one of the most active in this country. Its most recent activity was in 2016 when a cloud of ash of 3 kilometers high alerted the state of Puebla.
The volcano of Colima, Mexico: It is located in the limits of the states of Jalisco and Colima, its last activity was 2015 and 2016, with an intense ash cloud that forced the evacuation of surrounding communities.
The Turrialba volcano, Costa Rica: Located about 60 kilometers from San José, it had the largest eruption of recent decades, in September 2016, when it spread a giant cloud of ash.
El Galeras, Colombia: Located in the department of Nariño, it has maintained a constant activity ejecting ash and occasional smoke.
El Nevado del Ruiz, Colombia: Located in the coffee production zone of the country, it presents regular seismic activity, as well as ash emissions.
Cotopaxi, Ecuador: Located about 50 kilometers south of Quito, its last activity was in 2015 when it launched large clouds of ash and put the country on alert.
Tungurahua, Ecuador: It is located about 180 kilometers south of Quito. Since 1999, it has been active, alternating periods of relative calm with others of greater intensity.
Ubinas, Peru: Located in the department of Moquegua, between 2006 and 2009 it recorded the last period of high activity, with moderate explosions and expulsion of ash and smoke.
Villarrica, Chile: Located in the Araucanía region, it erupted in March 2015, after having been without important activity for 15 years.
Calbuco, Chile: This volcano in southern Chile, began activities after 4 decades of calmness, and in 2015 released a large column of ashes that declared a red alert and force the evacuation more than 4,000 people.