Nestled in the Central Valley of Costa Rica is one of the country's most bizarre natural landmarks: Poas Volcano. This region of Central America is home to a number of volcanoes, many of which are active, and many of which have lain dormant for centuries. But Poas boasts a number of unique attributes that make it a destination you won't want to miss as a visitor to Costa Rica.
Here are a few reasons why.
The Crater Lakes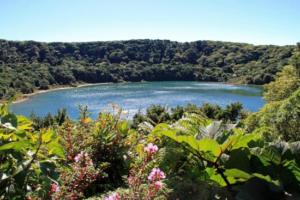 Poas is, technically speaking, an active volcano, but it hasn't seen a major eruption since 1910. Most activity takes place in its northernmost crater lake, Laguna Caliente (Hot Lake), which is one of the largest acidic lakes on the planet.
Bubbling with sulfur and steam, Caliente often shifts in hue throughout the day. At its brightest the lake is an opaque teal, though it sometimes fades to a chalky grayish green. Spectators sometimes see large swaths of bright yellow sulfur floating on the surface. No matter what the lake looks like when you visit though, you're sure to see a stunning sight.
Strange Flora and Fauna
The area immediately surrounding the main caldera has mostly been burnt away by acid rain, a direct result of the lake's sulfur content. The landscape is rocky and ashen, particularly to the west of the crater lake. But only a slight distance from the caldera, the vegetation is dense and lush with many marked walking trails for visitors to explore.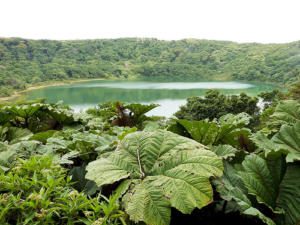 Costa Rica's most famous avian resident, the Resplendent Quetzal, is one of the many animals that call this region home. If you want to venture beyond the main viewing area through some of the forested paths, you may come across any number of other small birds and animals.  Many of which are particularly active in the early morning.
You probably won't run into any large mammals, but smaller critters abound – like agouti, snakes, and many multicolored insects. The toucan is a rare sight unless you have an experienced guide leading you through the forest, though other birds like toucanets, tanagers, and hummingbirds are abundant. Even if you don't encounter any animals, it's worth wandering the Escalonia Trail to see the endemic and unusually shaped Escallonia trees.
An Easy Trip There
Poas is one of the most visited national parks in the country because, unlike more remote (though still worthwhile) destinations like Monteverde and Manuel Antonio, Poas is an easy and accessible day trip from San José.
One option is to hire a tour company directly from San José for a day trip, which may include other services in addition to transportation, such as a meal or a tour of the park.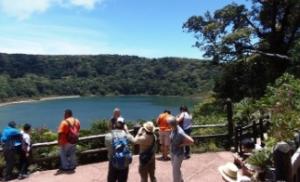 However, it is important to time your visit well.  Not only is early morning the best time of day for bird watching, but it's also the best way to guarantee a good viewing of the crater itself as it tends to cloud over by noon each day. The park opens at 8:00 in the morning, so plan accordingly. The trail overlooking the crater is an easy walk from the visitor's center, which has a small museum as well as a gift shop and café.
Plan Your Visit
Make sure you bring warm outer garments, as the volcano's peak is above the frost line and you may encounter below-freezing temperatures. The rainy season is at its height during late summer and fall, and the holidays are often overrun with tourists.  It's best to visit sometime in January or February to avoid crowds and rain, both of which will obstruct your view of the crater.
WRITTEN BY:  Anna Johannson   https://twitter.com/Number1AnnaJo
Contact Us for more information on what to see and do while in Costa Rica.