Some people assure that from the sky everything looks better. Maybe that is why many of us love getting to privileged viewpoints. In fact, the beauty of our cities and nature looks to be even more unique from a high viewpoint.

Changing your routine, enjoying Costa Rica from a different perspective, knowing your Canton, and going out to look for the most incredible viewpoints are activities you should add as your list of pending things to do. The options are so varied that they range from hotels and unique restaurants to incomparable places of rest.

MIRADOR OROSI

When you go to the beautiful Orosi Valley, it is always an excellent idea to visit the Orosi Viewpoint first and admire the beautiful view that this magnificent place offers and which is only 5 Kilometers from the center of Orosi.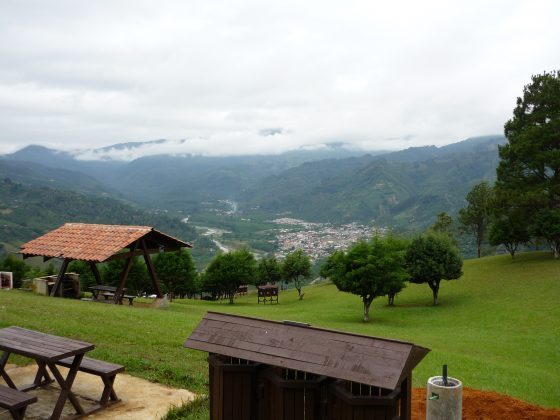 This viewpoint, with an impressive landscape of the Orosi valley, is truly enormous. With the Grande de Orosi river and the sunshine over its mountains, the Orosi Valley is about 15 kilometers south of Cartago, the former capital of Costa Rica (it was until 1823).
Mirador de Orosi is an excellent option when you want to make a one-day family trip at a low cost and without moving far from the capital, but knowing different places and enjoying the pure air and nature.
How to get there: It is located in the Orosi province of Cartago, the Paradise church, 3 Kilometers south.
Services and activities
Playgrounds for children
Ranches
Grills
Free parking
Ease of transportation service
Drinking water
Fare: Free entrance
Timetable: 8:00 a.m. to 4:30 p.m.
MIRADOR PICO BLANCO
One of the perfect viewpoints of the Central Valley located in a hotel and restaurant of an infrastructure similar to that of a castle.
How to get there: Located in the province of San José, district of San Antonio de Escazú. San Antonio church is 300 meters east and 1 Kilometer south.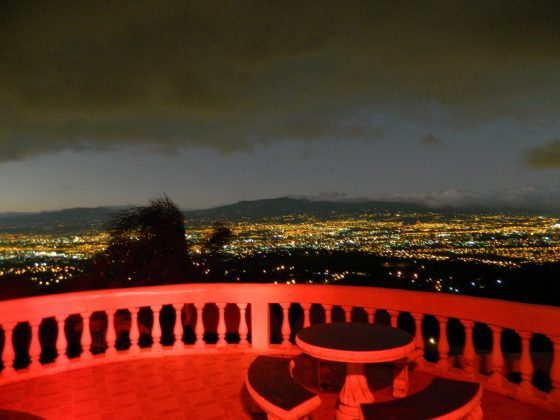 Services and activities
Coast of 4 areas bar, restaurant, a room of events and beautiful perfect viewpoint. In addition, they count on a lodging service.
Hotel 24/7
Fare: It varies depending on the service you choose, whether at the hotel or the restaurant.
Timetable: Monday thru Saturday, from 6:00 a.m. to 10:00 p.m. Sunday from 11:00 a.m. to 11:00 p.m.
MIRADOR QUETZAL
Wildlife sanctuary, characterized by having abundant vegetation and a cold climate at a height of 2,650 meters. They have a restaurant, cabañas, and trails at your disposal. They also have 11 chalet-type cabins with hot water and a heater for the night.
There is a 3-Kilometer self-guided trail (an oak forest path) where visitors can enjoy endemic trees of the area -some of them are more than 1,000 years old- as well as the mountain Cipresillo, where you can also watch and walk along a primary oak forest.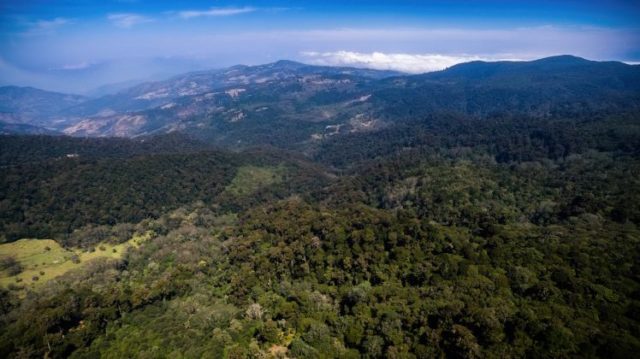 How to get there: San José, Kilometer 70, on the right side of Cerro de la Muerte.
Services and activities:
1. Trails guided by trained personnel
2. You can watch the famous Quetzal birds that characterize the place.
3. Trout fishing
4. Lodging
Fare: US$ 6 per person, for entrance to the trail.
Quetzal observation tour fare: US$ 16 (a guide included)
Timetable: from 6:00 am to 3:00 pm (to visit trails)
Facilities: Available from 6:00 a.m. to 8:00 p.m.
MIRADOR VALLE AZUL
It is a restaurant characterized for being a very cozy place, yet it is also known for its delicious pasta and wines. At Mirador Valle Azul you can taste the best wines, original Italian dishes mixed with essence, color, and texture. Mirador Valle Azul is a combination of nature, history, tradition, gastronomy and, of course, passion in an authentic and exquisite experience.
How to get there: Located in the province of San José, in the district of San Antonio de Alajuelita. You can also enjoy sports bars at 25 Kilometers east, 2 Kilometers south, and 1 Kilometer east the town.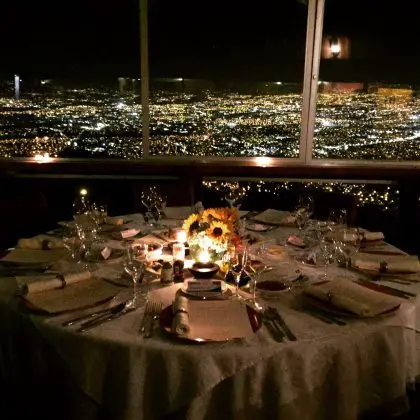 Services and activities:
Restaurant with Italian specialty
Bar with wine letters
Children's menu
Outdoor tables
Parking lot
You can make a reservation.
Fare: It depends on the service you want.
Hours: Monday thru Friday from 5:00 p.m. to 11:00 p.m. Saturdays and Sundays, from 12:00 m to 11:00 pm.
MIRADOR RAM LUNA
"Since 1967 with the stars at your feet". With this motto, that has been characterized the Mirador Ram Luna, whoever arrives there will not want to leave the beautiful view that it offers.
You can also watch typical dances, marimba and marrón music, clowns and so on. To close with a flourish, colorful fireworks. No doubt it is a night full of surprises that you should not miss.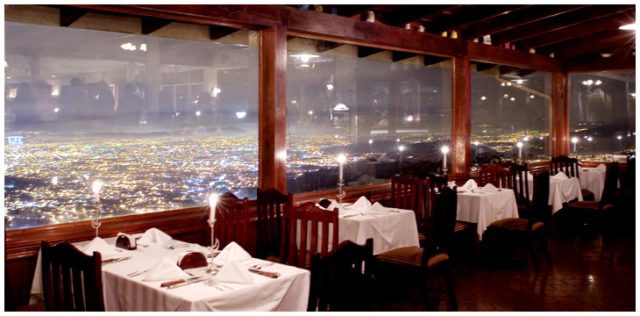 How to get there: Located in San José, 15 Kilometers south, and 5 Kilometers south of Aserrí Carretera to Tarbaca.
Services and activities:
Typical show
Restaurant with typical dishes
Special events
Romantic Dinners
Timetables:
Monday and Tuesday, from 5:00 p.m. to 10:00 p.m. Wednesday and Thursday, from 5:00 p.m. to 10:00 p.m.Friday, from 5:00 a.m. to 11:00 pm.
Saturday and Sunday, from 12:00 m to 11:00 p.m.