The Resonance wellness center, located in Quebrada Amarilla (Jacó), will have a special event this February 25th totally focused on the 432 Hz frequency, Ecstatic Dance ritual, Dj Set and Voz Medicina.
And at the event, the renowned Spanish Artist Neliah Kandisha will perform a Live Dj Set where you can dance until the part of you that no longer serves you dies and you are reborn again. Here you will be able to release emotional blockages and expand your consciousness through the 432 Hz frequency with unique sounds from Neliah.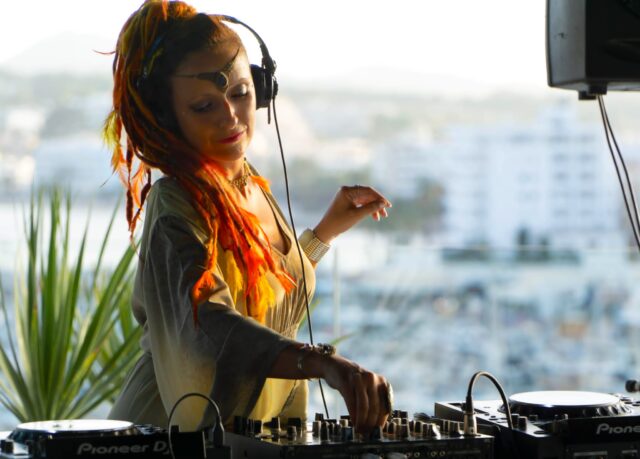 There are a variety of frequencies that help you open your mind and heal, but 432 Hz has something unmatched and that is that it also improves heart rate, frees us from stress and anxiety, helps with insomnia and all our cells react to this frequency so it could help with regeneration and healing.
Neliah Kandisha will answer the call to visit Costa Rica
It is the first time that Neliah Kandisha travels to Costa Rica and we are sure that she will leave with the best impressions and vibes. It is worth noting that from 7pm to 9 pm there will be the Ecstatic Dance and from 9pm to 9:30 pm the Sound Escape. It will be seconds, minutes, incredible hours that your mind and body will appreciate. If you want to attend, go to the link in the Resonance Instagram feed: @resonance.costarica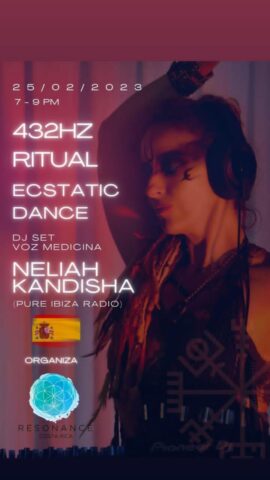 A fascinating life story…
We talked with her a few days ago and she commented on the call for coming to the Central American country and since everything happens when it has to happen at the right time, it now has come.
For her, it has been a moment that she has dreamed of on several occasions, assuring having memories of other existences, "lately a lot has come to my mind, it was clear to me that I had to go to this call."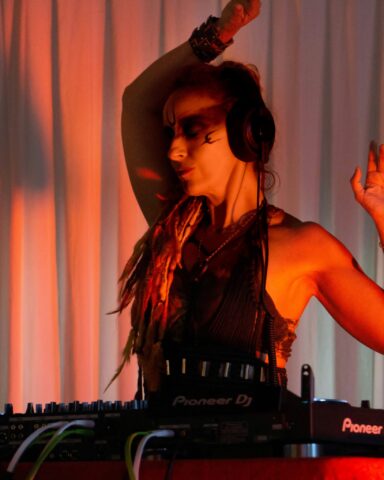 She mentioned the call to a friend of years, Álvaro, they have worked together in Festivals at Spain called Madre Tierra that she herself organized, they have yoga and meditation in common. Álvaro contacted her with his friend Daniel Yépez, the creator of Resonance, learning about the activities of the wellness center, and when talking with Daniel "there was tremendous synergy and good vibes, so I'm very happy to go there."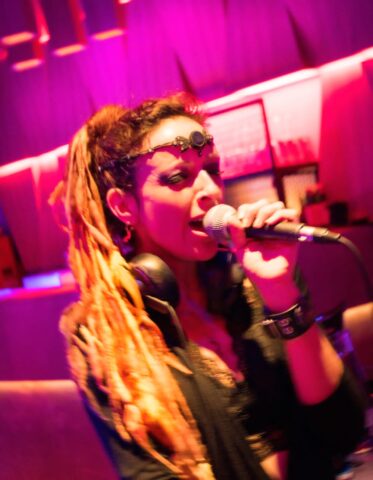 Her life
Neliah Kandisha, was born in Cartagena, a city in the region of Murcia (Spain). Cartagena is a city with Phoenician origin, just like Ibiza. She has been in Ibiza for 22 years now, arriving at the age of 18 looking for the history of the Goddess Tanit, "our protective goddess and is shared both in Cartagena and in Ibiza. I have always thought that it is much older than what is known", she states.
In her opinion, Ibiza from the first moment totally captured her heart. Always describing Ibiza as a place of power, that makes you remember, bring out that internal powers, it is a provider of your gifts, it also teaches you very directly your shadows, that a person has to keep working, they have to embrace and love.
An infinite knowledge
Kandisha, has a degree in Pedagogy and Anthropology of Ancient Civilizations more specifically in Matristic cultures (which is built on non-hierarchical cooperation, participation, trust, relationships based on mutual support and love) in traditions of the Mother Goddess, which is her philosophy of life.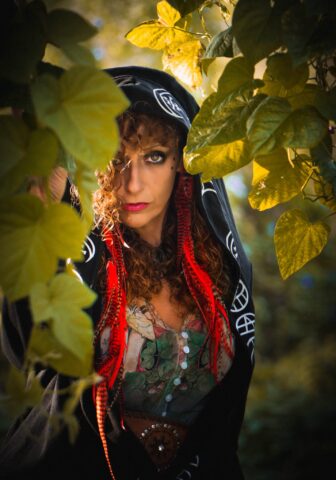 Everything is part of what she has lived since she was little, paganism understood to worship Mother Earth, the Mother Goddess, the celebration of the wheel of the year, the solstices, the equinoxes, the egbas (which are the moons).
She has beautiful memories of childhood and adolescence, because in her house they have lived together through music, art, magic, ritual and that is how little by little after studying the magical arts with her grandmother, even with her great-grandmother that left at the age of 102.
Goddess of Avalon priestess
After learning all the arts, when she was almost 20 she became a Goddess of Avalon priestess, "it is a lineage where we preserve all that magical knowledge and where we keep the flame of hope and fantasy alive in our hearts."
How does she apply pedagogy in anthropology?
Neliah applied pedagogy in anthropology to through music and ritual, "on the one hand the whole ritual theme became performing circles of very spiritually powerful men and women and then I also evolved into the musical theme, going through yoga and meditation, really for me this is a way of feeling life, where everything is part of the journey, everything I do, what I am inspired by are part of my spirituality".
A yoga and meditation teacher
She is a yoga and meditation teacher, she does two annual training sessions with the Spanish Federation of Yoga and Meditation, since she is the director of the courses. Regarding the part of Matristic anthropology and culture, she organizes international retreats that take place in places of power such as Egypt, India and Avalon, she also participates in some of the University's research related to the symbology of the Mother Goddess and music, which is what fills her soul the most.
She has a master's degree with disciples of the Japanese prophet Masaru Emoto, "there I was introduced to the subject of frequencies and music therapy through healing frequencies, which we call solfeggio frequencies, they are mysterious, each one has three figures and between them when the sums are 9 based on Nikola Tesla theory and also on ancient Gregorian chants that allow people reach ecstasy at Samadhi (a complete state of concentration), and that were hidden for a long time, but a few years ago they were rescued" .
A restorative effect
Neliah says that each of the frequencies produces a restorative effect within us, the miracle frequency, the awakening frequency, even the DNA repair frequency; for many years she has been manufacturing her own system of frequencies and has recorded them in a professional studio, "when I push the static in some sessions that are not static but that I also do in clubs, what I do is put those frequencies inside the session, it really is as if I were doing Live Music, singing, making medicine songs, organic music, electronic music. I try to create a journey that goes from softness to madness. I always say: that in the sessions we try to die and then be reborn".
In this way, music and dance have been the therapy with which she has connected the most, healing and is the one that has made her feel the most. Since 2018, she has been doing a radio show called Nómadas at Ibiza from Monday to Saturday at 9 am.
A being of light and spiritual knowledge
Definitely, Neliah is a being of light and spiritual knowledge, a recognized DJ within the ECSTATIC DANCE movement and has her brand XTATIK DANCE REVOLUTION.
Today, her dreams have been fulfilled, among them: being able to carry out healing sessions in clubs. "I want to transmit it in Costa Rica, that healing session of intoxicating frequencies, that tune you like an instrument and that people feel the magic of Ibiza through music," she said.
Finally, we invite you to learn more about Neliah at www.nomadasibiza.com and about Resonance at www.resonancecr.com, live life, attend and enjoy the medicine music event on February 25th.