'Acrostic' is the name of Shakira's new song, which was released last Thursday night and quickly rose to #2 trending on YouTube. The lyrical video of this song portrays a bird that cares with love and care for her 2 little eggs, a feeling that overflows until they break and her 2 chicks are born.
The animation of the video was in charge of the Costa Rican company Producciones Luz Marina. Marlon Villar, her director, spoke and revealed that Shakira really liked the work from the start.
Happier than expected
So much -she said- that she did not ask for any change to the proposal and later when she saw the final product, which is the one found on the video platforms. "When the final project was presented to her, she liked it a lot, much more than that it is a very personal song, with a very special value because she sings to her children. The fact that the design was as pure as the song she liked, as well as the execution. She is very perfectionist and scrupulous about her work and that is why it is so satisfying that she did not ask for any change and that she liked it the first time: from the moment she saw it until now", Villar said.
Precisely, Acrostic is a theme of unconditional love and resilience for her 2 little children, Sasha and Milan. It is the first production since the Colombian moved with her offspring from Barcelona to Miami, where they are rewriting their lives.
In the video, the letters that make up the names of the 2 children appear. ThisisthepartdedicatedtoMilan:
"Me enseñaste que el amor no es una estafa y que cuando es real no se acaba"
"Intenté que no me veas llorar, que no veas mi fragilidad"
"Las cosas no son como las soñamos"
"A veces corremos, pero no llegamos"
"Nunca dudes que aquí voy a estar".
Milan's acrostic translation:
("You taught me that love is not a scam and that when it is real it does not end"
"I tried not to see me cry, not to see my fragility"
"Things are not as we dreamed of"
"Sometimes we run, but we don't arrive"
"Never doubt that I will be here")
In the part dedicated to Sasha, she talks about forgiveness and moving on:
"Se nos rompió sólo un plato; no toda la vajilla"
"Aprender a perdonar es de sabios, que sólo te salga amor de esos labios"
"Si las cosas se dañan, no se botan, se reparan; los problemas se afrontan y se encaran"
"Hay que reírse de la vida"
"A pesar de que duelan las heridas, se ha de entregar entero el corazón"
Sasha's acrostic translation:
("Only one plate broke; not all crockery"
"Learning to forgive is wise, that only love comes out of those lips"
"If things are damaged, they are not thrown away, they are repaired; problems are faced and faced"
"You have to laugh at life"
"Although the wounds hurt, the heart must be given whole")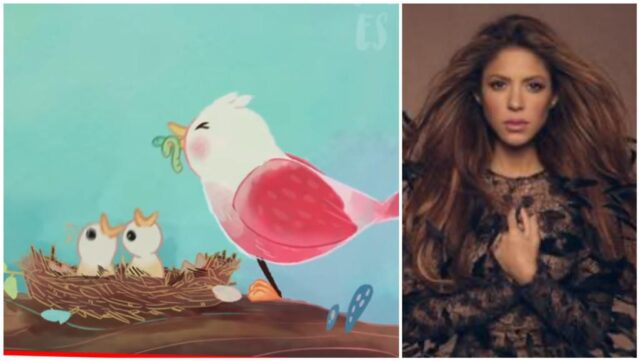 Shakira respected from the sketch to the final product
Villar commented that the contact between Luz Marina and Shakira's work team took place about 2 months ago. "We have worked for several Sony Music artists; the producers hold us in high esteem and they liked the work. They asked us to make a proposal and Shakira and her entire team liked it. It is a project that did not last long: the detail was in the preparation of the illustrations and animation. That it had a finish and aesthetics as if it were a storybook", explained the producer.
The Costa Rican added that, at all times, Shakira and her team were very respectful of Luz Marina's work, from the first moment when she was sent sketches. "For us it is about Shakira, the most popular artist in the world right now. She is a woman who has a history and with whom many of us grew up listening to her songs. Working with her was a very nice experience with a very good taste in the mouth and an agile process. This represents a great honor and responsibility for us to have been given this very personal and intimate project", concluded Villar.
Piqué is not the protagonist this time
Shakira aspires to repeat the success she recently achieved with Monotonía, the session with Bizarrap, and TQG, a duet song with her countrywoman, Karol G. These are 2 songs that were addressed to her ex-couple, Gerald Piqué, after the infidelity of the ex-soccer player and father of his 2 children.
Costa Rican export talent
Luz Marina has specialized in the production of music videos and commercials for almost 10 years, which are held in July. Villar assured that the team has worked with artists such as Alicia Keys, Nicky Jam, Ricardo Arjona and Franco de Vita.
With Alicia Keys they were in charge of the video remix of the song Underdog, in which Nicky and Rauw Alejandro also participate; with Jam they were responsible for Desahogo, in which Carla Morrison collaborates; and with Arjona they were hand in hand with the Guatemalan for most of the videos on the Circo Soledad album. In fact, some of the videos were made in Costa Rica and others in Los Angeles.