Although the Ministry of Public Education (MEP) has resumed classes in most cantons in the country, 11,643 students will have to wait a little longer to return to the classroom. These are 208 schools in the cantons of Acosta, Dota, León Cortés and Tarrazú, who still report several complications related to the effects caused by the Nate Storm pass.

"In response to the communications provided by the Regional Education Directorates, on the adverse conditions to provide the educational service such as lack of water, electricity, and access", said the ministry.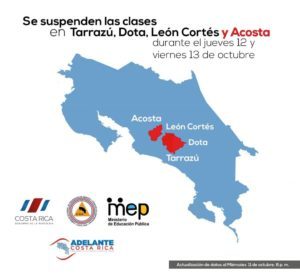 They indicated that the principals of the educational centers located in these 4 cantons, in coordination with the respective Municipal Emergency Committee, must make the necessary assessments and coordination, in order to restart the educational service at the moment that more favorable conditions allow it.
"In the event that there is any risk to the safety or due attention of the student population, the lessons may be suspended in coordination with the respective Regional Directorate and communicated as far in advance as possible to the parents", they pointed out.
At the moment, school classes were suspended last Friday, but it is not ruled out yet that they can be resumed at the beginning of the upcoming week.