Giancarlo Guerrero, conductor, and with the recognition of having one of the most prominent musical careers in Costa Rica. He was born in Nicaragua in 1969 and at 11 years old along with his parents and brothers arrived in Costa Rica as refugees; They were fleeing from a war that caused the family to lose everything. It was 1981 and the boy arrived in a country where there had been no army since 1948; instead, he found a troupe of musicians who captivated him from the start.
When they arrived from Nicaragua they lived in San José, Pavas, Escazú, it were very difficult years for the family and, although there was an opportunity to return to Nicaragua, they decided to put down roots here for the well-being of all; "In Nicaragua, things never got better," recalled the musician.
The parents found activities for their kids to do after school. Since Giancarlo had a "good ear", they took him to the Youth Symphony Orchestra for audition, and from there Giancarlo fell in love with percussion.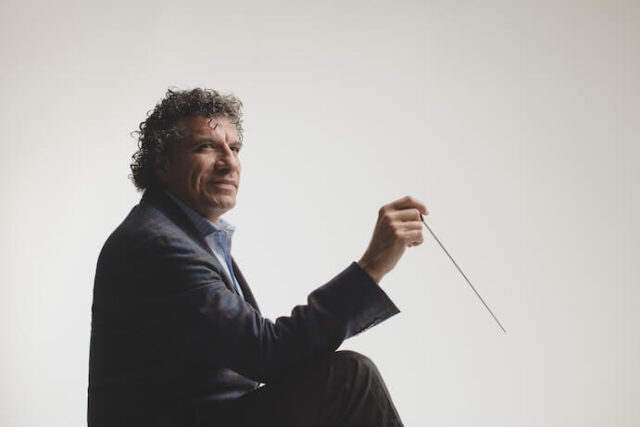 Discovered his passion
That soon became a lifestyle, a passion. Guerrero excelled in percussion and, although he thought of following in his older brother's footsteps and studying industrial engineering, he knew that his path was music when hearing"The Rite of Spring", by the Russian Ígor Stravinski.
"Don't ask me why, that's the magic; I could not say why one appreciates the Sun and sees it as the most wonderful thing; It is something particular, personal, that I cannot explain. Awaken in me a passion, a love and an affection. The fact that I dedicate my life to music is a privilege", he comments.
Magic and hard work
His efforts have earned him five Grammy Awards as conductor of the Nashville Symphony Orchestra, United States (two of them were won in the categories of Best Solo Instrumental Classical and Best Classical Compendium) and his fertile career continues to grow: he has been nominated, as artistic head of the ensemble, in four additional categories at the Grammys.
Getting so recognized has demanded many sacrifices. However, Giancarlo has no regrets. He, who had put down roots in Costa Rica, knew that his musical career required him to leave his chosen homeland. Receiving a scholarship to Baylor University in Texas, where he earned his degree and worked as a percussionist, "happy in the back of the orchestra mocking the conductors." He stopped joking about it when a teacher recommended that he think about the musical direction for his future.
After his stay in Texas he continued his studies in percussion and conducting at Northwestern University. To eat and sustain himself in Chicago, he had to work in a funeral home doing everything: coffee, answering calls, driving the carriage, caring for the relatives of the deceased…even sleeping in a room next to the morgue.
This experience helped him form his character. "Living in an environment surrounded by people in their worst state of sadness, dealing with the issue of death on a daily basis made me appreciate the things in life," he says.
The talented Guerrero returned to the country with his titles and his baton under his arm in 1993. "I started in the back of the orchestra with two sticks in my hands; now he was in front with only one". He worked as a conductor for the San José Concert Band and had a couple of opportunities as a guest conductor for the National Symphony Orchestra. However, the ensemble already had a stable principal conductor: maestro Irwin Hoffman.
Transformative experience in Venezuela
In 1996, three months into his marriage to Shirley Borloz, the couple packed up their wedding gifts, grabbed the dog, and went to Venezuela to continue studying. On that trip he assumed the direction of the San Cristóbal Orchestra; finally, as director, a group put its north in his hands.
Thanks to his "foolishness" and need to renew the symphonic repertoire with contemporary pieces, to give young composers the chance to have their works performed in theaters, new opportunities arose.
Back to cold lands
This globetrotter moved again and his daughters were born in the United States; his wife was always supporting him while he was on the podium suffering "that damn cold". More doors opened and more jobs came.
Rhythm is essential
Part of that personal stamp that Guerrero alludes to is given, in his case, by his training as a percussionist. "Rhythm is essential. I have realized as a conductor how important it is to have that clarity, that the rhythm be precise, mathematical, even if you are playing Bach or Mozart or Beethoven. Then the style and the phrasing and the language are added,"he maintains. Having been a musician first gives him knowing the perspective of the instrumentalists – "What you are looking for is inspiration, conviction, clear ideas" – and also the camaraderie, something he misses. "The address is much more lonely," he confesses.
Product of investment in Culture
This formative experience was acquired by Guerrero in Costa Rica, within a youth orchestra. And it was precisely the social element that attracted him. "I grew up in the orchestra, they were my friends," he recalls. He also spent four years in the Venezuelan Orchestra System, which, according to his account, José Antonio Abreu founder of that national system started up inspired by the first orchestra of its kind, created in Costa Rica in 1972: a youth ensemble supervised by the musicians of the national orchestra. "I am very proud to be a product of our countries' investment in culture," boasts the director, as well as the first-rate performers who trained with him, and who now work at the Berlin Philharmonic or with Ricky Martin: "The biggest export from my country Costa Rica, with five million inhabitants, are musicians of the highest level. And this cannot be ignored."
Great pride
Guerrero is also proud that the six Grammys he has won so far have rewarded his commitment to contemporary music. The mastery of the CD for years led orchestras to record, over and over again, the same classical repertoire: "I think the world doesn't need another recording of Mahler's symphonies by the Nashville Orchestra, which he conducts. That's why we focus on contemporary music. We forget that Beethoven was a trendsetter at some point, that Mozart had world premieres and it was up to someone to take that music and play it. The important thing, for the director, is that the music is "relevant": "It must have emotional value. If it lacks it, then it doesn't make sense", concludes Guerrero.