We welcome June with the best energy. Two Ticos, Dino Urpí and Javier Martén, are part of the Juannio 2023 contest, in which artists from countries like Guatemala, Colombia, Cuba, El Salvador and of course Costa Rica, will be able to present their artistic works. Both Costa Rican artists are part of it with another 24 selected artists for the auction, and around 100 for this year's edition of Juannio.
.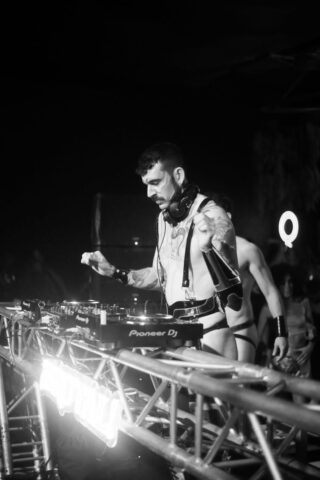 It is worth noting that the Juannio auction has been held in Guatemala since 1964. It has had the purpose of supporting inclusion through the work of the Guatemalan Neurological Institute which cares for girls, boys and young people who lack some resources and are functionally and intellectually diverse in capabilities. The BancoAgromercantil de Guatemala (BAM) has already been a sponsor for three years and they also have the support of BMI and GrupoCofiño.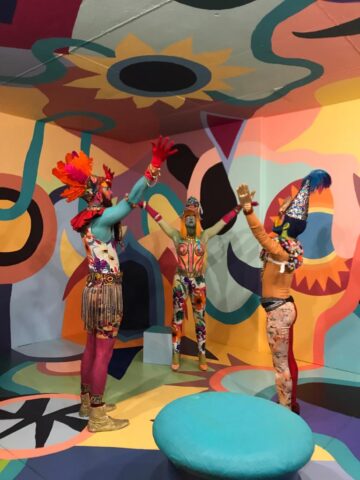 This year, the contest-auction activity will be held at the Miraflores Museum with extended hours so that all audiences can visit the exhibition these June and July.
Exclusively, we talked with the artists Dino and Javier, but this time we will let you know much more about Dino Urpí
Dino, is Costa Rican by birth, specifically from Cariari, where he lived in a house that his father built in front of the club in the area. Before his 18th birthday he lived in 5 different houses. One key teaching from his parents' essence, he mentioned, is the mixture between power and sensitivity.
About his knowledge and trajectory
Dino is a multidisciplinary artist, event producer and entrepreneur. He has a degree in Fine Arts from the Maryland Institute College of Art, a postgraduate degree in Art for Social Inclusion from the University of Barcelona and a Master's Degree in Holistic Coaching from ESNECA Business School.
 He has tutored and art coached at epl, a highend one-on-one tutoring company, and worked at the Southern Costume Company in New Orleans right out of college.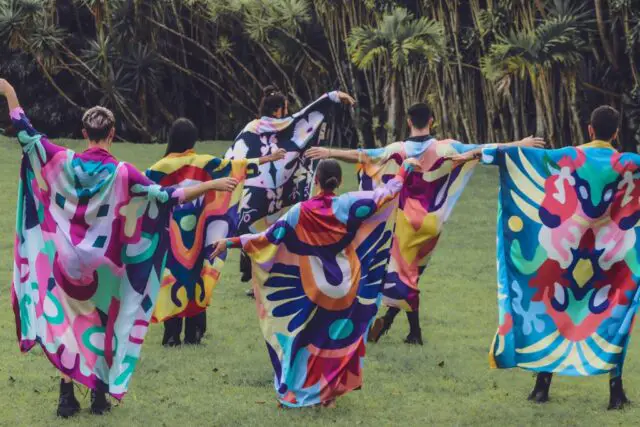 He is a person totally full of surprises, in addition to feeling a great passion for painting, he reads tarot cards professionally when asked. Dino is also dedicated to mixing music at events and theme parties.
What do you enjoy doing in your spare time?
On his spare time, he learns Astrology at Astrology University, goes out to socialize with friends, trains at the gym or just tries to rest. "What happens with me is that I always have something to do or I can invent something to do, if I'm not doing a painting, I'm designing, looking for new music, organizing, planning something, etc. Actually I almost never stop, I need stimulation. What I do take care of, is that my stress levels don't rise too much. Before, I used to put a lot more pressure on myself, but I realized that on of the keys in life is to be happy, so I started trusting my own pace more," Urpí highlighted.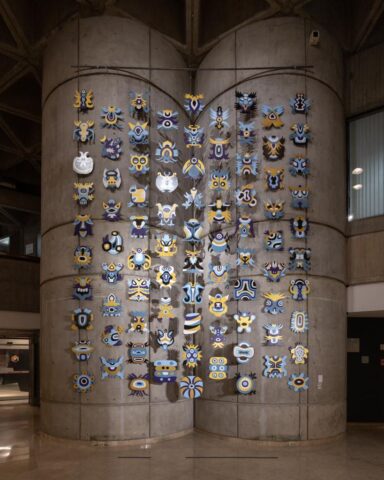 What led you to the world of art, entrepreneurship, with music being a DJ, organizing events and even reading the tarot? How long have you been working on each of them?
When Dino needed to decide what to study, he narrowed his choices to only two options: art or psychology, of course he chose art. He considers himself a curious person with a lot of energy, and even a bit out of the "ordinary". He believes that these characteristics have led him to get involved in different areas, to learn from different fields.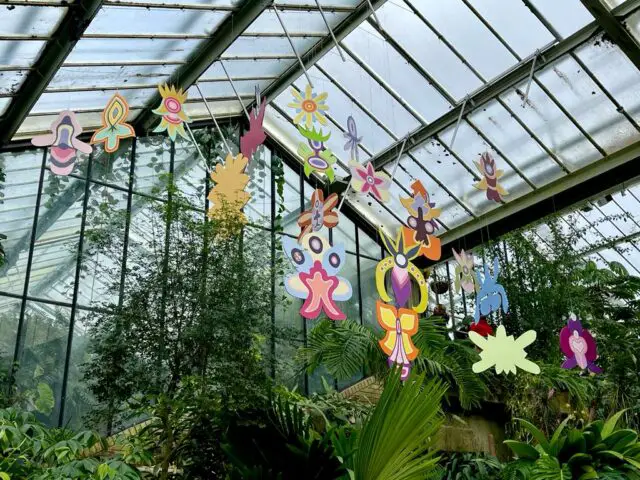 Without a doubt, art is linked to everything he does in his day to day, both in his ventures and projects. He has been practicing the art profession for 12 years and has been managing his entertaining events for 8 years. Dino has been reading cards officially for 5 years and he had his first DJ class in 2019.
The Costa Rican artist loves all the areas in which he focuses, because "each one stimulates me in a different way, and their feedback reaches my heart and generates me happiness," he said.
The successes have been constant
He was the invited artist to exhibit at the Princess of Wales Conservatory at the Royal Botanical Gardens, Kew for their 26th Annual Orchids Festival in which they honored Costa Rica. He has several solo shows and has won scholarships and honoraria.
Selection process and participation in Juannio 2023
In the call for Juannio this year around 140 artists applied, for a total of approximately 195 works. The works are chosen by a professional qualifying jury. For this edition they chose 26 artists for the auction. "I applied with a paint called Portales from my Natura series," he said.
What can you tell us about making art today? What is needed beyond creativity, because now there are so many digital platforms and times have changed?
For Dino Urpí, making art today is a somewhat controversial subject, which he feels is very relative. "With so much technology, artificial intelligence, smart cell phones and machinery, I feel that making art is becoming more and more normalized. It becomes a commodity and everything is more saturated, losing its special differentiating factor. If you have a cell phone with a camera, you are now a photographer or videographer, if you have social media you can act as a model and if you put some splashes of paint on a canvas, you are a painter and so on. I feel that nowadays, talent is often confused with popularity".
It is worth noting that the talented artist comes from the mindset that the work one presents should speak for itself. He thinks that there is a rupture in traditions and institutions, but there are always referents that remain and exist and are there for a reason.
Another point made by Dino is that nowadays marketing is important, "it may be that your work is "ok", not as powerful as someone else's, but if you know how to sell and market it, you can do very well having "ok" work. There are many gray lines in this business and context.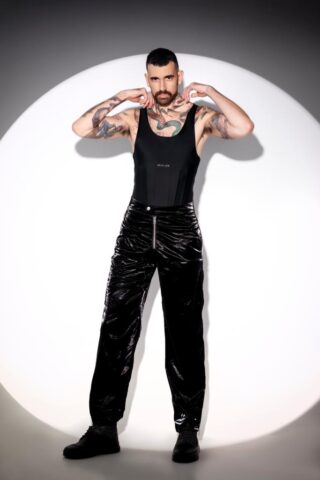 That is why I focus on the things that I can control: my effort, my attitude, my artistic practice and my motivation.
What do you think you need to do or achieve?
When we touch on the subject of what he thinks needs to be done, Urpí feels that the best is just beginning. "I would like to be represented by an international prestigious gallery, exhibit properly in countries such as Japan, Dubai, Brazil, Germany and Mexico, among others. I am also striving to solidify more my new clothing brand of wearable art and eventually own a house by the ocean.
What inspires you about Costa Rica?
Urpí sees Costa Rica as a fertile container of opportunities, "thirsty for change, held back by its idiosyncrasies and the Government. Costa Rica's nature and beauty inspire me a lot, the sea, the animals, the flowers, the fruits and the mountains.
What do you think Costa Rica lacks? What would you improve?
In his opinion, Costa Rica is abundant in many things, but lives in a constant dichotomy. "On the one hand it sells itself as a green country, but it does a lot of damage to its environment. It is a country that honors itself for its work, however, it tends to be lazy and slow to solve bureaucratic problems."
What characterizes his art the most
The biggest characteristics of Dino Urpí's art is its apotropaic effect, the unusual color combinations, the use of irregular and organic shapes, the hybridity of elements, the symbolism and sense of humor. "My artistic creations are talismans. What I am most passionate about is to share my art with different people."
He is currently going to start a new series of paintings and several small clothing collections. He intends to continue to focus on his current projects, he stated that he has some advances that he cannot give details of.
This year, he hopes to be able to formally launch his Wearable Art brand, in which he develops boutique collections of few unique one of a kind garments using color and graphic shapes as the main point of differentiation for each piece.
Dino expressed a message for everyone…
"Nothing is too precious or static to resist change. Authenticity is one of the strongest powers. The world benefits from finding sincere hearts. Happiness is an inside job. When you bless the world, it blesses you back. Sharing will always ensure the flow of wealth. Prepare your life for the fruits that you will bear. By loving our shadow and forgiving our imperfections, we are loosening the chains that bind us to them, it is so when peace becomes a very real possibility." He also added that the true ring of power is our community. To change the world from current conditions, one must first change the way one thinks. Luck is what happens when preparation meets opportunity.