I am an American citizen on vacation here in Jaco beach. I have been here many times before but this time here alone. I went to the beach today and was swimming and and enjoying the ocean as waves were crashing over me.
I wasn't alone, there was a young American couple not too far from me (10 meters ) We wanted to swim over the waves as the waves were getting bigger and bigger and slowly realizing we went from standing on the ground to water deeper than my 6' frame but we passed the big waves and were able to enjoy the water with small waves that don't crash up and down we were riding them and all of the sudden we hear a man's voice about 20' meters away yelling for help " Ayuda"! Ayuda!! We saw him and he is swimming trying to get to us but the rip current got very strong and it seemed like he wasn't making any progress. I told the couple to go get help as I'll try and save him. Lifeguards were few and far away more towards the south part of the beach. We were behind the Girasol hotel ( I was staying there). I can swim in the pool for 1,000 meters in 30 min so I attempted to swim to him.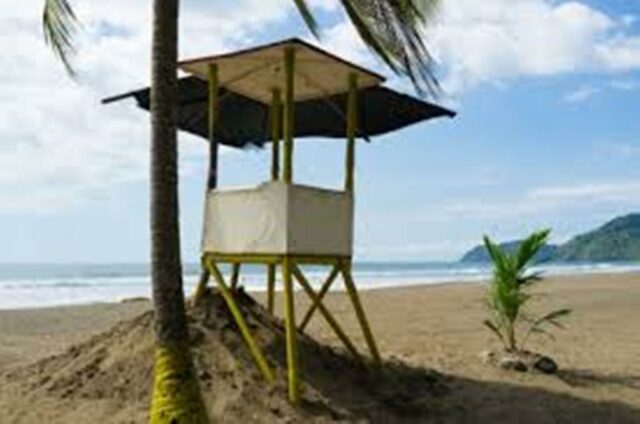 I was making progress quickly and in a matter of seconds I was about 10 meters away. There were no waves just small rip current up and down. One second I see him and yelling at him " muchacho muchacho estoy aquí. Nadar a mi tranquilo tranquilo and the next second I don't see him anymore. Disappeared and never got back up again. At this point I turned around and said I must save myself. Who will save me now if I get sucked in?. I'm getting tired. Breathing heavy trying to swim to shore but I was so far and not making progress as well. I thought I was going to die. No one will reach me in time if I too go under.I saw this movie before. I had to fight but was not winning against the rip current so I decided not to fight, turned onto my back and started swimming sideways and on the back little by little making little progress. Praying G-D gives me strength to stay afloat tread water and swim back but it felt hopeless and everyone was so far away lifeguards still didn't arrive. I could see people in the distance yelling to get help but don't think anyone could hear me. I was on my own. I looked up and G-D was with me and I said I must not give up. Luckily finally I reached a wave or two that pushed me towards the shore and I was able to get to a place where my feet touched the floor. All together 5-10 minutes. By the time I got to standing lifeguards, then Red Cross, then the police arrived. I directed them to the location. They rushed to the deep end of the ocean with flippers, floats, and boards. I was with nothing they struggled and eventually got through the waves and were searching for about 15 min but were not successful in recovering the swimmer. They came out of the water soaked, exhausted and seemed beaten up. and out of breath. They were professional strong-looking swimmers half my age with equipment and still were beaten up by the ocean. Unfortunately, a person lost his life today.
I feel it's such a shame there are not enough lifeguards stations (I only saw one) in a popular and crowded beach of ticos and tourists. Plus the lifeguards told me they volunteer. Tragic end to a human that shouldn't have lost his life today. Please share and lobby the government to place more lifeguards stations and I'm sure more locals would volunteer.
I love Costa Rica and hope more will be done with signs, communication, and lifeguards to protect people who give back to the country. and just want to enjoy their life.
This thing happened in seconds from not deep at all to all of the sudden you find your in the middle of the ocean.
May he Rest In Peace