Real estate is a great investment opportunity. Many people decide to buy real estate not to live in it, but as a means of investment and safe placement of capital. Real estate, however, can be a difficult area. The first and most important thing to know is that they are assets that can be sold at any time or used as collateral for a loan. Even to invest in another similar asset.
There are many ways in which we can diversify an investment portfolio. Buying and renting residential real estate can be a great way to diversify your portfolio, but choosing the right property is important to maximize return and minimize risk.
Investing in real estate is one of the best ways to secure your future and your money. However, when acquiring a property you need to take into account certain factors so that your investment pays off and is fruitful.
Do not worry. Here you can clarify your doubts and feel safe when making your purchase:
As obvious as this sounds, one of the first steps you should take is to define the objective of your investment. And we are not only talking about the amount you want to invest, but also the utility that you will give to the property and the type of property that you plan to acquire.
Why do you want to acquire the property? Rent it, resell it, to live in it with your family? It is important that you know for what purpose you are going to make the investment so that you are very clear about the area in which it is best for you to buy it.
Acquiring a property should not bring you worries or problems, on the contrary, it is an investment that is ensuring your money and your future. That is why one of our first pieces of advice is to look at the real estate agency with which you are making the deal or with which it is advising you in the process.
Working with a solid company with experience in the real estate market is ideal, as it guarantees that they have the knowledge to know which areas you should invest in, where the site's growth is headed, and the ideal type of property for you. And even more if you do not live in the area in which you want to invest.
As we mentioned in everything you need to know before buying a property in Costa Rica, an experienced real estate agency already knows what are the legal processes you need to go through for the contract —which takes away one less worry— accompanying you in this process to make you feel more secure.
Another element that you should look at is the relationship that the real estate company has with the construction company that is building the properties. We advise you to look for companies that are not only dedicated to selling but also to building, since this guarantees that the properties are created and designedfrom scratch, with amenities that cover needs based on your experience with buyers.
One of the mistakes that many people make when investing in real estate is that they believe that the return on investment will be immediate. And we are not saying that this is impossible, in fact there are people who buy real estate to rent them and begin to generate income.
However, when investing in real estate, you must bear in mind that more than investing because "everyone is doing it" or "because it is fashionable" you must do it in an intelligent and strategic way so that you can grow your money. And this takes time.
Surely you have heard that a property is an excellent investment because its value increases over time. This is due to the increase in surplus value (we will talk about it later). Which, as we already mentioned, does not happen overnight.
In fact, the surplus value does not depend on you, but on the location of the area and all the developments around it, which means that the difference between the price at which you bought it and the price at which you are going to sell it increases at your favor. That is, you are going to earn more for something that cost you less.
As you can imagine, a good investor is one who takes advantage of opportunities when nobody sees them, such as acquiring property in an area that will be attracting people with the need to acquire a product that he already has: a house, a lot, etc.
That is why having a long-term vision will allow you to have better returns, since it will help you choose the area better, looking at the possibilities that can develop in it. And it will prevent you from being disappointed by not seeing your money right away. The key to success in real estate investing is to think long term.
Speaking of thinking in the long term, and seeing the possibilities of the area: What is being generated around it?, what will be built in it?, how is the market moving in the area in which you want to invest?, etc.
It is clear that you can invest in real estate even in times of crisis, since you know that it is one of the safest investments there is; but that does not mean that you should not analyze the situation to see what your best options are.
As we mentioned in the previous point, to take advantage of a good buying opportunity you must learn to see beyond the current situation of the area and focus on seeing the services that will be built in it: schools, hospitals, squares, etc. And not only the developments, you have to analyze the market: who is coming from, where, what are the growth rates, etc.
Analyzing the market will also help you to think about the type of property you want to acquire and the use you could give it, for example, acquiring a lot in an area nearby schools will allow you to rent or sell it more easily to a family. Acquiring in an area near the beach will allow you to rent it while you are not using it.
In turn, when analyzing the market you must take into account the target you want to direct. Who will be your buyer? What interests you most about the property? Why would you want to buy it?
Surplus value is perhaps one of the things that stands out the most in this topic. In a few words, the capital gain is the increase in the value of a property, that is, the monetary difference between the purchase price and the sale price, which increases thanks to the area in which the property is located.
Shopping malls, developments, schools, hospitals, connectivity, etc. There are many factors that influence the increase in surplus value that do not depend on us. And as we mentioned in the previous point, the ability to see beyond how the area is currently is the key to making a good investment.
Especially when we talk about Costa Rica
Factors such as security have a great influence on the increase in capital gains. Many times, because we want to make a good purchase or take advantage of a very cheap opportunity, we let ourselves be guided by the price of the property and we do not pay attention to the opportunities (or lack of growth in them). the area) and security.
One of our tips when buying land or property is to think about the difficulty of selling it later. Ask yourself, how much will it cost me to sell thisproperty? If the answer is a lot, it's probably not a good investment. If, on the contrary, the location and the urban development plan make you think that your effort to sell it will be minimal because it sells itself, take advantage.
Lots
If what you want is to invest with little and get a lot, lots are the best for you. Because? A lot is a piece of land that has a lower purchasing cost located in an area with a lot of potential. So, regardless of whether you decide to build there or sell the lot, you will make more profit thanks to the added value of the area.
The lots are excellent acquisitions if what you want is to make your first real estate investment but you do not have the budget to buy a house or premises or you are not interested in acquiring one.
The access and connectivity of the property are two of the elements that interact in the growth of capital gains and the ones that are most often mentioned, so you should consider them in detail.
It is not only about what is nearby but also about how we can access them and where else they can take you, they can also give you clues on how to make your investment go further.
The amenities of a property also help to increase its capital gain. The need of the inhabitants to improve their well-being and quality of life have led so that real estate developments worry about providing spaces that they can comfortably take advantage of according to their priorities.
Area for pets, parks and private security are some of the amenities that have become more attractive for those who decide to buy a property, since it allows them to enjoy a quiet life without having to travel long distances or worry about having to acquire them on their own.
Try to invest in properties that have amenities that increase their value. Of course, taking into account previous points such as the location of the property and the areas of surplus value, the amenities will add more value to the home if they are in accordance with the needs of the market.
Avoid thinking about a property for something of a lifetime. While it is a long-term investment, it is important that you do not become attached to it to such a degree that it prevents you from seeing the return on investment that you can achieve with it. Real estate is a business and you should think of your real estate in the same way.
So don't waste time and start applying these tips by investing in real estate for a better future, for you and your family!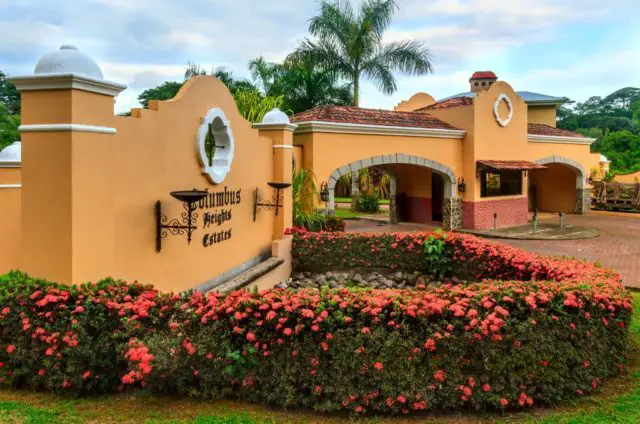 A new way of life: Columbus Heights States
The world is changing and people need to adapt to the current situations we face. We are creating a decentralized sovereign intentional community to help those shift to a new better world. Be part of the change you want to see by becoming part of our co-living community at Resonance Costa Rica premier Playa Hermosa Real Estate Project: Columbus Heights States
Property ownership of an acre+ (5000SM) agro parcel with interlocking paver roads, hydrants, water, electricity and fiber optics.CoFarming is optional and property management is available. Build on 15% of the land and reforest/farm the rest.
Investment options benefits available for you:
Home Sites with turn-key building solutions. Property management and Retreat Center access. Join Resonance Rental Management program for income producing opportunity.
Join the coop and establish food sovereignty. We offer turn-key solutions to get you started on your agro parcel. From short term harvest such as vegetables, to long term fruit trees, we manage it. Being an autonomous and independent CoFarming community is relation to diet, health and nutrition.
Living connected to mother nature& having your own secure land. Have easy access to clean water in our community via wells & rivers. Alternative Energy sources other than fossil fuels & nuclear. This includes all renewable sources. Connectivity: As an alternative to Big Data. Our own independent ecosystem servers are powered by Renewable Energy &Blockchain.
The time to invest in a better life is now
A one of a kind investment at Playa Hermosa, Jaco. Achieve a state of being totally awake aware of the surroundings and connect to your spirit.
For more information please visit:
+506 8818 0262