The United States is facing a new threat related to pigs. For decades, this species has been wreaking havoc on the country's flora and fauna by damaging crops and spreading diseases such as swine fever. Now, it is preparing for the arrival of a hybrid dubbed 'super pig', capable of withstanding cold climates in tunnels under the snow, an "incredibly intelligent and highly elusive" giant, experts say.
The wild pig is the result of crossing domestic pigs that escaped or were released with wild boars. Similar to them is the super pig: created by farmers in Canada who crossed wild boar and domestic pigs in the 1980s. The result was a larger pig, which produced more meat and was easier to shoot in Canadian game reserves. Trouble came when these super pigs escaped captivity and quickly spread across Canada.
In fact, in both the US and Canada, the threat of super pigs is fairly recent. Until 2002 there were hardly any pigs of this type in Canada, but in the last eight years the population of these animals has skyrocketed and they occupy one million square kilometers in that country, especially in the provinces of Alberta, Manitoba and Saskatchewan.
Direct competition for our native species
After invading Canada, fears are lurking in the US, where wild hogs already cause 1.5 billion damages each year. They are a destructive and invasive species, as reported by Michael Marlow, assistant manager of the US Department of Agriculture's National Pig Damage Management Program. "We see direct competition for our native species for food," Marlow explains.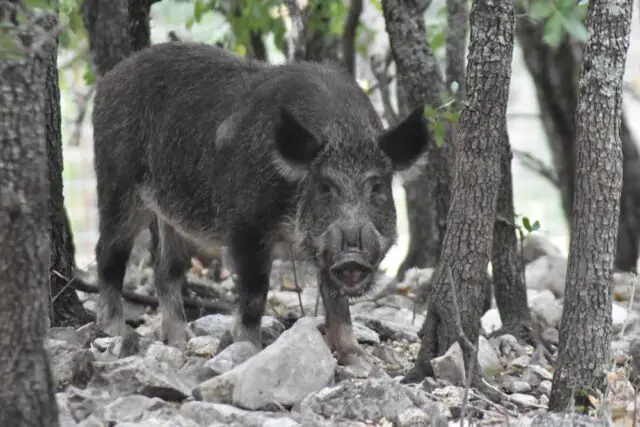 Posing a risk to human health and safety
This expert describes them as "accomplished predators," with "long-tusked" males capable of killing young fawns and acting as nest predators. In addition, they are responsible for numerous other environmental damages by eating farmers' crops, destroying trees or contaminating water, and they pose "a risk to human health and safety" by being capable of carrying viruses such as influenza, which are transmissible to humans. "They lived a benign existence until probably three or four decades ago, when we started seeing these rapid excursions into areas we hadn't seen before," Marlow says.
Ryan Brook, in charge of leading the Canadian wild pig research project at the University of Saskatchewan, defines wild pigs as "the worst invasive mammal on the planet." In his opinion, "They are incredibly intelligent. They are very difficult to reach, and also when there is pressure on them, especially if people start hunting them, they become almost completely nocturnal and very difficult to reach, hiding in heavy forest cover, and disappear in wetlands and can be very difficult to locate," Brook says.
Both experts fear the mass spread of these superpigs, which unlike wild hogs or wild boars, are capable of surviving cold winters in western Canada, where wind chills can drop to minus 50°C.
"It turns out that being big is a huge advantage in surviving the cold," says Brook. As he explains, these animals survive this extreme climate by digging tunnels of up to two meters under the snow, thus creating a cave. "They use their razor-sharp tusks to cut cattails (a native plant) and cover the bottom of the cave with it as a nice warm insulating layer," he says.
This greatly hinders the chances of hunting them down and preventing them from spreading further. "Probably, between 2010 and 2012 there was a reasonable chance of finding and eliminating them. But now they are so widespread and abundant that in 2018 or 2019 I stopped saying that eradication was possible. They are very established," says Brook, who sentences: "They are here to stay."