Marcia Banes, TheCostaRicaNews.com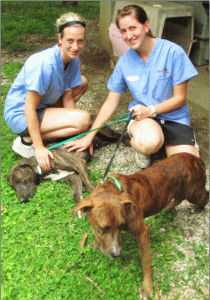 Nosara- Despite the fact she was about to lose her leg, the small black dog looked at peace as she lay on the table. As one of many bystanders, I stand waiting to see what will happen next.  Just then, I hear a man's voice come from behind me say, "That's my dog."
Concha, a 4 year old Minature Pincher was undergoing a leg amputation as one of over 200 surgeries performed in Nosara this week on dogs and cats free of charge by a group of Volunteers named the World Vets.  The dog's owner, 27 year old Jorge Luis Pena, continued to explain how the dog was nearly killed when she was run over by a car almost 4 years ago.  With no veterinary care available in Nosara and no extra money on hand for treatment, Jorge cared for the dog as best he could.  This story is one out of hundreds just like it that prompted local resident, Sarah Foster, to reach out to the World Vet Organization for help.
Learn about how pet doors and other products from America's Pet Store can help with disabled or injured animals.
The World Vet organization provides international veterinary aid for animals working in collaboration with animal advocacy groups, foreign governments, US and foreign military groups and veterinary professionals abroad.  Foster had volunteered with the World Vets during one of their trips to Nicaragua and recognized the benefits of organizing a similar clinic in Nosara.  Foster is member of Nosara Animal Care, a local non-profit organization that provides health care for homeless animals and for those animals living with low income families who cannot afford the high costs of veterinary medicine.  Nosara Animal Care is completely funded by donations and has limited resources to care for the vast number of animals needing care in the area.  Foster commented on her appreciation for the World Vet's Visit.   "We could never care for this many animals with the minimal supplies and shelter that we have.  I wanted to work with the World Vets because I know they are professional veterinarians and not some hack jobs that I have seen in other similar clinics. "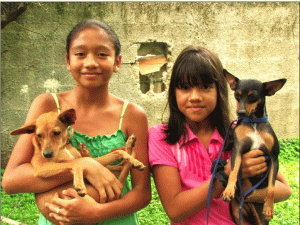 Over 200 surgeries were performed at the Free Clinic by 16 World Vet Volunteers in 3 days.  The volunteers were comprised of  Veterenarians, technicians and students. It was an impressive scene to witness as the volunteers worked together with speed and efficiency to treat as many animals as possible in the short time frame.  Every volunteer had their assigned task from signing people in to preparing the animals for surgery to making the incision on the table.  The scene was fast paced yet well organized and these volunteers were ready for anything, including a hernia repair surgery for a young pig.  The patient's families were given medicine and instructions for care after surgery and Foster will be doing follow ups on Concha and some of the other recovering animals in the week to come.
The free clinic took place in downtown Nosara at the future site of the Nosara Animal Care Clinic located 25 meters west of Super Nosara and across from Jerry's Hardware.  The building has deserted for several years and is in need of renovation. The Clinic is asking for donations of items that would aid in the project.  Examples of needed items include; tile, hoses, sinks, window screen, metal mesh, towels and paint, used refrigerator, a clothes washer, and a dryer.  To make a donation or for more information go to www.nosaraanimalcare.com and www.worldvets.org.