There are many benefits of vacationing as a couple, such as: having a companion on the road to ensure your safety and integrity, laughter, conversations, games and, in short, as the affection grows ever greater because of the experiences (good and bad) that are lived with the loved one.
Here are some of the advantages of living this experience with someone:
Improves intimacy
Intimacy and time to be together is another of the great benefits of traveling as a couple. Imagine that at some point you will be alone, at night, in some remote place in the beach, seeing the stars and having the perfect environment to merge more as a couple. Those unique and intimacy moments will give you and your partner the opportunity to keep fanning the flame and passion of love.
Collect memories
This is a beautiful part and another of the benefits of traveling as a couple that is enjoyed after the experience. Landscapes, moments, people, places, smells, food, parties and endless experiences to treasure that will become memories for life.
Know the other person deeply
Many of the benefits of traveling as a couple is enjoying the simple things like walking long stretches, sleeping many nights together and facing multiple situations that with thetime will reveal the true character of your partner. So you can see beyond the allure of love and make life-changing decisions like moving in together or getting married.
Clarify expectations
Before starting the vacation, it is important to talk about the expectations and desires that each one has. This way they will be on the same page and it will help to avoid conflicts later.
Feed joy and fun
Sharing moments of joy and humor with your partner is one of the most effective ways to strengthen your relationship. And what better than the holidays to do it.
Take stock and define new purposes
This is a good time to think about this. Reflect on how the relationship was during the previous year, how close you were, how many difficult situations you faced and how you solved them, what were the difficult points.
That is, really spending time with each other, without distractions. Find and establish those moments where it can happen. The amount of time is not important, but the quality. Go out with your partner, talk about how you're feeling on vacation, and support each other.
Stay curious about your partner
Healthy couples ask each other questions to explore each other's inner world. As you both ask questions and take note of the little things (like how you like your coffee or how you relax), you begin to understand who your partner is: likes and dislikes, pains and hopes. For example, you can talk about how to communicate and resolve conflicts. These conversations can lead them to find more workable strategies to take this forward.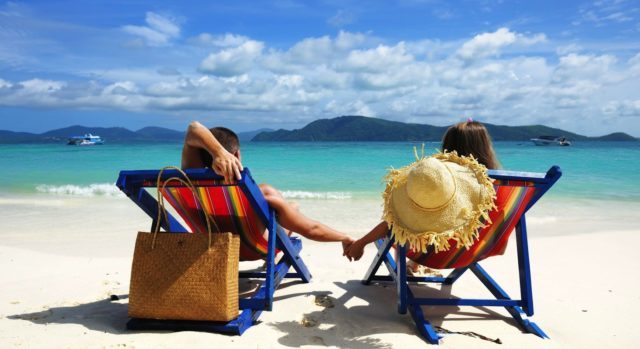 Support each other's dreams
Take advantage of vacation time to sit down with your partner and ask them to think about the dreams they have in life. You may find that you share some of those dreams, and perhaps there are some where you differ. Plan how each of you can support the other in their goals.
But be careful… vacationing as a couple can be a double-edged sword!
Have you ever heard that many couples usually break their relationship in September, after the holidays? It is not because summer leads us to fail in love. But because we have more time to spend as a couple. And at that moment, when you have that long-awaited time, you realize that you are very close to each other, that your partner stresses you out or that you no longer walk in parallel.
During the year you didn't realize it because you didn't even have time to observe what was wrong. You did not perceive how love was withering. You went in fits and starts between work, children, household obligations, family commitments and your own care. You barely had time to enjoy yourself as a couple, to talk about yourselves, about future projects, to dedicate quality moments and experiences to each other.
And suddenly the days of rest arrive, where we should take advantage to get intimate, to share hobbies, adult and couple conversations. What had to be pleasure are discussions, bad faces, silences and reproaches. What happened?
What has happened is that love is not usually taken care of. No time is invested in details to have a beautiful love. We are surviving every day and that is already a maximum. How to walk with nonsense to take care of love! But love that does not spread, love that withers. When we reach the point where love has withered, when you have stopped admiring your partner, when you realize that you are not accomplices, rekindling complicity and passion is sometimes complicated. So let's take advantage of these summer days to pay and if possible recover that complicity that allows us to enjoy as a couple.
How to iron out rough edges and enjoy love more on vacation
Summer is a time to rest and recharge your batteries. If you end up spending the summer at your mother-in-law's house, with people with whom you are tense or in a destination that does not appeal to you, you will be wanting to return home or to work, you will have a conflict or you will even avoid going on vacation by proposing any excuse.
Decide how to spend rest time
It is very important to negotiate and respect the time and needs of the other. We will have to have a time to connect only with ourselves and another time to spend as a couple where the two of you decide. What activities could you do that you might enjoy? It is difficult that, with all the leisure alternatives, there is not something that you both do not like. Sports, theatre, cinema, museums, gastronomy, excursions, getaways… you can do countless activities as a couple, familiar or new. Getting started in some activity together can generate a lot of complicity. It is about learning and discovering something at the same time, making mistakes together, getting it right together, laughing.
Calm conversations
Being able to share intimacy is very uniting, being able to talk about projects, your insecurities, what unites you, your dreams, how you have changed, how everything was at the beginning, what attracts you to the other or simply recreate yourself in what it makes you happy. Try to have conversations around what adds up and emotions.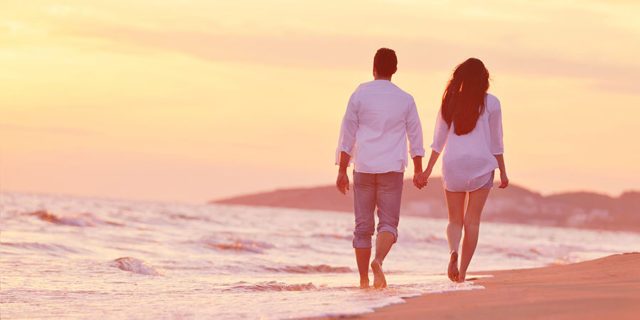 Much love and affection
Love does not cure everything, but almost everything. We stop showing signs of love and affection because it is "assumed" that we already know that we love each other. But feeling loved, affectionately loved, is important. A hug helps release oxytocin, the hormone of love and compassion. Affection is kisses, hugs, caresses, holding hands, looking at each other with love and sweetness. Affection are also the words with which we speak to each other. Use loving language, tell him that you love him, that you love him, that being by his side is a gift of life. When was the last time you said something like that to your partner? Now you have more time, you are on vacation, invest it in what adds up and in what unites you.
Reproaches are the grave of love
Don't take advantage of these days to take out all the garbage, all the changes you need from the person. Do not take the opportunity to tell him that you do not feel loved, that he does not collaborate, that you feel alone and that he has stopped loving you. The other way around. Take advantage in any case to ask for what you need, but without making the other feel guilty. It is not the same to say "you are never there when I need you" than "I would love to have you close and be able to talk to you when I feel sad and overwhelmed". Please bury the hatchet. More problems are solved from the change proposals by talking about what irritates us about the other.
Do things to make each other feel good
We all know what pleases our partner. Share moments, caress him, take a walk. Try to dedicate quality time to each other and to remember in that time the value that each one has for the other. Verbalize to your partner what it means in your life, what you value about him or her, what unites you. Do not stop doing it thinking that the other party already knows. And even if you know it, listening to it is precious. It makes us feel special and unique to each other. Tell him what you admire.
And don't forget the sex
Unless you are an asexual couple, sex is the sauce of life. Sex is good, it is connection, cohesion, desire, pleasure, enjoyment together, communication, generosity. It is an act of love, laugh together, time, knowledge, sincerity. It is a night of complicity that gets out of hand. It is interest in the couple, to know, to please, to be, to accompany. Sex is what you and your partner decide.
Dear couples, love each other very much. Treat each other with love and from love. Wish good things for the other. Soften the poses. Send aggressiveness, grudges and pride on vacation. And make way for everything that adds up as a couple. Breaking up with your partner is an option, but for when you have stopped loving, admiring, desiring a project together. But breaking up because you don't know how to solve the problems is really worth it.
Gnosis Journey in Costa Rica……the perfect option
If you are thinking of doing a couples retreat, Gnosis Journey in Playa Hermosa, Jaco, Costa Rica is the perfect option. Our professional team has the experience and international recognition to help you reconnect and rebuild your relationship. You and your partner will leave our couples retreat feeling refreshed and invigorated emotionally and spiritually, ready to take on the world together.
We carry out constant couple retreats, which allow us to have the necessary experience to guarantee an unforgettable and very enriching experience for your relationship.
With the help of plant medicine, you will be able to work on your goals with your full capacity, raise your energy level, focus, improve your mood, sleep quality, and eventually your performances in any area of interest.
Once you become familiar with plant medicine and acquire these skills you will have control of your organism and be able to make a positive impact on your brain and body you like. Through this journey, you can improve your health, detox your body, feel unstoppable, accomplish more and allow yourself to be brilliant every day as the greatest value of all.
The moment is now!
If you have already decided that you need to take some time for yourself and your partner, we invite you to visit our luxury facilities to live a dream experience and enjoy all its benefits.
Cheer up to try it! It is an excellent way to get out of the routine that allows you to experience the whole experience focused on your health and purification.