An adequate diet contributes to a life full of energy. In addition, it allows the muscles to grow. A routine to increase muscle mass must be properly planned, in this way, when exercising, the probability of suffering an injury decreases and the objective can also be achieved more easily.
In the sports world there are various training methods that have different forms of execution and focused on the objectives to be achieved. In this particular case, the goal is to increase muscle mass or hypertrophy, one of the most coveted processes in people who are starting to exercise.
How to exercise to gain muscle mass?
Increase muscle mass in a process that demands patience. People cannot achieve a significant increase in muscle in a week, this process is lived step by step. To meet the desired objective, it is important to focus on all the muscles of the body, since muscle development should not be asymmetric, if so, the chances of suffering a mole of injury may increase, in addition, aesthetically it is not recommended.
To develop a routine to increase muscle mass, it is advisable to take into account the physical capabilities of each person. In this way, the intensity and load can be determined when performing each exercise.
Tips to gain muscle mass
For thin people who want to gain muscle mass, it is advisable to have the assessment of a physical trainer and a nutritionist. This will allow assuming an adequate program according to the age, weight, objectives and needs of the person.
Likewise, there are basic aspects that can be of great help to gain muscle mass and have a leading role in the whole process, some of them are:
1. Order a diet to gain weight
A healthy diet contributes to a life full of energy. In addition, it allows the muscles to grow. Although it is necessary to eat more to gain weight, it is important to control what you consume to take care of your health. It is not about feeding yourself excessively, but about prioritizing a pattern rich in carbohydrates and proteins.
According to fitness experts, to gain muscle mass you need to eat five times a day, regulating each ingredient. However, the same effect can be achieved with three meals a day, but these must be adequately distributed in terms of protein, carbohydrates and other nutrients.
When it comes to snacks, foods that provide calories and healthy fats, such as nuts, seeds and avocado, can be incorporated. Additionally, adding food supplements can help people who are underweight.
2. Train smart
It is about performing the most efficient exercises and practicing on the muscles that you want to expand. It is important that the routine is not focused on excessive work, but that it focuses on specific areas with a progressive rhythm.
These types of exercises can be done from home. To do this, it is necessary to equip yourself with a set of weights that allow you to adjust the amount lifted. Such activity can be started with a light weight: between 5 and 10 pounds.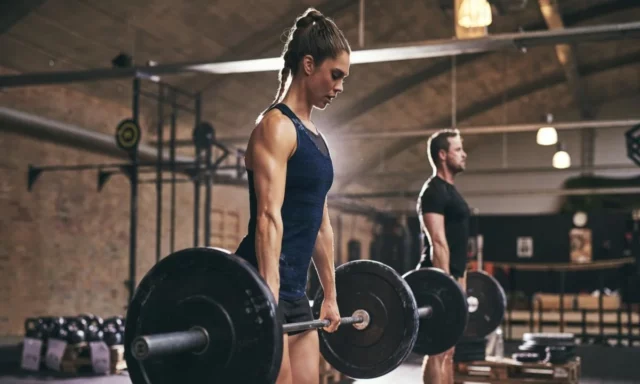 To gain volume, the following routine can be followed:
– Develop 4 cycles of 8 to 10 repetitions with a weight that requires effort.
– Perform an average of 5 different exercises per session.
– Try to train 4 strength days a week.
Exercises to train at home
Parallel to the sessions carried out, exercises can be incorporated in which the person carries their own weight to gain strength. Some of them are:
– Triceps.
– Pulled up.
– Squats
– Horizontal pull-ups or inverted rowing.
3. Adapt the exercise routine
Finally, it is important to keep in mind that the variation in the exercises and their intensity is a decisive factor in increasing muscle strength. In fact, doing the same routine for a long time can cause the process to stall, which is why it should be changed every three to four weeks to increase the weight on the lifts. Thus the body will gain greater resistance to adapt to more demanding exercises. Later, you can add more days to train. These variations will cause the muscles to generate new layers that are stronger and thicker than the previous ones.