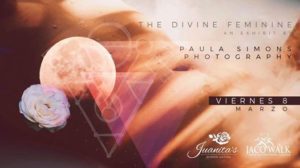 Friday, the 8th of March, is International Women's Day and Juanita's Restaurant in Jacó is celebrating the feminine with a night of female artists, featuring local ex-pat photographer Paula Simons showcasing her work in a photography exhibit aptly named "The Divine Feminine."
For Paula, what started off as work in fashion photography began to take on a life of its own as she started exploring herself and the inner work of healing, growing more into herself as an artist and a woman. Connecting deeper to herself with the help of practices such as meditation, plant medicines and following her inner call to creativity, her work started to reflect the transformation within, shining a light on self-love, and the empowered, free-spirited woman.
Growing up in Sweden with a background in
fashion photography
, she saw a society focused on commercialized beauty and started to perceive that how she had been taught to be a woman in the western world didn't match who she was becoming. Photographing women, she witnessed insecurities, limiting beliefs and conditioning that she could recognize from her own inner journey. Her photography work evolved into a perfect platform, through photos and captions/poetry, to make a change in the perception of Woman. The expression of the emerging conscious woman, connected to her powerful inner feminine energy: the Divine Feminine within.
Women celebration
This also gave her the means to share what she had learned on a personal level with the women she photographs, and to follow their journey of self-love and self-acceptance. Preferring to shoot women without make-up, and little clothing, to confront the norm of how women are portrayed in media today:
— "In every shoot I do, my goal is to capture a woman's natural beauty and essence, that which resides in every woman. A lot of
women
think they need to look different than they naturally do to look beautiful because it's the way we've been taught. My favorite thing is when I get that moment in a shoot when the model is able to put their trust in me and let go of these beliefs. To just relax and truly accept themselves and their form, and let that inner feminine light and beauty shine through. For a moment, in front of my camera, they embrace their inner goddess, and love themselves and their bodies and allow me to capture it. It's such a celebration and a small victory in a world full of face-altering filters and unrealistic beauty standards, and it has come to really feed my soul."
In this exhibit, Paula goes deeper into portraying the
Divine Feminine
through powerful images, all accompanied by words and poems to really communicate her message. Describing it as letting go of wounds from the past that women have carried, trying to fit into a masculine world, to create space for the new woman to come into light; a woman connected to the nature of herself, listening to her body, and her natural rhythms and cycles. She is connected to the earth and her intuition, in her truest essence, freely creating her own path in this modern age where the old no longer fits.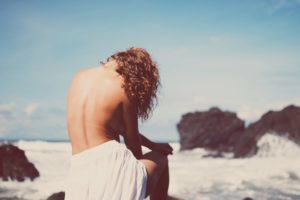 Her photography comes together beautifully as fashion photography meets the portrait of a woman's natural free-spirited beauty, with nature playing a key role.
Following the night at
Jaco
Walk, "The Divine Feminine" will be on display for the rest of the month in the Historical Museum of Puntarenas, part of a larger exhibit – "Juntas Somos Una", featuring other female artists in an expo about women's rights, highlighting the issues and challenges of women in Latin America through art and communication.
For more a closer look at Paula Simons work, visit her Instagram@paulasimonsphotography.