The Costa Rican Railway Institute (Incofer) is advancing in the work for the rehabilitation of the railway line to 3 new destinations: Oreamuno, Paraíso de Cartago, and San Rafael de Alajuela.
This weekend, the work of a level crossing on the national route was concluded, in one of the crossings through which the train would pass to Oreamuno; last weekend, the crossing at the railway level called "La Petra" towards Paraíso de Cartago was made.
The work carried out consisted of constructing the level crossing at the concrete track level, with a length of 14 meters, using 80 pound-per-yard rails joined by aluminum-thermal welding, concrete sleepers with e-clip fixing, and ready-mixed concrete with a compressive strength of 350 kg/cm2. The works were executed in the planned term.
"We already arrived with the cleaning up to Paraíso, now we are working in coordination with the Ministry of Public Works and Transportation (MOPT) to remove and transport the old rails and start with the placement of new ones." In the sector of Oremauno, we work in one step at a level that was ready this weekend and we still have a similar work", said the executive president of Incofer, Elizabeth Briceño.
It is waiting for the municipality of Oreamuno to start with the construction of the train station, and simultaneously, the rehabilitation works will continue towards Paraíso. "The idea is that we finish those works this year", added Briceño.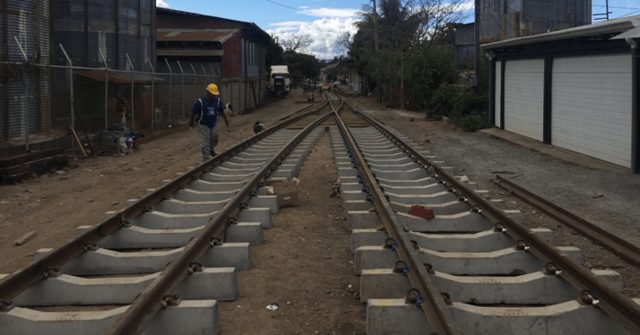 In the case of work on the road to San Rafael de Alajuela, coordination works are being carried out with the National Road Council (Conavi) for the rehabilitation of 2-level crossings that must cross national routes. "We are coordinating to see what works should be done in Conavi on the routes, to then build the concrete level steps. We are also waiting for the construction of the platform to be carried out thanks to an agreement between the Incofer, the Development Society and the local municipality", added the high-rank officer.
The rehabilitation of the railway that will allow these new services will be ready this year, however, the institution recognizes that for the activation of the services on a regular basis will take a few more months, since they must be reorganized with existing equipment.
"In terms of operation, we would enter formally and with more direct frequencies when we have the new trains and the approved rate, this would be during the first months of 2020", concluded the executive president of Incofer.