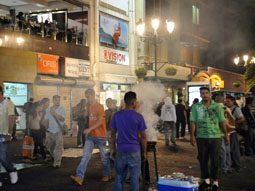 by VANESSA LOAIZA N.
Street vendors in San Jose appear to be separated by blocks and boulevards, according to whether they are Colombians, Haitians, Nicaraguans and Costa Ricans.
At least 1,800 street vendor have invaded the few areas dedicated to pedestrians in the capital. They set up their huge black plastic mats to offer necklaces , socks, scarves, hats and clothing for children.
The most common are the sellers of plagiarized (pirates) CDs and DVDs, using portable DVD systems to prove to the client that the movie is good.
At the slightest warning of a "bell" (guard), all the black carpets coil and the vendors run to hide from the police.
The Haitians are located on Avenue 4, across from the Metropolitan Curia to the square of Social Security. They sell roasted potatoes and umbrellas in bad weather.
In the boulevard across from the  Hospital San Juan de Dios, are the Colombians, mostly devoted to pirated CDs.
The other the large group is of Nicaraguans, which are on the  Central Avenue and its intersections with streets 6 and 8 and the 2nd Street boulevard, which passes the post office.
On the latter they are more often seen walking, do not stay in one place, and prefer selling clothes, accessories for women, phone cards or kitchen wipes, among others.
This segmentation of the capital was detected after several investigations of the Municipal Police and security forces, as confirmed by Marcelo Solano, director of the police force of the municipality.
Costa Ricans are "fighting" for the same space with foreigners, but have no specific point in the capital, said Solano.
The 1800 vendor figure was obtained after listing all persons who were selling goods in the street.
The Municipality of San Jose agreed that the problem of street sales exceeds the response capacity of its police force.
Such is the degree of brazenness with which they operate that they even spray white paint on the cobblestones of Central Avenue to mark the position of a seller. No police officer noticed the damage to municipal property.
According to Solano, the ratio is one policeman for every six vendors.
Translation and editing by TCRN staff