(Reuters) – Google TV, a service that will bring the Web to television screens, is likely to create more headaches for broadcast and cable executives already concerned with being sidelined by free online video shows on computers.
At stake are billions of dollars in advertising spending, a prospect that has enticed a number of others, including Apple Inc, Yahoo Inc and Microsoft Corp, to take a stab at converting the TV set into a full interactive device on a large scale.
"Many have tried to integrate Web video on the TV, with great fanfare, and failed to make a ripple," said Barton Crockett, analyst at Lazard Capital Markets.
Google Inc's plan would have consumers buy a Google TV device that can then be connected to an existing set-top box, allowing users to surf the Web or watch videos on their TV sets.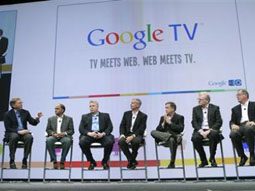 For now, financial analysts and industry observers are largely biding their time before deciding if Google TV will live up to its buzz, given the number of unsuccessful efforts in the past.
Yet Lazard's Crockett said "even if Google TV fails, someone will figure this out," pointing to the increasing popularity of online video sites like Hulu and Netflix Inc for streaming TV shows and movies.
Google's demo showed how TV programs from sites like Hulu can be viewed easily in the living room — yet it was unclear if Hulu and its three broadcast owners were on board with the Web search giant.
A spokesman for Hulu, owned by Walt Disney Co, News Corp and General Electric Co's NBC, declined to comment on Google TV.
Hulu has already blocked its content from other Web TV devices from privately held Boxee and Sony Corp's Playstation 3 that can be connected to a television on fears it may hurt the traditional television business.
Google TV will feature the usual search and display advertising a user would find online, the company said, adding that it does not plan to make any payments to TV companies for the content that those searches pull up.
That might draw fire from the TV advertising industry. What is more, Google TV could undermine the industry's own plans to create and sell ever-more targeted advertising, the Holy Grail of the business.
CBS Corp, for one, is keeping an eye on Google TV. "As content owners we applaud innovation," said Zander Lurie, senior vice president of strategic development at CBS.
"On the business model side, we are more prudent about how we evaluate new technologies and how deep we dive in," he said.
By most accounts, Google TV will put pressure on the TV industry to accelerate its own efforts at targeted advertising — efforts that have moved slowly. One of the biggest, Canoe, a joint venture between cable companies, still isn't completely up and running two years after it was launched.
"The ad model will have to evolve as there is a fundamental shift from linear viewing to on demand," said Chris Allen, vice president director of video innovation at ad agency Starcom USA.
He said the idea is to make advertising less intrusive but still very effective by applying advance targeting techniques.
"You can't just repurpose existing TV advertising."
Whether it is Google TV or not, most analysts contend that the industry needs to offer consumers the kind of search functionality they have come to expect on the Web.
"In 2010 it's all about search and navigation whether it's (Comcast Corp CEO) Brian Roberts introducing the TV search function on an iPad at the Cable Show or DirecTV Group's Smart Search on DVR," said Collins Stewart analyst Thomas Eagan.
Google worked with Sony's TV division and Intel Corp in developing Google TV. It also worked closely for a year with Dish Network Corp, the No.2 U.S. satellite TV provider.
Dish Chief Marketing Officer Ira Bahr said customers would benefit from more advanced search features, such as bringing up search results from the Web alongside results from their DVR and video-on-demand service.
"The challenge is to differentiate ourselves from other multichannel operators and Google TV project has the ability to capture people's imagination in a way that nothing else has since the DVR," said Bahr.
(Reporting by Yinka Adegoke; Additional reporting by Sue Zeidler in Los Angeles; Editing by Paul Thomasch and Richard Chang)