(Reuters) – The U.S. government is forced to rely on BP and the private oil sector to try to plug the gushing Gulf of Mexico well because only they have the technical know-how to stop the spill at those depths, the Coast Guard chief said on Sunday.
Admiral Thad Allen, who heads the oil spill response operation, also said he trusted BP Chief Executive Tony Hayward at a time when U.S. government and public criticism of the company and its executives over the spill is mounting daily.
More than a month after a rig explosion triggered what President Barack Obama has described as an unprecedented environmental disaster, oil is still spewing unchecked from BP's ruptured well a mile down on the ocean floor.
Iran, a fierce critic of Washington, repeated an offer to assist with the Gulf spill, calling it no great challenge compared to what Iran itself had dealt with.
Sheets of heavy oil have washed ashore in Louisiana's fragile marshlands and lesser "oil debris" has also reached the coasts of Mississippi and Alabama in what is seen as an ecological and economic catastrophe for the U.S. Gulf Coast.
Given the lack of a solution so far and the doubts over BP, Allen was asked on CNN's "State of the Nation" show on Sunday why the U.S. federal government did not completely take over the spill containment operation from the London-based firm.
"What makes this an unprecedented anomalous event is access to the discharge site is controlled by the technology that was used for the drilling, which is owned by the private sector," Allen said. "They have the eyes and ears that are down there. They are necessarily the modality by which this is going to get solved," he added.
Pressed about BP CEO Hayward, who has been widely criticized for public comments apparently downplaying the size of the spill and its likely environmental impact, Allen said: "I trust Tony Hayward. When I talk to him, I get an answer"
"FIGHTING A MULTI-FRONT WAR"
In Tehran, Mehran Alinejad, head of special drilling operations at the National Iranian Drilling Co., said Iran had successfully dealt with past huge oil leaks, particularly when rigs were bombed during a war with Iraq in the 1980s.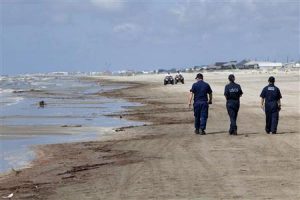 "Iranian technical teams have had major achievements in oil well capping compared with which the Gulf of Mexico oil rig is no feat," he told IRNA news agency.
After the failure so far of containment methods to stem the gushing oil flow, BP engineers are now preparing a "top kill" – pumping heavy fluids into the ruptured well to try to shut it off – in an operation that would begin late Tuesday or early Wednesday, BP Managing Director Bob Dudley told CNN.
Other possible short-term options include a "junk shot" of pieces of rubber and other materials into the failed blowout preventer on top of the leaking well. Allen added another option was the fitting of a new blowout preventer.
But Dudley cautioned: "There is no certainty (of success) at these kind of depths".
Dudley said BP would nevertheless press ahead with all of these while also drilling a relief well — widely viewed as the plugging option with the best chance of success — expected to be finished in August. "We will keep trying, we will not wait until August," Dudley told CNN.
Allen compared the battle to contain the spill and its spreading slick to "fighting a multi-front war".
He added that when the leak was finally sealed, the total amount of oil spilled would "probably start to approach" the 1989 Exxon Valdez accident in Alaska, the worst U.S. oil spill. The tanker accident spilled 11 million gallons (41 million liters) of crude.
But many scientists believe the Gulf spill has already eclipsed this, and warn the spreading oil could increasingly be caught in a powerful ocean current that could take it to the Florida Keys, Cuba and the U.S. East Coast.
Environmental Protection Agency Administrator Lisa Jackson planned to return to the Gulf on Sunday to monitor the EPA's response, while Interior Secretary Ken Salazar was to travel to the BP Command Center in Houston.
RISING STAKES
Their missions underscored the rising stakes for the Obama administration in dealing with the disaster.
Obama at the weekend formally established a commission to investigate the disaster and also made his first reference to the possibility of a criminal probe. But he is facing increasing pressure to do more to solve the problem.
"The federal government should have stepped into this thing immediately, to help make sure that the appropriate steps are being taken by BP … here we are, almost a month and a half later, and it's still spilling oil," Republican National Committee Chairman Michael Steele told ABC's "This Week".
"Right now, the federal government is not moving forward on BP and cleaning up that mess," Steele added.
The Democratic president, in his weekly radio and Internet address, said offshore drilling could go forward only if there were assurances that such accidents would not happen again.
The spill has raised major questions about Obama's earlier proposal to expand offshore drilling as part of strategy to win Republican support for climate change legislation. Analysts say ecological and economic damage from the spill could become a political liability before November congressional elections.
While also promising to hold Washington accountable for proper oversight of the industry, Obama ramped up pressure on companies linked to the spill: BP, Halliburton and Transocean Ltd. He believed a "breakdown of responsibility" between them led to the disaster.
BP stocks have taken a beating in the markets in the month since the well blowout and rig explosion that killed 11 workers and touched off the spill. Its share price shed another 4 percent on Friday in London, extending recent sharp losses.
Many scientists dismiss an original 5,000 bpd estimate of the total leaking oil — often defended by BP executives — as ridiculously low and say it could be 70,000 barrels (2.9 million gallons/11 million liters) per day or more.
(Additional reporting by Susan Heavey in Washington, Hashem Kalantari in Tehran; Writing byPascal Fletcher; Editing by Jackie Frank)