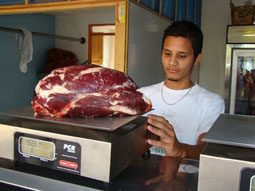 by JAIRO VILLEGAS S.
The lack of interest in learning is the main cause of college dropout, according to the Survey of Multi-Purpose Household, by the National Institute of Statistics and Censuses (INEC).
Almost 32% of young people between 12 and 17 surveyed in 2009 said they did not study for that reason. The second reason is lack of money (21.3%) and the third has to do with learning difficulties (9.7%).
During 2009, 16% of college-age young people did not study. That was the lowest in the country's history.
The data was included in a report presented last Friday at the Theatre Melico Salazar, by the Education Minister Leonardo Garnier.
In this regard, the Minister said the report should strengthen the "learning community" to help reduce drop-out and convince young people to attend high school.
As he said, there needs to be more support by the parents parents, as there is no legal mechanism to force them to return to school, because that is a voluntary decision.
Garnier pointed out that the Venture program grants, seek to help low-income students enconómicos.
The study also notes that most of those outside the school (20%) live in rural areas. In addition, parents of nearly 40% of young people not attending school have no academic degree themselves.
Francisco Gonzalez, assistant director of Educología National University (UNA), said that schools should be more attractive to youth.
"The school should be a place where the kids have art, a space for recreation and a safe place for the comprehensive training," Gonzalez said.
On this subject, Garnier believes that the Ministry of Public Education (MEP) should seeks to combat the boredom of young people through arts and sports activities.
Furthermore, the Minister agreed with Gonzalez that the kids should also learn during recess or special activities.
Translation and editing by TCRN staff.