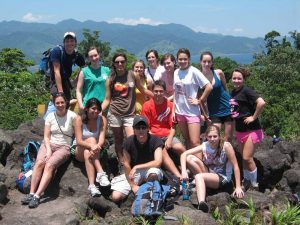 By DANA BURNHAM
WILMINGTON – In April of this year, a group of students from Wilmington High School traveled with their Spanish teacher, Terresa Pietro, to Costa Rica to take part in an environmental education expedition through the Eco Teach program (www.ecoteach.com). The trip was a chance to become immersed in Costa Rican culture, including time spent with host families, visits with students in different parts of the country, and hands-on environmental work.
TIP: Get updates on upcoming Costa Rican Retreats & Events by joining our newsletter. Don't miss out on what's happening around you! Click here.
Arriving in the small town of Atenas, in Costa Rica's central valley western edge, students had a chance to meet their local guides and translator. And before their first day was over, they had pitched in at the area's brand new recycling center, which had been established by a Peace Corp volunteer.
They also had an opportunity to visit a school to learn more about life in Costa Rica. Students participated in traditional dances, with Costa Rican children dressed in full traditional costumes showing off their skills – and those from Wilmington High demonstrating the Cotton Eye Joe. Tables were then turned, as the Wilmington High kids were given the chance to don Costa Rican garb and were taught the ethnic dance they had just seen.
Students continued their travels around the county, staying two nights in several locations until ultimately returning to Atenas. Although they had some time to be typical tourists – time on the beach, ziplining, a visit to a hot spring – the students spent the bulk of their time getting to know the culture and people of Costa Rica and, of course, putting their classroom Spanish to the test.
The highlight of the trip was taking part in the sea turtle project on the Caribbean coast, during which students patrolled the beach at night in search of nesting leatherback turtles, an endangered species. They assisted in measuring the turtles, conducting population counts, and more. Leatherback turtles survive to this day because of the involvement of student groups such as the one from Wilmington High School.
Other environmental activities included assisting in a reforestation project to improve the environment in the areas surrounding the small town of Pital, where the travelers stayed with families in another trip highlight. There, students said they felt instantly bonded with their hosts, sharing in their daily lives, including great meals made with fresh local produce like plantains, mangoes, papaya, and guavas. Some students even learned how to cook staples of the Costa Rican cuisine, such as the ever-present rice and beans.
A day trip to a school for the indigenous BriBri people brought students high into the Talamanca Mountains. Getting there involved an hour and a half bus ride in their tour bus, followed by a boat trip in a motorized canoe, a 45-minute trip on a public bus, followed by a 45 minute hike – including crossing a waist-high river – to get to the community. There they found people living in traditional BriBri homes, which are open-sided wooden structures with thatched roofs, built on stilts. Arriving at the community center, they had a chance to meet students, including a 5th grade boy who traveled three hours on foot every day, getting to and from school. There, they were served cocoa in coconut shells, and banana leaves were used as plates.
Students found the Costa Ricans to be welcoming and friendly, and strongly connected to the land they live in. They also found this way of traveling – a mix of education, culture, environmental activities, and fun – a great way to travel. For many, this was their first trip out of the country, but all having had such a great time; they hope to have more great travel experiences in the future.