Sitting on a tarp stretched out on the snow in the middle of the forest, Agnes and her friends, about 5 years old, count twigs in an impromptu arithmetic lesson. "We use pieces of wood to show them that they can use anything in nature to do math", says her teacher, Lisa Bystrom. "At school they sit down with a paper and a pencil, but here they do it in a more fun way", Bystrom explains.
In Sweden and Denmark, school education is compulsory from the age of 6. Before that, most children go to day care centers or preschools, and many parents opt for outdoor places where children learn to appreciate nature. "Today technology dominates most (of things), for me it is necessary to be in contact with nature since I was a child to learn to respect it", says Andreas Pegado, an educator whose daughter attends this preschool.
The little ones eat lunch sitting on wooden benches around a campfire, unless the rain forces them to take shelter indoors. After eating, children aged 2 and under take a nap in sleeping bags under a canopy, even on subzero days. "They have a lot of fresh air; they sleep more and they sleep better", says Johanna Karlsson, director of the "Ur & Skur" (Rain or Shine) preschool, not bothered by the 5-degree Celsius temperature.
"Forest buses"
In neighboring Denmark, many day care centers use "forest buses" that take children to natural spaces. Every day, a group from the Stenurten preschool -one of 78 that offer daily excursions like this- travels by bus from the Norrebro neighborhood in central Copenhagen to an outdoor space.
In that place, a field next to a forest with a wooden house that provides shelter if it rains, the children run freely. In the open air, educators can vary their teaching methods and develop children's autonomy. "Here is their different curiosity", says Iben Ohrgaard, one of the pedagogues as she watches the children.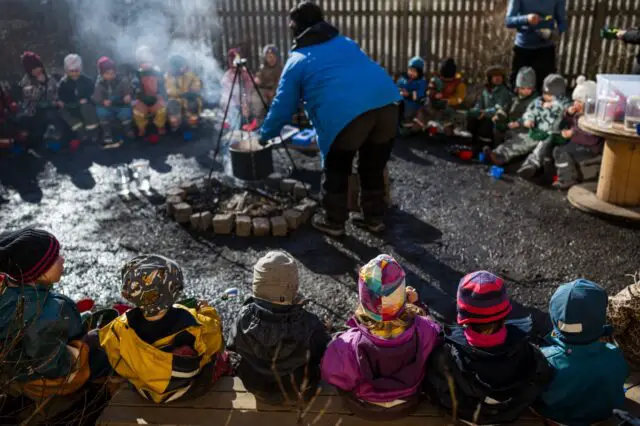 Wearing ski clothing as a rule
Everyone wears ski clothes, children and adults, true to the Norwegian saying that "there is no such thing as bad weather, only inappropriate clothing." Does it make sense to stay outside all day, even when it is minus 10 degrees? Educators agree that young children who spend a lot of time outdoors feel better and get sick less.
In the 1920s, an Icelandic doctor recommended that babies sleep outside to strengthen their immune systems, a practice now common among the Nordic countries and one that the medical community has not opposed.
Teaching and outdoor games stimulate children's spirit of collaboration, says a British study published in 2018 by the British Educational Research Journal. When they're outside, "they try different solutions themselves", Ohrgaard says, which helps limit conflicts.
For parents, days spent outdoors are a "gift". "When you live in the city, in the capital Copenhagen, there really is not nature. It is a huge gift for children", says Line Folkhammar, mother of 5-year-old Georg. She also "comes home tired", she adds while laughing.