TheCostaRicaNews.com
Since our previous report in February, the Frontier Osa project has continued with their important environmental work, which carries out groundbreaking surveys within Costa Rica's remote habitats, helping to conserve some of the country's most mysterious creatures.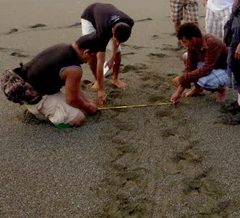 In the last eight weeks, Frontier has seen the current group of volunteers finishing their time on the Osa and an eager new group of willing volunteers arriving and getting used to life on the tropical camp site.
Genevieve Finerty, the Project Coordinator on Osa, reports "we have been very busy on the reforestation scheme we run up on the Cerra Osa, which we have trekked to several times, filling close to 1000 bags with soil in preparation for planting season. It's been really hard work in humid weather but it had to be done."
The aim of reforestation work is to protect and restore viable plant and animal habitats and restore land degraded by deforestation.
But that's not all the Frontier team has set out to do this year. The overall long-term objective of the project is to investigate the effects of climate change on the terrestrial communities of Costa Rica, and its impact on the country's network of protected areas.
This has seen them working hard on turtle monitoring, a key aspect of the volunteers time out on the Osa. Sea turtles are both a flagship species for conservation and an excellent indicator for climate change. Poaching and the illegal trade of turtle eggs cause further reductions to turtle populations, which results in entire clutches being eradicated. On the beaches of the Osa Peninsula, turtles are threatened predominantly by predation and land development.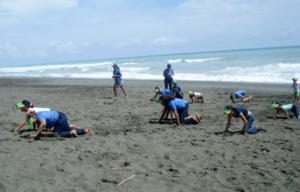 Thus turtle conservation involves an array of strategies, such as patrolling nesting beaches, preventing trade of turtle-based products, providing alternative fishing method, relocating nests and educating locals.
As the peak nesting season is just starting there have been increasing numbers of tracks and turtles seen on the turtle patrols. The patrols are done four times a week at present, on two beaches. Flora O'Brian, the Principle Investigator for Frontier, has reported "in the last week we saw 3 nesting Pacific Greens in one night. As more turtles are coming ashore to nest in mass nesting events known as arribadas, we will be increasing the number of weekly turtle walks to daily patrols." Flora also noted that "since turtles exhibit temperature-dependent sex determination, turtle populations are highly vulnerable to climate change, hence the need to monitor their populations."
Frontier will continue their work well into the upcoming rainy season and beyond and are bracing themselves for a fresh group of new volunteers coming out in June. Volunteers are reporting that their time with Frontier has been rewarding, combining dramatic experiences with the opportunity to work on an inspiring environmental project. Genevieve concluded "we are running a fantastic project here and I want the volunteers to challenge themselves in the work they do as well as have a good time."