Henriette Jacobsen, TheCostaRicaNews.com
The government has announced new guidelines to strengthen the surveillance in agricultural food production and improve sanitary conditions in places where food is prepared and sold.
TIP: Get our latest content by joining our newsletter. Don't miss out on news that matter in Costa Rica. Click here.
The Ministry of Health in Costa Rica, on average, closes between 15 and 30 stores and restaurants each month for violating health and safety requirements. That number is unacceptable to the government of Costa Rica. Therefore, the Ministry of Health, the Ministry of Agriculture and Livestock, and the Ministry of Economics and Commerce have committed to work together to guarantee the population better food quality.
Along with a set of guidelines in the report, National Policy for Food Security and Nutrition 2011-2021, the government is also considering making some changes to the regulations. Health Minister, María Luisa Ávila, has spoken publicly about prohibiting the use of trans fats and ensures that those who prepare food will only use vegetable oils that won't be reused. The Ministry of Education is also considering banning soda pops and products that have a high level of fat in schools.
Marvi Antillon, Minister of Economy, said that his ministry will focus on strengthening the regulation and monitoring of products entering Costa Rica.
"But we must also educate people to not only choose a product based on price, but also choose according to its nutritional content," Antillon said.
Popular restaurants closing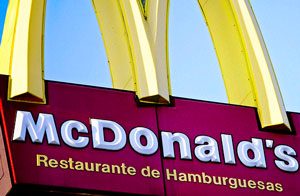 The quality of food in Costa Rica has received widespread attention the last couple of months due to a string of restaurant closings. Two weeks ago, the oldest McDonald's in Costa Rica, opened in San José in 1970, was closed because inspectors found an expired health permit, the employees had not passed the basic course in food handling, and there was a lack of solid waste management. That same week, Coffee World in San José and a local Taco Bell in Sabanilla, Monetes de Oca, were also closed.
In April, Cafe Mundo, which for years was regarded as one of the best places to enjoy a meal in San José, was closed due to mass food poisoning of twenty members of the Legislative Assembly. Afterwards, the Ministry of Health found problems with kitchen refrigeration, and a general contamination of food surfaces caused by an extensive remodeling project. According to a report published in the newspaper La Nacion, the restaurant had let construction work take place in the same areas as the food preparation, the kitchen ceiling was exposed to open air, and there were holes in the walls. It remains uncertain whether Cafe Mundo will open again. Before the food scandal, Café Mundo was packed every day over lunch and on weekends guests usually had to wait to get a table.
Growing demand for food handling courses
The recent closures of the many food business have caused a growing interest in food handling courses. According to Manuel Burgos, who's the chairman of the Costa Rican Chamber of Restaurants, food courses at the Chamber are now fully occupied.
The Chamber provides the necessary courses to obtain the food handling license which is now prerequisite for those who want to work with food that is to be sold to the public. The certificate guarantees that anyone who has earned it knows and is implementing the appropriate hygiene measures.