MishCatt – the artistic alter ego of Michelle Marie González Telford, born January 29, 1989 in San José, Costa Rica – Singer-songwriter-producer is the sultry and seductive voice from Costa Rica (now based in Los Angeles) who grew up singing, playing the guitar and the piano, while using her father's recording studio as a sanctuary for sonic exploration and expression.
Born with synesthesia, a mixed-sense perceptual condition, MishCatt credits her unique musical interpretation with allowing her to see colors and geometry in every song she writes. Her production team has worked with artists like Ariana Grande, Avicii and Madonna.
Stylish retro
Her music is very inspired by the style of the 90s with the combination of soul and jazz. For her videos MishCatt always transports us to exotic and different places, showing a flourishing relationship, where the authenticity demonstrates talent, style, charisma, attitude, good chemistry and confidence in which the magic of her music happens.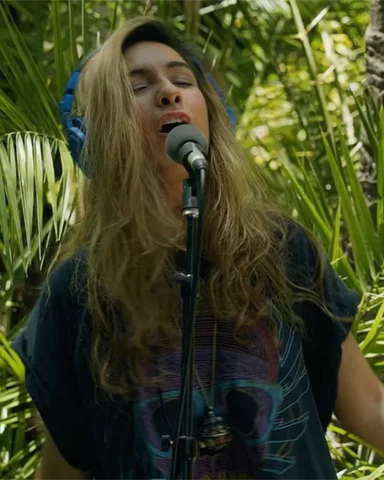 Let's learn a little about her life and career
She is the first daughter of José Alberto González Truque, a classical jazz pianist, and Rossana Telford Fernández, an American-Paraguayan singer and broadcaster. She began singing and playing different instruments from an early age, and at the age of 11 she composed her first song, « imagination». During her teenage years, she was influenced by artists such as Ella Fitzgerald, João Gilberto, Nat King Cole, Diana Krall and Chet Baker. At the age of 14 she began performing with her father singing jazz and bossa nova at his shows across the country.
In early 2012, González joined drummer Mario Miranda and guitarist Allan Rojas to form a synth pop band called Patterns. The band released their debut single "Sunny Days" at the end of 2012, whose lyrics were written by González. The single led the band's debut album in mid-2013, titled Dangerous Intentions, which reached the podium of the best-seller list in the Costa Rican iTunes digital store, and the video clip for "Sunny Days" reached more than 250,000 views on YouTube at its launch. In August 2014, González announced her parting ways with Patterns in order to pursue a solo career in Europe. On August 15, she gave her last concert with the band.
Solo artistic path
After retiring from Patterns, González traveled to Sweden in October in order to sign a commercial agreement with Spotify and record her first solo album. In March 2016, she released her debut EP, the production of which was conducted by Swedish composer Pontus Winnberg. On November 30, 2016, her debut EP was re-released under the title Highlighter, and included a total of six songs, including "Jonny", "Gun To The Head" and "Another Dimension", the last of which reached the position 17 on the Swedish Heatseeker list and whose official video clip was inspired by the aesthetics of stop motion animation from the eighties.
The EP was recorded between Stockholm, Sweden, and Costa Rica, and made González the most popular Costa Rican artist. listened to in Spotify history by garnering over 6 million streams in less than two months. González adopted her stage name MishCatt for the release of her first EP, marrying her nickname "Mish" with what she calls her "musical alter ego", "Catt". After finishing her debut EP, she settled in Los Angeles, United States.
Posting a series of covers on her Instagram account, MishCatt caught the eye of Swedish musician Carl Falk, who had previously worked with DJ Avicii, and invited her to take part in a tribute concert for the artist, who had just passed away. On December 5, 2019, MishCatt performed Avicii's song "Fades Away" live at the Friends Arena in Stockholm, Sweden. The song was re-released as a studio version in the form of collaboration with the artist.
After the release of The Real Pavo, MishCatt began working on a third EP by Carl Falk, which would consist of a total of 4 songs. In July 2020, she released the single "Goofy" to introduce her third EP, managing to reach more than 1 million views on his music video on YouTube. The single was re-released months later through a remix in collaboration with Mexican singer Sofía Reyes and Puerto Rican singer De La Ghetto under the title "Goofy, Pt. 2". Its music video also managed to amalgamate more than 1 million views on YouTube.
All of us Ticos feel proud for the musical triumphs of this native daughter from the "Land of Pura Vida". At TCRN we are waiting to announce to our readers the next projects that this young winner undertakes. Congratulations!