Manatees are big animals, also called "sea cows". They live in rivers and coastal waters from Florida to Brazil. In Costa Rica, these animals can be observed at San Juan, Sarapiquí, San Carlos, Tortuguero channels, and the Gandoca area.
Manatees in Costa Rica can reach 3 meters in length and can weigh almost 1 ton. They are not aggressive and just feed on plants close to the edges in salty waters.
As with other sea mammals, manatees have a limited social interaction. The only relationship they keep is mother-child, just for 1 or 2 years.  Another curiosity about them is that they can be underwater for up to 4 or 5 minutes before they come out to breath.
In Costa Rica, they have a law to protect them. Since manatees are still in danger of extinction, for that reason in Tortuguero National Park there is a wildlife refuge to help assure their survival. If you go there and are lucky enough, you can watch them while they are eating near the surface.
If you want to live the experience of getting close to manatees in Costa Rica, there are some tours where their observation is the main focus and also appreciate the diversity of the ecosystem, full of other local and migratory species.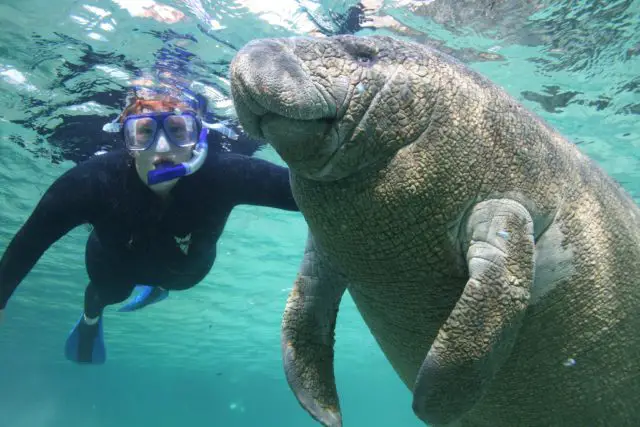 Due to the risk of extinction that the manatee has as a species, Costa Rica has taken a step forward declaring them the national sea animal, in order to protect them and give a healthy environment where to live. 45 legislators said yes to a new law that provides protection to the "Trichechus manatus", becoming a national priority to avoid their complete extinction.
Even sea animals that live in protected areas are affected by chemical contamination of the waters flowing down from rivers.  Also, they are hit by boats hurting them severely to the point that they can no longer feed themselves.
For these and others reasons, a law project was proposed by two students from Barrio Limoncito school, who were concern about the danger posed against the manatee's survival. Since 2011, Fabiola Salas y Aldeir Cortés was waiting for an answer from the government about a law to protect these sea animals. The children, their science teacher Yanette Ibarra along with Alexánder Gómez, a biologist from the National University were happy when finally the decision to approve the law was passed because this way manatees in Costa Rica now had their food, habitat, and reproduction assured.
Since then, Manatees have gotten a new chance to recover their population and not disappear forever and this way avoiding the breaking down of the natural balance on the sea's ecological balance.