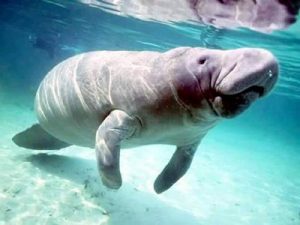 A team of scientists is using a floating bus to search for the last remaining manatees in the Caribbean waters around the Panama-Costa Rica border as part of a project to protect the endangered marine mammals that inspired the tales of mermaids told by Spanish sailors in the 16th century.
The joint Panamanian-Costa Rican project is aimed at conducting a count of the increasingly scarce manatees, or sea cows, in the Bocas del Toro region, the Smithsonian Tropical Research Institute, or STRI, said.
The one-year project started in February and scientists are trying to learn more about the population of the peaceful vegetarians, which can weigh up to 600 kilos (1,321 pounds), in the area, STRI marine biologist Hector Guzman said.
The project has its roots in an agreement signed by the Costa Rican Environment, Energy and Seas Ministry and the Panamanian National Environmental Authority.
Scientists are working in the Sixaola River basin, a transborder wetlands area on the Caribbean coast.
The study is being conducted in the protected areas within Costa Rica's Gandoca Manzanillo wildlife refuge and the San-San Pond Sak wetlands preserve in Panama's Bocas del Toro province, Guzman said.
"There are many estimates that range from 25 to 150 of the animals, but they are estimates with somewhat unusual methods. If this population exists in the area, it would be very easy to see its movements and hear its vocalizations, and that is not the way it is," Guzman said.
The Costa Rica News (TCRN)
San Jose Costa Rica