"Lay back. You don't have to work that hard. Just enjoy the beauty of the park", Barbara said. So we stopped paddling. Our boat flowed with the current of Tortuguero river and we started to observe the wildlife of the rainforest on both sides. "You see that? There are some howler monkeys resting in the trees. Remember the noise you woke up from this morning? It was them", she explained. From the early morning on our canoe tour till our two-hour hike in Tortuguero National Park our multilingual tour guide Barbara Hartung initiated us, a small group of eight international tourists, to the secrets of the Amazon-like jungle of Tortuguero.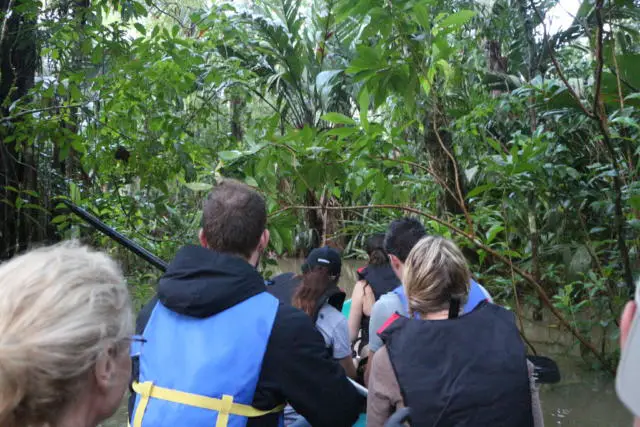 About Tortuguero Village
Tortuguero is a small town on the northern Caribbean coast of Costa Rica close to the border of Nicaragua. It is located on a very small island, with the Ocean on the one and the Laguna of Tortuguero on the other side. The only way to get to Tortuguero is by boat or plane. There are no cars or streets in the city center contributing to its tranquility.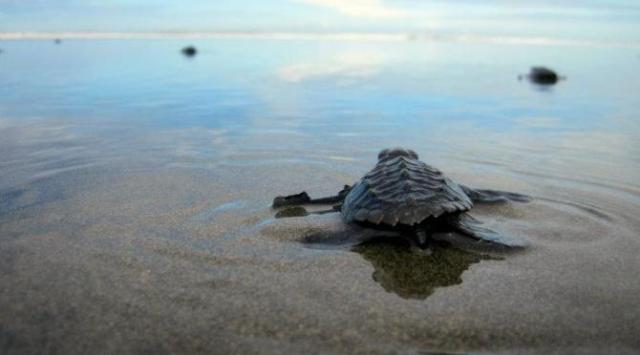 The village got its name from its main attraction – the turtles (meaning of tortuga in Spanish). From March till October you can watch different species of sea turtles arriving at the beach for nesting. But even out of turtle nesting season, Tortuguero is definitely worth a visit. The famous Tortuguero National Park is one the country's top ecotourism destinations for observing animals, birds and water creatures. There is something magical about Tortuguero's remoteness, the network of canals, lagoons and the dense rainforest.
Exploring the rain forest by canoe
Tortuguero's many rivers and canals make a visit to the national park unique in whole Costa Rica. Observing the wildlife from the waterside is a beautiful experience you should not miss when traveling here.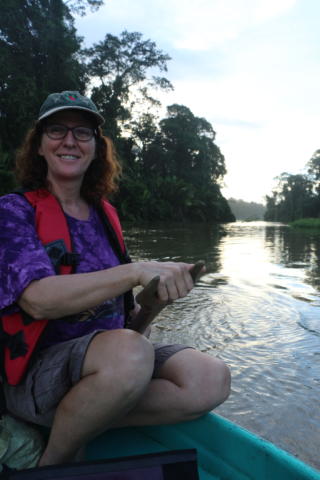 But make sure that your boat is not motorized because the animals get disturbed by the noise not to mention the factor of environmental pollution.
Therefore, we chose to go with Barbara, a local tour guide who owns the one-woman agency Tinamon Tours in Tortuguero. She is a studied biologist and moved to Tortuguero 22 years ago. For almost the same time she offers her tours guiding throughout the national park. She declines to you use loud motorboats – instead, she made us enter her traditional canoe. This way we could explore the waterways of Tortuguero silently and slowly enough to not miss any animals.
Spotted animals out of the Canoe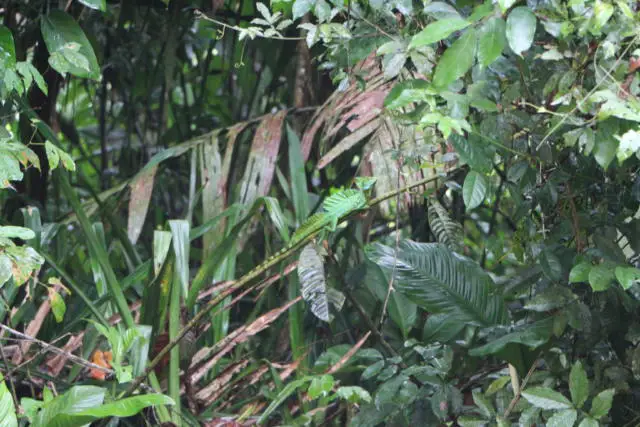 During our three-hour trip, we spotted howler monkeys, sloths, lizards and many species of birds. We even caught a glimpse of pairs of toucans and macaws flying above the river. Though they were too far away to be seen against the sunlight, Barbara explained to us how to recognize the different species of birds by their way of flying. Her profound knowledge and long-term experience considering Tortuguero national park sharpened our eye and sense plenty of times when we would not have recognized the wildlife ahead of us.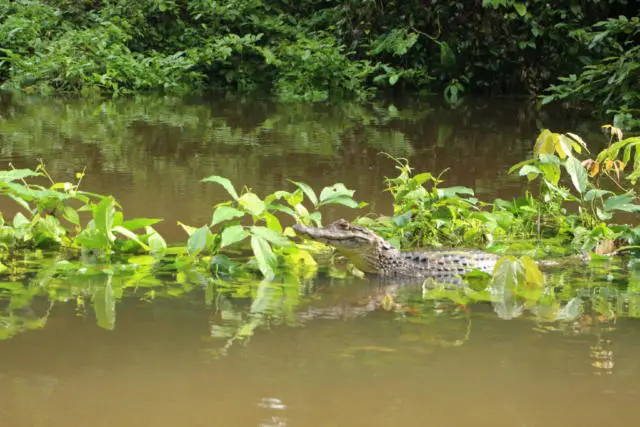 The closest distance we reached an animal of a jungle were a day resting caiman. As it is too hot for them being active during the day, they are looking for some places near the water where they can rest until the sun sets. When it is night they go out hunting. "In some places of Costa Rica caimans and crocodiles live next to each other in the same habitat. But in this national park we do not have any sandbanks for the crocodiles to rest during the day. Therefore, only the smaller caimans call Tortuguero their home", Barbara explained.
Hiking in Tortuguero National Park
After exploring the shore of the canals we were longing for more. So we gained back our strength with a good breakfast and headed back to the national park for some more hiking. We were lucky, Barbara reminded us to bring back our entrance tickets we bought a few hours earlier. They allow you to enter the park as many as you want for the day of buy.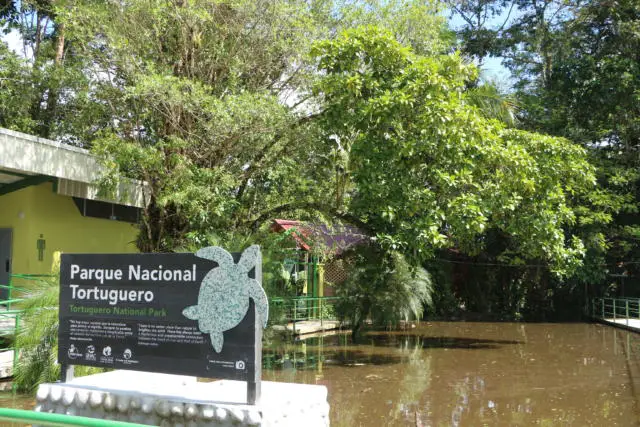 Like any other classic Caribbean place, Tortuguero is known for some unsteady weather and occasional rain all year long. When we started our hike, we were blessed with amazing weather, but the days before it was raining really hard, Barbara told us. The levels of the rivers have risen that much that even the first part of the path and the area around the entrance was completely flooded. Therefore, it is very recommendable to rent some rubber boots before embarking this adventure. You can rent them for 2$ at the entrance of the park.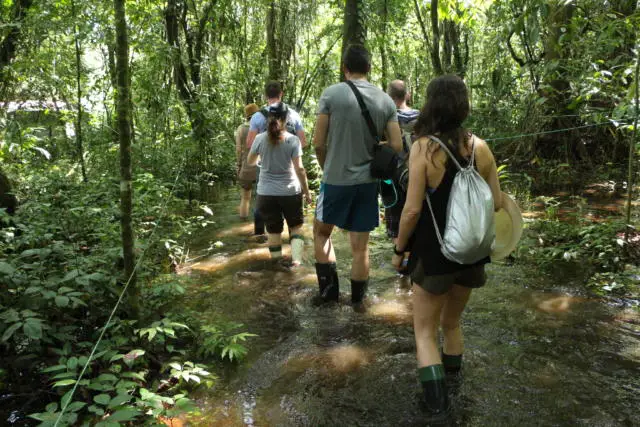 Luckily we had some clear instructions of our guide considering our safety. "But watch your feet. And even more important: If you are searching for some handhold at the trees, watch before you lay your hand anywhere. All the snakes that are living in this area run for cover on the trees and they are masters of disguise."
Wildlife in Tortuguero National Park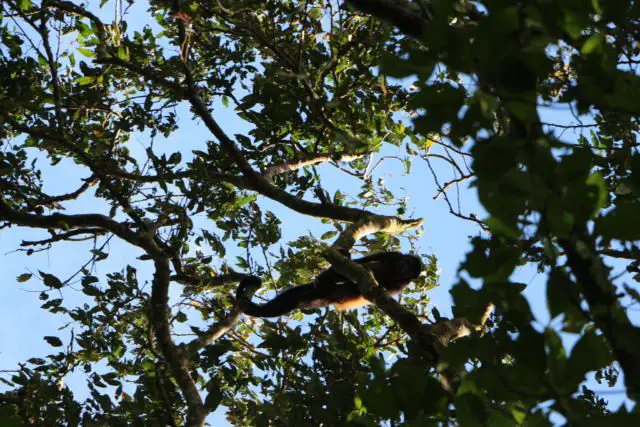 Even with no turtles nesting here during our visit, this place bursts out of wildlife. After a few minutes of wet walking in the park, we reached solid ground under our feet again and could focus on observing the wildlife surrounding us. We spotted countless leafcutter ants, more lizards and howler monkeys as well as nearly ten two-finger sloths. By coincidence even discovered the famous red-eyed tree frog on the backside of a leaf.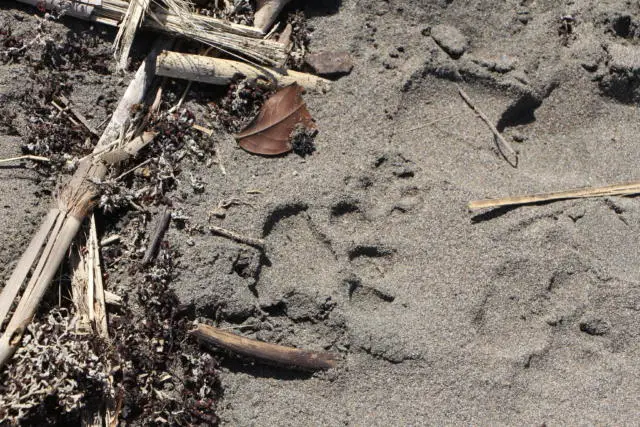 At the secluded beach of the park, we even found some fresh foot prints of a jaguar that just had come by this morning. "I will show you some foot prints of dogs in the sand. They look totally different. These ones can only be made from feline predators." Even our guide Barbara seems to be excited about this discovery. Even after more than twenty years of visiting Tortuguero National Park regularly, she cannot get enough of it. "How could I ever be bored? The rain forest is constantly changing, every day is different. I could never stop being fascinated by that."
About Barbara and Tinamon Tours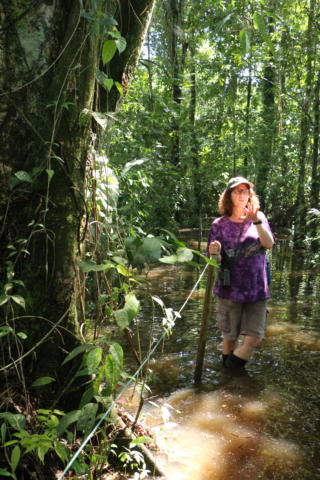 Barbara Hartung offers guided tours in German, English, Spanish and French. All year round her groups can explore Tortuguero National Park via canoe or go hiking by feet. During turtle nesting season she offers specialized tours to observe the nesting of this protected animals. Moreover, she guides tourists through the village of Tortuguero, explaining culture, history, medicinal plants and influence of conservation and tourism in the daily life of Tortuguero people. All tours can be booked separately or as package including lodging and meals.
For more information visit her Website Tinamon Tours or contact her via mail to [email protected]