In this article, we delve into the intriguing universe of Cannabidiol (CBD), its products, and its various benefits. In the meantime, join us on this journey in which you will discover the most famous products with CBD content and how they can enrich your well-being.
It does not matter if you are an expert or a novice, this text will provide you with valuable knowledge that will lead you to evaluate the merits of incorporating CBD into your daily routine.
The first thing you should know is that the Cannabis sativa plant contains more than 80 chemical components, one of which is Cannabidiol, commonly known as CBD. Most people are probably already familiar with CBD. These three letters have become more common in our day to day, forming part of our daily life.
For context, the Cannabis sativa plant, also called cannabis or hemp, contains more than 80 chemical elements known as cannabinoids. One of these elements is Cannabidiol, better known as CBD. So, effectively, CBD originates from cannabis. What does this mean? Is it harmful to our health? Does it carry any risk?
What is CBD?
CBD, or cannabidiol, is one of more than 100 chemical compounds called cannabinoids found in the cannabis plant (Cannabis sativa).Unlike tetrahydrocannabinol (THC), which is the main psychoactive component of cannabis, CBD has no psychoactive effects. This means that it does not cause the "high" feeling associated with marijuana use.
CBD has gained popularity in recent years due to its therapeutic and medicinal properties. It has been researched and used to treat a wide range of conditions and symptoms, including pain, inflammation, anxiety, insomnia, and certain seizure disorders, such as epilepsy. Additionally, the potential of CBD to treat neurodegenerative diseases, mood disorders, and other medical conditions has been studied.
The Discussion Around The Therapeutic Use Of Cannabis And The Potential Of CBD
The truth is that the therapeutic use of cannabis is a contentious issue, but more and more experts are debating its use. In fact, at the recent Pharmacy Congress and Medicines and Parapharmacy Exhibition, held in Madrid, a presentation on the medicinal use of cannabis was included.
Specialists agree that cannabis is a plant with a great deal of opportunity and potential, and that it can be used safely under medical supervision. According to experts, many of the plant's compounds have therapeutic applications.
CBD, specifically, is found in products categorized as "cosmetics" and has therapeutic properties such as: anti-inflammatory, analgesic, neuroprotective, anticonvulsant, antioxidant, anti-nausea, antiemetic, anxiolytic, antipsychotic, antitumor agent, immunomodulator, body strengthening immune system, improves skin quality, and relieves insomnia, among others.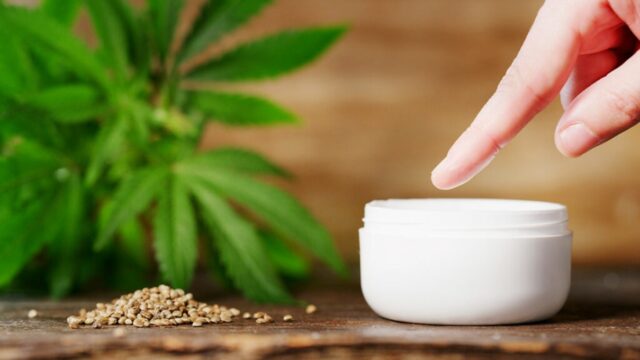 Some of the most recognized products that contain CBD are:
CBD oil; It is used as a nutritional supplement and is the most common way to consume this oil. It is not addictive and does not cause side effects. It is generally sold in dropper bottles. To get its benefits, just place a few drops under the tongue.
Creams and ointments; CBD provides numerous benefits for the skin when applied in creams or ointments, its main effect is anti-inflammatory. The hot/cold effect helps to relieve localized pain in people with diseases such as arthritis or chronic muscle pain. It is also used by athletes to reduce muscle pain after hours of training.
In general, the body tolerates CBD well and its use does not imply health risks. However, in very high doses, it can cause side effects such as dry mouth, diarrhea, drowsiness, fatigue, loss of appetite, nausea, or irritability. CBD is progressively gaining space in the medical field, which has increased its awareness and popularity. Its non-addictive therapeutic properties and lack of toxicity indicate that interest in this product will continue to grow.
Furthermore, several countries have already legalized the product for various markets. CBD Gummies: These gummies are a low-key and delicious alternative to consuming CBD. They are easy to carry and dose, and offer a fun way to reap their benefits. CBD gummies can help relieve stress, anxiety, and improve sleep.
CBD capsules; Capsules are another option for consuming CBD. Like CBD oil, the capsules are not addictive and do not cause side effects. They are ideal for those who prefer precise dosing and no taste.
Pet products; CBD is also used to improve the quality of life of our pets. There are specific products for animals that can help relieve anxiety, pain and other health problems.
The future of CBD
With the growth of research and understanding of the benefits of CBD, it is likely that we will see more products and applications in the future.Studies are ongoing in areas such as pain relief in cancer patients, treatment of neurological diseases, and management of anxiety disorders. It is important to note that although CBD offers multiple benefits, it is not a magic bullet for all ailments. Its use must be complementary to conventional medical treatments and always under the supervision of a health professional.
Remember, CBD is a component of cannabis with a wide spectrum of therapeutic applications. Its increasing popularity and acceptance in the medical and wellness arena have led to increased awareness and availability of CBD-enriched products. It is always essential to educate yourself and consult with a doctor before you start using any CBD product to ensure it is safe and appropriate for your specific situation.