The President of the Republic, Carlos Alvarado Quesada, and the Minister of Public Works and Transport, Rodolfo Méndez Mata, made known to the inhabitants of the province of Cartago the designs of the integral solution of the intersection known as Taras-La Lima.
The announcement on this road, one of the main sources of traffic congestion in the province, was made after the session of the Governing Council this Friday, which took place in the session hall of the Municipality of Cartago.
TIP: Get our latest content by joining our newsletter. Don't miss out on news that matter in Costa Rica. Click here.
This work will have special and unprecedented features in the development of the road infrastructure of Costa Rica since the passage of La Lima will be the first 4-leveled structure in Costa Rica.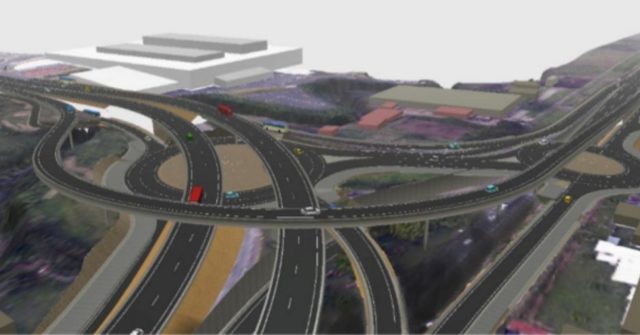 The design has the necessary structures for the disposal of the different levels in the exchanges, these are: High Passage Taras (3 + 3 lanes), High Passage Av. 23 (3 + 3 lanes), High Passage La Lima N ° 1 (2 lanes), High Passage La Lima No. 2 (2 lanes) High Passage La Lima No. 3 (1 lane), La Lima Bottom Pass (2 lanes), and La Lima La Porchico No. 1 (1 lane).
For Minister Rodolfo Méndez Mata, priority is given to the development of quality infrastructure in order to facilitate the mobility of citizens. The development of the same contemplates integral solutions to the population.
"This project is part of the national road plan that I have presented to the country as the management of the MOPT teams in this administration. It has solutions for vehicular traffic with marginal steps, uneven steps, drainages, road safety measures and solutions for pedestrians and cyclists throughout the project", said the Head of State.
The estimation of the total investment costs for the recommended solution is:
Total costs of execution of works US$ 64,972,970.47
Total environmental mitigation costs US$ 124,000.00
Total expropriation costs US$ 1,460,876.05
Overall total US$ 66,557,846.52
The work will be financed with resources from the IDB umbrella loan and from the government, as announced on September 6th by Minister Méndez Mata. This design is adequate to satisfy mobility in the long term, according to the projections of the growth of the vehicular fleet that uses this route.