"If we have achieved so many wonderful things with absurd restraints, the question is, where would we be if we did not have those restraints?".
These words reflect the vision of development, the dreams of modernity and the political challenges of Costa Rica from the perspective of the president, Carlos Alvarado Quesada.
This was stated by the President on Wednesday, August 22nd, during a 48-minute interview with the newspaper El Financiero.
The exchange of questions and answers was based, up to a large extent, on textual citations of the novel "Las Posesiones", written by this ruler and published by Uruk Editores.
It is a literary work set in the Second World War, specifically in internment camps in which Costa Rica -like other governments in Latin America- detained German, Italian, Japanese people and their descendants.
"We have done wonderful things, but we have to unleash the potential wasted", said Alvarado, who shared a pair of experiences about the kind of absurdities that hinder the country's development.
One of them, the fact that the President of the Republic had to sign pay settlements of public officials for ¢ 20,000. Another one was the occasion when, being Minister of Labor in the previous government, he had to sign a hearing aid purchase for ¢ 5,000.
In a room decorated with 2 sculptures on motherhood and 4 indigenous pieces from the National Museum of Costa Rica collection, Alvarado also spoke about his plans on carbon neutrality, the labor market, economic reactivation, public finances, and the future of institutions such as Recope and Japdeva.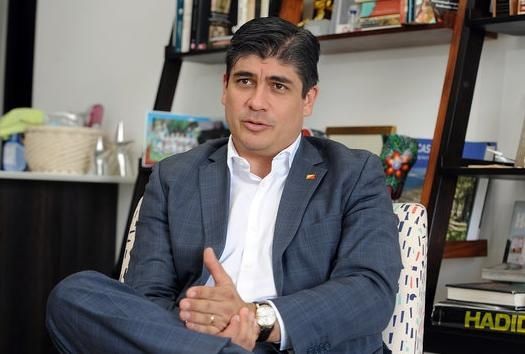 He also referred to political negotiation, ideology and thought, stubbornness and determination, political storms, ego, and what he called "a great tangle of crossed interests that stop" the modernization of the country.
We offer a summary of the interview

"We live in a country where hardly anyone with a car chooses –he says in his novel–  to walk on without a vehicle. It is less polluted, and more similar to the European progressive style, of platforms and trains, of bicycles and bikeways, of walking on foot to the neutral carbon". What do you hope to make ready in your government to modernize the way in which we Costa Ricans mobilize?
In material terms, the electric train in its first stage and sectoring. In the intangible, but I think more profound, it is a conception where there is a mobility centered on people, not on vehicles.
"It is a little bit what a Costa Rican experiences when he is in a city in Europe or Colombia. It is a very different experience from the public space, where you can walk, you can enjoy the surroundings in a safe way and you can mobilize at many distances. That, in Costa Rica, is not a reality, yet".
Of those material elements and aspirations, it has been spoken for years. How to guarantee that at the end of your government, Costa Ricans will, at last, see concrete works?
In the speech of May 8th, I said: 'I promise nothing more than to work so that these things happen'. Many people say: how do you guarantee me, how do you assure me? I do not want to fill people with false expectations, but with things that are happening.
"For example, stage 4 of the Circumvallation, Triangle of Solidarity, was inaugurated. That is my vision of things. I prefer not to say: 'I promised them'. I prefer to say: 'We made it'. And that I think we can do with the train, with sectoring and other important works. "
Costa Rica has an almost structural unemployment of 10%. How to boost the labor market?
Education has to prepare for life, but also for the world of today and tomorrow, that is technological. Therefore, we have two very important initiatives in the educational area. The plan for 4,500 schools is to have a broadband Internet network. We have also launched a plan for Costa Rica to be a bilingual country, starting with universal access to English, in the first stage, so that all people have 2 languages.
The long-running fiscal debate has prevented the country from discussing important issues, including how to accelerate economic growth. What is your bet?
A 2-line bet. One has to deal with the macroeconomic part, very hand in hand with the fiscal plan. With the fiscal plan, we would not only have stability, but we would also be able to lower interest rates and generate more certainty for investment.
"On the other hand, we have the lane of economic reactivation that contains important elements such as what we are already doing with Setena (National Environmental Technical Secretariat), to reduce the row of files. This has also led, for example, to Senara (National Service of Groundwater, Irrigation, and Drainage), Ministry of Health and Municipalities.
"In the reactivation part, the issue of alternative or dual training is key for the labor market and the productive sector. We will also promote teleworking. It is key to understand social security as an agent of health, human development, and pensions, but obviously also as an economic agent".
There are institutions like Japdeva that must reinvent themselves. You wrote in your novel: "There is an attachment to the known, and the change generates fear or annoyance". What is your vision for Japdeva when you begin to operate the TCM?
Japdeva will change its form of operation and will be more of a development manager. It has to reduce its operation, and this will happen before the start-up of the TCM. He has to rethink his role, not so much in the operative part, although he will keep that, thinking about projects that generate income and development for the province.
In your opinion, what is the role of Recope in a decarbonized economy?
Having a monopoly (in this field) has an advantage: encouraging the reduction of fossil fuel. Recope has to transform itself, becoming a center not only of fossil fuels but of biofuels, hydrogen and other clean technologies.
Do you visualize the future of the fuel market under a state monopoly?
About fossil fuels, yes. About fuels in general, no. The role that Recope has to play -or whatever the institution is called- is to be a catalyst for that transformation that will start with gasoline additives, such as ethanol or from other sources.
"This has to be done in public-private partnership, for example with the sugar sector, the palm sector or with others who are already in that niche. That, at a first stage of transition".
Do you think that Recope visualizes this transformation and accepts that it will no longer be a monopoly?
One would have to wonder what Recope is. Institutions must have a meaning for society. Recope has or had a sense for society as it was in the twentieth century. In the 21st century, societies are being transformed; with this, the role that Recope has and its installed capacities have to be transformed. What is the end? Clean energies. As a society, we have to direct the institutional framework towards that end.
Recalling the words of the old Apollonian Brenes to Ana: "There are things in life that you do not want but you have to accept". Does the work in the spending cuts cannot have ended with the actions already announced or yes? What are the pending tasks?
First, it is consistency. We have adopted, in the first month, measures that are already reflected in this budget. I think that the impact of what has already been done in the long term, on the issue of saving and attenuating the growth curve of spending has not been measured.
"Second, the Budget of the Republic that is going to present comes with a zero growth of what we control. I invite you to look for when that happened. There is a clear commitment. And if we keep that commitment, we will be in a better place".
"Then, the discussions about the institutions come. We have to project what we want the institutionality for, and not that the institutionality is an end in itself. That discussion has to be seen not with a cutting-edge or expansionist spirit, but with a transforming spirit".
There is a high degree of resistance in some institutions. How to approach that debate with a level of maturity that allows reaching solutions?
It must be addressed at the level of the ends and thinking about the people who work. When people are guaranteed that they will have a good route, things can be achieved.
"It is the same dilemma that Kodak, a successful company in a business that disappeared, had. They were leaders, but they did not adapt to technological change and the company basically disappeared.
"Some of our institutions could be in that area, which is the time to make the transformation, and responds to the needs of citizens by giving guarantees on labor issues."
In Costa Rica, everything is discussed a thousand times. How to move from debate to action with a complicated political landscape?
It is one of the challenges that politics and development have in Costa Rica today. I have chosen the issue that we must solve soon to invest the political capital: the fiscal issue. After that, there are many issues to be addressed, a panorama that I see positively.