The hotel sector urged the Costa Rican government to make a greater effort to restore normalcy in circulation through national roads and services, affected by the indefinite strike against a tax reform.
The Costa Rican Chamber of Hotels (CCH) expressed its concern about roadblocks in Puntarenas (Central Pacific), Guanacaste (North Pacific) and Limón (Caribbean), where tourism is essential to sustain economies. "The Government must enforce the law, lift the blockades, which in themselves are illegal and thus guarantee the free transit of citizens and thousands of tourists who have seen their plans affected to enjoy the wonders offered by Costa Rica in different areas", Indicates a press release of the entity.
TIP: Get our latest content by joining our newsletter. Don't miss out on news that matter in Costa Rica. Click here.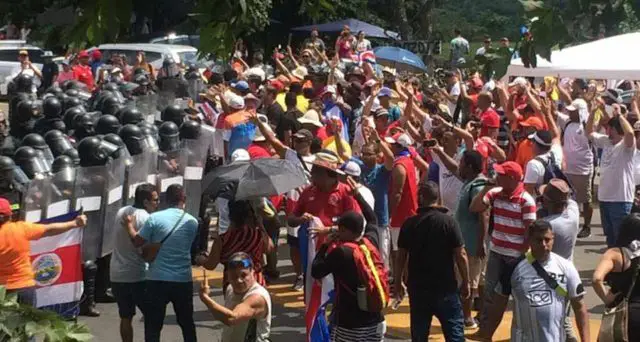 The union groups reject the tax reform as they consider that it will affect the middle and lower classes, and particularly state workers, more because it contains reductions in salary bonuses to contain spending. The demonstrators culminated yesterday (Tuesday) the 9th day of an indefinite strike against the tax reform and record various regional protests on public roads.
The hotel sector explained that they have reported cancellation of reservations, flights, and delays in the delivery of rented vehicles, which harms economic activity. "The Chamber insists not only on calling for calm and dialogue for the strikers and organizers of the protests and blockades, but also on urging the Government and the labor courts to take final decisions on the matter and encourage a return to the normality that we value and recognize both those who visit us and tourists", cites the bulletin.
The reform of the Public Finance Strengthening Law has as its main initiative the conversion of the sales tax of 13% to a value added tax (IVA), with the same rate, but which will increase the number of products and services to be taxed.
The union strike has registered temporary blockades, the stoppage of lessons in half of the educational centers, cancellation of medical appointments and surgeries, as well as difficulties for the mobilization of products and low operation in the state ports.