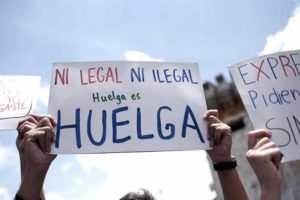 Public employees, various unions and the general population of Costa Rica, since Monday began the indefinite strike against the tax reform that is currently being discussed in the country's Congress.
TIP: Get our latest content by joining our newsletter. Don't miss out on news that matter in Costa Rica. Click here.
During the protest, workers denounced that this fiscal reform will significantly affect, not only the middle and lower classes of the country but especially, the nation´s public employees.
Since the launch of the project, the unions have expressed their strong rejection of the fiscal reform called the "Law of Strengthening Public Finances", in particular to taxes such as those of 2% in basic foods products and 4% for education and private health system, for which they urged the Government to desist of its approval.
The tax reform also has as its main initiative the conversion of sales tax of 13% to a value-added tax (IVA in Spanish), with the same rate but that will tax more products and services.
President Carlos Alvarado urged unions and workers to dialogue, but so far the unions have rejected the proposal ensuring that a series of tax initiatives that have not been taken into account have already been presented to the government.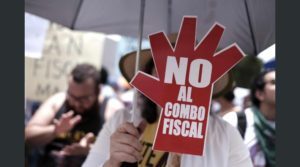 According to Costa Rican media, the business sector also "dismisses the anti-patriotic movement and accuses unions of defending certain salary privileges that the reform seeks to reduce in order to contain public spending."
The strike has led to 80% of the educational institutions closed, while the authorities report problems in the health sector with scheduled appointments and surgeries, due to the absenteeism of nurses.
On the other hand, since Sunday night, the police and institutional authorities maintain control, both of the state ports of the Caribbean and of the fuel distribution facilities of the state-owned Costa Rican Petroleum Refinery.