A new alternative to combat road congestion in the main avenues of Costa Rica has been proposed: the construction of viaducts. Experts say that the construction of these elevated highways represents a "viable option" that will allow in a short time a significant reduction of traffic in the city of San Jose.
The president of the Costa Rican Geotechnical Association (ACG), Oldemar Bermúdez, explained that although currently the construction cost of this type of works is quite high, they would bring notable improvements in the fluidity of the road bottlenecks. Likewise, he assured that the recovery of the investment occurs in the medium term and that it would not be necessary to close the roads for its construction.
"The country has a serious problem with vehicular circulation that directly is reflected in extremely high costs due to aspects such as: the loss of large amounts of time that people remain stuck in traffic, the waste of fuel and the reduction in competitiveness due to the difficulties to efficiently move goods, as well as provide services; for that reason, we need to find urgent solutions to this situation", he said.
Bermúdez informed that this proposal will be analyzed and discussed during the 13th Edition of the National Congress of Geotechnics 2018 (CONGEO), which will be held September 5th and 6th at the Wyndham Herradura Hotel, with 250 experts from United States, Brazil, Venezuela, Cuba and Costa Rica.
In addition to the issues related to the routes, other cases will be presented, such as the construction of infrastructure, mountain roads, container terminals and the prevention of road risks.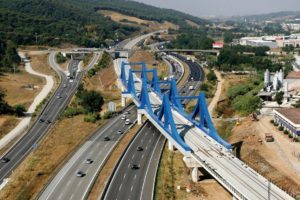 "There are no reasons of a technical or human nature for Costa Rica to be unable to carry out this type of work. We have the technology, the necessary experience and the highly trained human resources to undertake these road solutions that have already been successfully developed in other Latin American countries, "said the president of the ACG.