Although in Costa Rica it is illegal to climb to areas near active volcanoes, people ignore it and continue climbing.This can be documented through social networks, where groups take advantage of the early morning hours and roads used by specialists, to evade the authorities.
According to observations, people are seen near the active crater of the Rincón de la Vieja volcano, Poás volcano, Arenal volcano and there are also ascents to the Turrialba volcano.
"According to the videos, the path they follow is called "lomo del burro", the cone behind is the von Siebach. They are about 300 meters from the active crater of Rincón de la Vieja and therefore, they are in prohibited territory," said Javier Pacheco, from Ovsicori.
"A small eruption could throw rock fragments there at high speed. Obviously they are heading to the crater, so it is even more dangerous, the gases that escape during an eruption could suffocate them," Pacheco warned.
Since August, this massif entered a new eruptive period, as reported by the Volcanological and Seismological Observatory (Ovsicori)."It can be considered that the volcano entered a new eruptive period. Since August 25, an increase in the frequency and amplitude of eruptions has been observed," experts consider.
"Likewise, it must be considered that Rincón de la Vieja is a very dynamic system, conditions can change quickly and in the short term," Pacheco warned. Also in August, the Poás volcano had a small eruption, after months without activity, according to Ovsicori reports.
"The increase in volcanic activity could be a precursor to a period of phreatic eruption like the one observed in 2019. When a moderate eruption was energetic enough to damage a solar panel on the edge of the crater," the institution noted.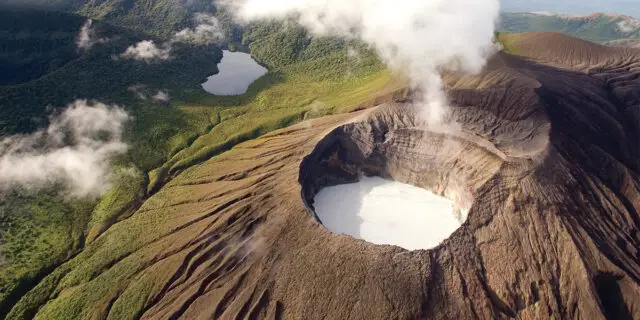 Alerts
In addition, Ovsicori monitors the conditions of the volcanoes daily. And according to specialists, there are some "sleeping", but at any time they can generate activity. In this way, volcanoes are distinguished with four types of levels:
Alarm (red): high eruptions, impact on populations and infrastructure, severe lahars.
Caution (orange): eruptions, lava, ash fall, gases may occur.
Warning (yellow): smaller eruptions, off-gassing, increased temperature.
Calm (green): earthquakes, hot areas of up to 100 degrees, gases, landslides.
Taking into account the volcanoes where the most illegal incursions are made, the following remains:
Turrialba Volcano: warning
"Illegal entry into National Parks and protected Wild Areas is a problem that puts people's lives at risk. They all have official sites, where experts have considered that you can enjoy it without exposing yourself to risks," highlighted the National System of Conservation Areas (Sinac).
"In places where illegal tourism is practiced, they will encounter rough terrain, damage to vegetation, negative interactions with animals, and increased danger in volcanic areas, where there are gases that cannot be perceived and irritate the respiratory tract," Sinac emphasized.
It must also be considered that since these are areas with restrictions, entry for the rescue forces, in the event of an emergency, is very complicated, so the lives of the rescuers are also put at risk.Given this situation, a call is made to the population to avoid tours that promise entry to these places and, on the contrary, to make complaints through 1192.