Costa Rica is a multicultural country that stands out in different aspects around the globe. That is why its creole food could not go unnoticed. In this issue, we want to share some recipes, ingredients, and even the granny's advice, so that you can prepare the most exquisite dishes, which will conquer, no doubt about it, the whole family.
Because Costa Rica is a country with abundant coasts, fish cannot be missing in most of the typical dishes that characterize it. That is why in the main dishes that we are going to mention, you cannot miss the Costa Rican "Ceviche". This is nothing but fresh raw fish, marinated in citrus juices like lemon, or orange in some cases, with finely chopped herbs and, for the most demanding tastes, the occasional vegetable. In our country, the best ceviche is made with local Tilapia or Corvina (white sea bass), seasoned with cilantro, garlic, chili, onion, and celery.
Another dish that just makes your mouth water is called "Casado", our typical food. Recently, it has become the most common dish in Costa Rica. This is made up of beans, rice with red peppers finely cut into cubes and onions, fried plantains, a salad of cabbage with tomato and carrot, and a selection of meat between chicken, fish, pork or beef, with roasted onions. All this, besides being an ideal dressing, adds a truly unique flavor to this dish.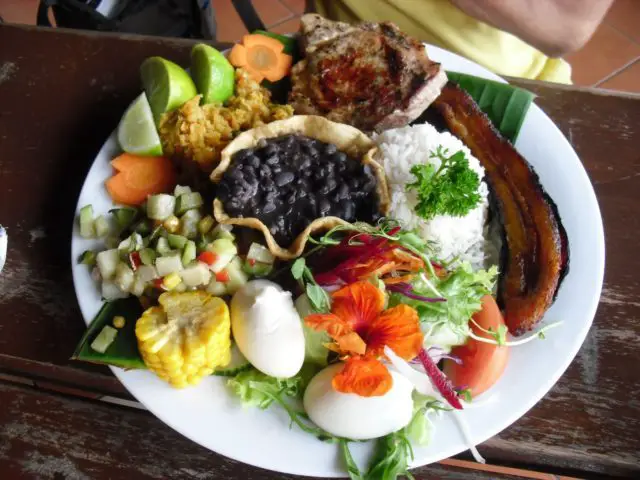 Continuing with the meat, if we talk about really delicious dishes, it is appropriate to mention the "Olla de Carne" (meat pot) which is a substantial and nutrient-rich stew, made with huge pieces of meat, potatoes, carrots, chayote, bananas, yuccas, sweet potatoes, green bananas, and sweet potato. Mmmm … Simply delicious!
Another dish, truly tasty when it comes to a walk through the immense range of recipes offered by our unique country, is the "Gallo Pinto" that has become the typical breakfast. In addition, it is quite practical when the women of the country prepare their children well early just before starting their daily tasks. This dish consists of rice and beans mixed together, fried or scrambled eggs, minced meat, fried plantains, and tortillas.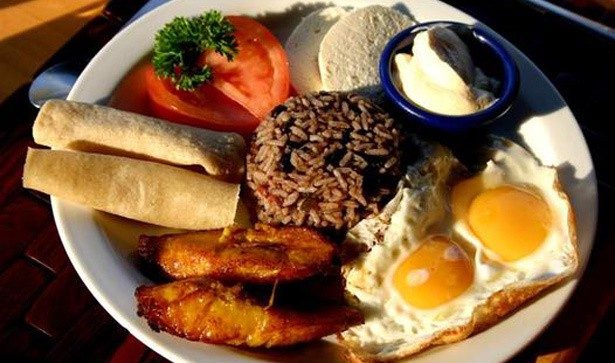 A popular custom in Costa Rica is to pour the Lizano sauce over the Gallo Pinto. Being a greenish brown and slightly sweet, it is tasted as something simply unique, nutritious, and truly delicious.
In addition to this, the Costa Rican tamales also accompany our inhabitants in the morning or mid-afternoon hours are usually used as breakfast or simply a snack, those with more demanding tastes accompany them with any type of food and at any time of the day. These tamales are boiled with banana leaves stuffed with a mixture of cornmeal, rice with saffron, pork, and a variety of beans and vegetables.
Another of the most provocative dishes are the so-called "Carnitas". These are pieces of meat cooked on the grill. Once made, it is placed in the center of an omelet that is combined with various spices to give it a unique and special touch.
And if it is about drinks, Costa Rica is the "Queen" regarding delicious drinks, with unique and unequaled flavors, among which the Chan stands out. This is a slightly sweet and viscous drink from the addition of water to a few tablespoons of Chan seeds. They are small and have an aroma similar to lavender. When the water is added, the seeds develop a viscous layer around it.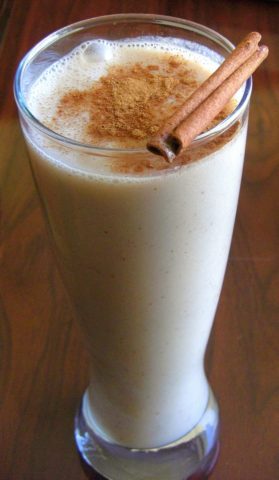 Complementarily, it helps the digestive system and lowers fever and blood pressure. It is also advisable to take it in the morning as a substitute for coffee or in the evenings, ideal to cool off on days with high temperatures. Some other varied and delicious drinks that leave more than one open-mouthed, for their exquisite taste, are the natural soft drinks. So just are known natural juices freshly squeezed fruit, mixed with water or milk, with sugar to suit everyone.
There is an impressive amount of soft drinks available in Costa Rica; such as Carambola Cas, a fruit native to Costa Rica. In addition, we can also include guanabana, mango, passion fruit, blackberry, and papaya.
In this natural paradise, delicious recipes are always prepared, easy to make and, most importantly, always taking care of our health. It is truly a range of possibilities that you can only find in this land, as I always tell you if you are a native of this land, or you are visiting, do not miss the opportunity to enjoy yourself to the fullest and pamper yourself with tasting, the wonders and excellent options offered by our unbeatable local gastronomy.