A common gripe about living in Costa Rica is the repetitive food. There's a certain comfort in always being able to stop by your local soda and enjoy an inexpensive casado with nutritious black beans, rice, salad, and possibly a wedge of avocado, but it can also get tiring to eat gallo pinto with every single meal.
Yet there's one aspect of Costa Rican cuisine which is always varied and delicious: the fruit. Whether they're native or exotic, Costa Rica is home to dozens of fascinating fruit that can keep your diet fun and interesting. Some tropical fruits like banana and pineapple, which make up big portions of the country's agricultural exports, are already well known outside the tropics, but there are dozens of other fruits that are not as widely exported and best enjoyed at the local market or even right off the tree. Listed below are some of the most memorable and flavorful tropical fruit of Costa Rica.
TIP: Get our latest content by joining our newsletter. Don't miss out on news that matter in Costa Rica. Click here.
Guanábana (Soursop)
Big, round, green, and covered in spines, the guanabana is interesting just by virtue of its unique appearance. Even so, the fruit's taste is what makes it one of the tropic's finest. The white flesh is gooey and full of seeds, so guanabana is difficult to enjoy by itself, but tastes great as a juice or especially in a milkshake.
Marañón (Cashew)
Few people realize that cashew nuts, such a famous and widespread food commodity, come from a tree with at least an equally delicious fruit. Bright red, yellow, and orange, the cashew fruit looks something like a swollen jalapeño pepper, maybe a little squatter. Great eaten fresh or made into juice.
Jocote (Jocote)
Related to the marañón, the jocote resembles its cousin, but in a smaller, rounder version. The seed is large and the fruit has relatively little flesh, but is nonetheless deliciously tart and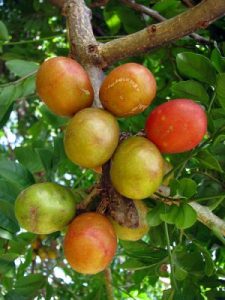 sweet. Some of Costa Rica's monkey species seem to enjoy munching on jocote even more than people, although they're still a commonly sold by fruit vendors.
Carambola (Starfruit)
Carambola might be a little more recognizable to visitors from northern lands than some of the other fruit featured on this list, but it remains an underappreciated tropical specialty. The fruit change from a leafy green to an intense yellow when mature. They can range from sweet to a little sour, and are a nice addition to a salad as star-shaped slices. Carambola also makes great juice.
Zapote (Sapote)
With a deceptively dull scaly brown skin, the inside of the zapote is a rich burgundy with one slick black seed running the length of it. The pulp is great eaten by itself, and sometimes also turned into ice cream. A wedge of zapote also makes an excellent desert without any accompaniment.
Tamarindo (Tamarind)
Tamarindo makes for a hearty yet completely refreshing juice. The fruit can also be eaten raw, and it can be fun to crack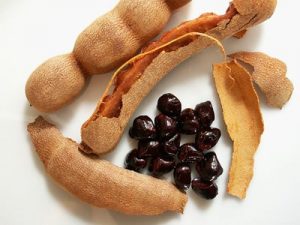 through the flaky shell and sort out the pebble-like seeds with your tongue while savoring the flesh. Tamarindo has a sweet and sour flavor, as well as a slight acidity to it.
Granadilla (Sweet Passion Fruit)
Another fun fruit to physically interact with, the granadilla shell can be punctured with a thumb and easily ripped apart without spilling the seeds and flesh that clump together inside. The interior of the fruit is somewhat bizarre looking, with several cilia-like protrusions surrounding a surprisingly unmessy goop of seeds. It's best to just swallow the refreshing insides of the fruit in one or a couple gulps while not really chewing anything.
Enjoying Costa Rica's range of interesting fruits is a great excuse to interact and support local vendors, enjoy a part of the botanical exuberance that makes the region so compelling, and generally just get to know the country better. And the list above is only a sampling, so the dedicated explorer of tropical fruit will soon discover many more exciting varieties to savor and enjoy.
By Frank Izaguirre