Have you ever been to Costa Rica or have you tried the main dishes of your traditional food?
The quality of the following dishes when you are at home is unbeatable, so try to apply them in some dishes of your daily meal.
TIP: Get our latest content by joining our newsletter. Don't miss out on news that matter in Costa Rica. Click here.
1.   "Casado"
Casado or typical food is the most common dish in Costa Rica. It consists of beans, rice with finely diced red peppers and onions, fried plantains, a cabbage salad with tomatoes and carrots, and a choice of meat between chicken, fish, pork or veal with roasted onions.
The meat comes with a broiled or sautéed but never fried. Sometimes, the married person includes potato chips or extra vegetables, such as avocados.
Authors mention that the dish is named for being the food of a married man. But local history in Costa Rica says that this is "the first meal in a marriage", the dish is elaborated by small portions of several dishes with the objective of knowing that stew is the couple's favorite from day one.
2.   "Ceviche"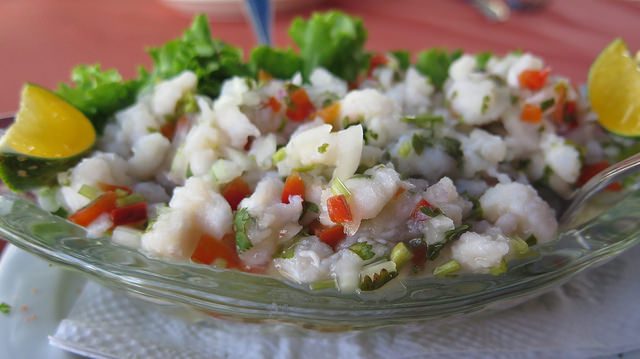 Ceviche is an appetizer consisting of fresh raw fish marinated in citrus juices like lemon with finely chopped herbs and vegetables. In Costa Rica, the best ceviche is made with local tilapia or corvina (white bass) and cilantro, garlic, chili, onion, and celery.
According to the Peruvian geographer and historian Javier Pulgar Vidal, the name "ceviche" comes from the Quechua word
3. "Gallo Pinto"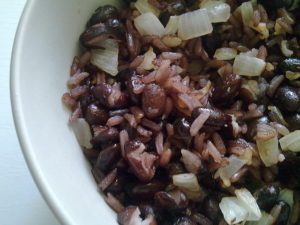 Gallo Pinto is the typical Costa Rican breakfast. It consists of rice and beans mixed together, fried or scrambled eggs, minced meat, fried plantains, and tortillas. A popular custom in Costa Rica is to pour the Lizano sauce on the rooster pinto, sweet greenish brown with the slightest hint of spice.
There are three main versions:
the Central Valley, where the rooster pinto is moister, less greasy, and is seasoned with chile, coriander and onions. A variant includes the addition of Lizano sauce, an English sauce that was first created and patented in Costa Rica by Prospero Lizano in 1920 with native ingredients and is a version of Worcestershire sauce. With the passing of the decades this sauce has become part of the identity of Costa Rican pinto cock;
the one of Guanacaste, with a rooster chick more greasy and toasted; made with red beans.
the Caribbean coast (Puerto Limón and Puerto Viejo), known as "rice and beans" (rice and beans), in which rice and beans are cooked with coconut milk and chile habanero (locally known like Panamanian chile).
4. "Olla de Carne"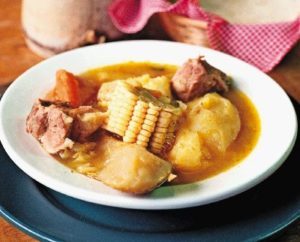 The Olla de Carne is a rich and nutritious stew made with huge pieces of meat, potatoes, carrots, chayote, bananas, yucca, sweet potatoes, green bananas, and sweet potatoes.
His story begins with a Jewish dish called Adafina. Also mentioned in the famous book of Don Quixote de la Mancha is a similar dish called Pot rotten, which did not mean rot if not pot potent or powerful, due to the nutritional result. It is thought that when they arrived in Costa Rica, they modified and added the ingredients that were at hand or that were native to the country.
In Costa Rica, the largest number of people consuming this dish was a total of 600 people in an activity carried out by a chain of supermarkets
5. "Chan"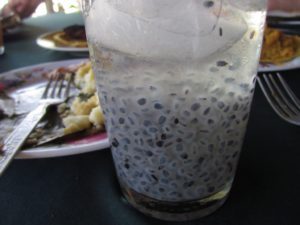 Chan is a slightly sweet and viscous drink from the addition of water to a few tablespoons of chan seeds. The chan seed is small and has a lavender-like scent. When the water is added, the seed develops a viscous layer around; It also helps the digestive system, lowers fever and blood pressure.