Due to the effects of the tropical storm "Nate" that is affecting many regions of Costa Rica, the Ministry of Public Education (MEP) announced the suspension of teaching lessons in all the educational centers along the country. The MEP authorities made that decision by taking into consideration the potential risks of having students at most of the public schools in Costa Rica.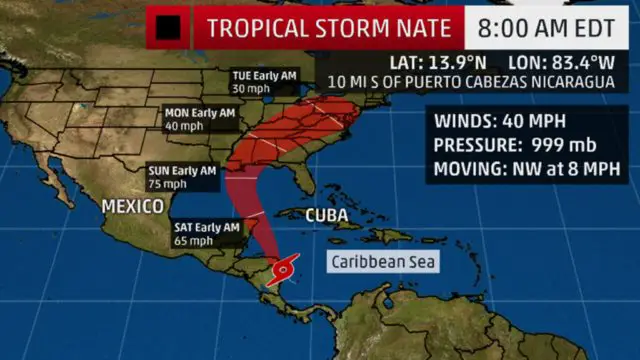 On the other hand, the emergency call center of the Civil Protection (CP) headquarters has been receiving phone calls from different regions, especially Heredia and Guanacaste. The sudden cuts to the electricity service and water supply are causing inhabitants from many communities look for safer places where to spend the night. Local authorities are recommending to take the necessary previsions.
There are also floodings and landslides reported in many regions. Additionally, the National Government has closed main roads and highways:
Route 1, closed in Cambronero.
Route 2, Southern zone, closed in Paso Real, from Palmar Norte to Cartago
Route 3, in Cerro del Aguacate.
Route 21, the road to Guanacaste in Limonal.
Route 27, that communicates San José with Caldera; closed by landslides.
Route 32,  that communicates San José with Limón; closed by several landslides.
Route 34, Costanera Sur; landslides and floodings in Parrita.
Route 126, in Vara Blanca, closed by several landslides.
Route 141, passes Regulado in Tapezco.
Route 142, that communicates Tilarán with La Fortuna; completely closed.
Route 239, in El Alto de Quitirrisí; completely closed.
Route 243, from Dominical to Pérez Zeledón; closed because of a bridge collapse.
Route 209, from Aserrí to Palmichal de Acosta; closed by several landslides.
By now, those were the available breaking news. We will be informed as soon as possible.