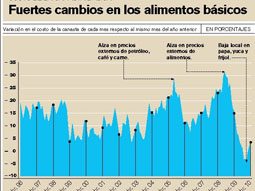 by PATRICIA LEITON
TIP: Get our latest content by joining our newsletter. Don't miss out on news that matter in Costa Rica. Click here.
The price of staple foods rose again after the historic collapse that occurred last January.
In April 2010 the cost of the basic basket, which is a set of 45 basic foodstuffs, amounted to ¢32,081.99, an increase of 3% compared to April 2009, according to monthly data published by the National Statistical Institute Censuses (INEC).
In January 2010 the price of basic food basket had fallen 4.7% over January 2009.
Inec estimates that a person with ¢32081.99 per month can buy food quantities required to meet their basic needs.
Therefore, a household of four needs at least ¢128 327 per month to acquire the basic food basket. If this household is less than that, it is considered in extreme poverty.
The problem with this basket is that it was made in 1995, based on the consumption habits of Costa Rica from 1987 to 1988.
The NICE is developing a new food basket is planning to publish this year.
Until then however, this is the only one available and it can at least be used to see the evolution in cost.