Costa Rica, the jewel of Central America, is renowned for its stunning natural beauty and diverse landscapes. While the country is famous for its lush rainforests, majestic volcanoes, and abundant wildlife, its exquisite coastline and pristine beaches deserve special attention. From the Pacific to the Caribbean, Costa Rica boasts a plethora of coastal treasures that are sure to enchant beach lovers from around the world.
Join us as we embark on a journey to explore some of the most breathtaking beaches in Costa Rica:
1. Manuel Antonio Beach:
Nestled within the lush confines of Manuel Antonio National Park, Manuel Antonio Beach is a tropical paradise that perfectly combines natural beauty and accessibility. With its crystal-clear turquoise waters, verdant rainforest backdrop, and pristine white sand, it's no wonder that Manuel Antonio Beach is a favorite among both locals and tourists. Visitors can relax on the beach, go for a swim, or explore the park's hiking trails, where they might encounter monkeys, sloths, and a variety of colorful bird species.
2. Santa Teresa Beach:
Located on the Nicoya Peninsula on the Pacific coast, Santa Teresa Beach is a hidden gem known for its laid-back vibes and world-class surf breaks. Surrounded by stunning cliffs and lush vegetation, this idyllic beach offers miles of golden sand and consistent waves that attract surfers from across the globe. Besides surfing, visitors can also enjoy yoga retreats, horseback riding along the shore, or simply relax and soak in the sunsets that paint the sky with breathtaking colors.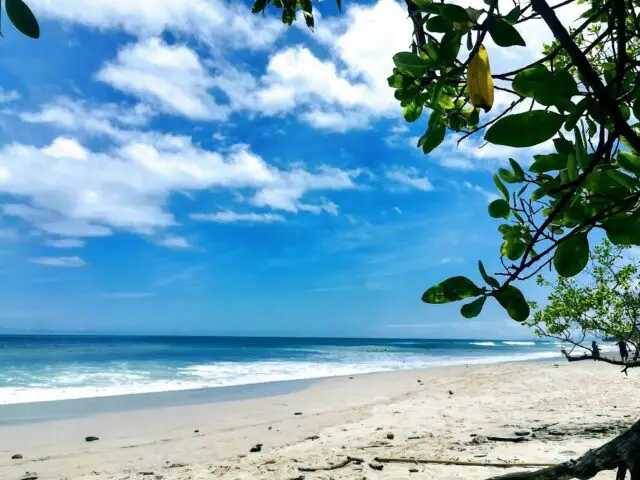 3. Playa Conchal:
Considered one of the most unique and mesmerizing beaches in Costa Rica, Playa Conchal is unlike any other. Situated on the northern Pacific coast, this beach is renowned for its shore made entirely of millions of tiny crushed seashells, creating a surreal and dazzling effect. The calm waters, protected by a coral reef, make Playa Conchal ideal for swimming, snorkeling, and scuba diving. Explore the vibrant underwater world, full of vibrant marine life, or simply unwind on the powdery white sand.
4. Punta Uva:
Located on the stunning Caribbean coast of Costa Rica, Punta Uva offers a pristine and unspoiled beach experience. Its tranquil turquoise waters, fringed by swaying palm trees and lush rainforest, create a picturesque tropical paradise. Punta Uva is a diver's delight, with a coral reef just off the coast, teeming with a kaleidoscope of colorful fish and other marine creatures. For those seeking relaxation amidst nature, Punta Uva is the perfect destination.
Costa Rica's beaches offer an otherworldly experience, combining natural beauty, adventure, and relaxation. Whether you're seeking thrilling surf breaks, tranquil shorelines, or vibrant aquatic life, the beach towns of Costa Rica have something to offer for every kind of traveler. From Manuel Antonio's stunning vistas in the Pacific to the untouched beauty of Punta Uva on the Caribbean side, Costa Rica's beaches are a true paradise waiting to be explored. Plan your beach getaway to this enchanting country and experience the magic for yourself.