Today, Costa Rica receives tourists and visitors from various parts of the world. This Central American country offers travel lovers a territory full of adventure, breathtaking views, as well as unique and unforgettable experiences. Currently, the Juan Santamaría International Airport offers Costa Rican citizens and millions of tourists the opportunity to connect with 446 destinations in America and Europe, through its 423 commercial flights and 23 charter flights.

Those interested can choose between flights with and without stopovers. And the full service and low-cost option. Added to this, there is the possibility that, in high seasons, the frequency of departures increases due to the demand that has a destination or city. Today, this airport has the presence of 27 active companies that offer tour packages and various options to travelers. Among which are: Edelweiss, Lufthansa, KLM, British Airways, Air France, Condor, Volaris, Alaska Airlines, Iberia Airlines, among others. Main routes At the Costa Rican air terminal, the frequency of flights to destinations in Europe ranges between 1 daily flight and 3 per week. Meanwhile, the destinations to other parts of America do have higher scheduled departures.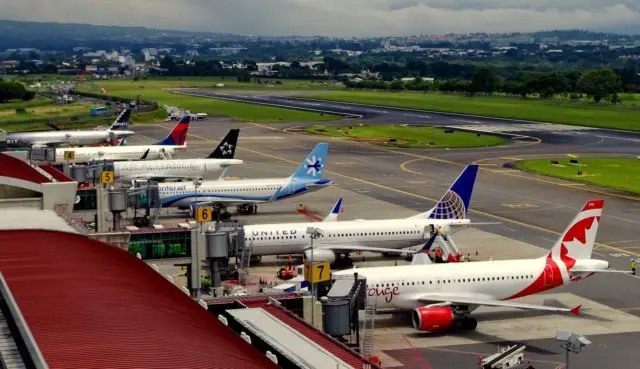 Today, the most frequent routes are to Mexico, Panama, the United States, and El Salvador. Among the main destinations offered by this incredible airport, we can mention Toronto, Los Angeles, Cancun, New York, Lima, Caracas, Paris, Zurich, London, Amsterdam, among others. Whatever destination you wish to meet, at this airport you will find a large number of direct-flight options, although you could also decide on the option of stopovers. Currently, many airlines offer low-cost flights. This will allow you to have a greater variety of alternatives to choose and, in this way, you can save more money.