With the start of flights to Washington DC, the airline "Volaris Costa Rica" yesterday added its 3rd destination in the United States (US). Along the route, the company offers tickets to Los Angeles and New York, based on its low-cost model.
The connections between Juan Santamaría International Airport and Dulles International Airport, in the US capital, are made via El Salvador. Trips leave Costa Rica on Mondays and Wednesdays at 1:30 pm, land in San Salvador at 3:00 pm. and arrive in Washington at 11:35 pm.
While the return is on Tuesdays and Thursdays, departing at 1:52 am, the arrival at the Salvadoran capital at 5:00 am. In the national territory, it is at 7:35 am.
"Having a station in the US capital opens up new horizons and strengthens our commitment to offer competitive rates to new destinations. We are confident that the exchange between the large Central American community that resides in the District of Columbia, in Washington, and in Virginia and its surroundings will increase considerably", said Fernando Naranjo, General Manager of Volaris Costa Rica.

For its part, the route to Los Angeles -the city in the United States that Volaris arrived in March- has 2 weekly frequencies, on Thursdays and Sundays. Flights to New York, which began in April, depart on Tuesdays and Fridays from San José and land at the John F. Kennedy Airport. In all 3 cases, rates start at US$ 150 per way, with taxes included.
"The arrival of Volaris in US cities will open opportunities and strengthen operations to the country of which Costa Rica receives the largest number of tourists, about 1.3 million", said Maria Amalia Revelo, Minister of Tourism.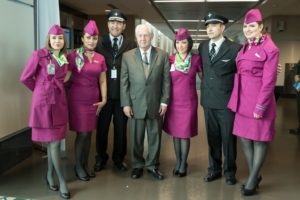 The expansion of the market by Volaris Costa Rica, whose operation began in December 2016 with flights to Guatemala and since then its expansion focused on Central America, aims to increase connectivity in this region and to bring family, friends and business people closer together. In the US, the company will apply a price-based strategy to compete for low-cost airlines such as Alaska and Spirit, which offer flights to that country.
Likewise, it will benefit from the signing of a shared code with the American aeronautical company Frontier. "For the 1st time, 2 low-cost airlines such as Frontier and Volaris came together to have a shared code, so they can exchange routes that will give a lot of connectivity to both companies", Naranjo said when the agreement was announced last March.