A few days ago, it became known that 10 Costa Rican athletes qualified to participate in the World Swimming Championships that will take place in Budapest, Hungary from June 17th to 25th. The artistic swimming athletes will participate in routines such as: Technical Team, Highlight, Free Solo, Technical Solo, Free Duet and Technical Duet.
It is worth noting that the World Cup qualifier took place in the pool of the Heiner Ugalde Sports City in Hatillo, venue of the 2022 National Artistic Swimming Championship, on the weekend of May 14th and 15th.
TIP: Get our latest content by joining our newsletter. Don't miss out on news that matter in Costa Rica. Click here.
This event had the participation of sports associations such as Orquídea, with its coach Violeta Mitinian; Alfa, by coach Cristina Hiller; and Milenio, by coach Verónica Arce. The two-day national tournament was led by international judge Laura Marín Bonilla from Mexico.
The qualified athletes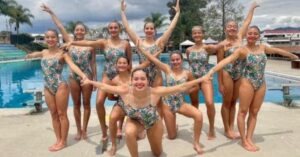 Among the Tico athletes that classified were: Ana Mitinian in Free Solo, María Paula Alfaro in Technical Solo; both athletes will be in Technical Duet. Andrea Maroto and Raquel Zúñiga will participate in Free Duet.
They will be joined by Mariela Jenkins, Jimena Lizano, Elda Moreira and Jimena Solano, for the Technical Team routine. And in the Highlight routine, all the aforementioned athletes will be presented along with Ilani Rocha and María Paz Castro.
What do the athletes that will participate in the World Cup in Hungary have to say?
The athletes were happy compete again, because everything is returning to normal in the face of the decrease in Covid-19 cases. Andrés Maroto, an athlete from the Alfa Sports Association, expressed "we had not had a national championship for three years, so many of the new girls who entered had not experienced a tournament. This was a very good warm-up for all of them and after so long, keeping ourselves with competitions and with goals maintains our motivation to be better athletes and to continue training and knowing that everything we are doing has its reward."
Also, Jimena Lizano from the Orchid Association highlighted that they will be with more work sessions to improve all the details seen in the event. Finally, the coach of the Alpha Association, Cristina Hiller, said at the end of the national event, that they will intensify the training so Costa Rica can achieve excellent results in the upcoming international competitions.