Costa Rican artist Aimée Joaristi positions Costa Rica on the map of contemporary Latin American art with her recent international participations. Her works are currently being shown in featured curated exhibitions in the United States and Mexico, just opening this March, and coming soon in Guatemala in June, after having closed a retrospective of her career in Spain on March 12th.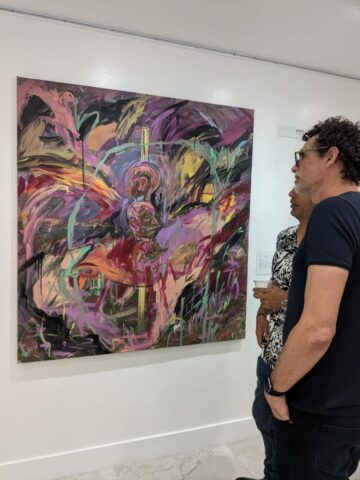 These invitations from cultural spaces abroad are part of the recognition that the artist has been gaining internationally, thanks to her work in painting, video, installation, and now also photography.
In addition to current exhibitions outside of Costa Rica, last year Aimée's work was at Passerelle, Center d'art contemporain, Brest, France; La Casa del Reloj Cultural Center, Matadero, Madrid, Spain; National Museum of Modern Art "Carlos Mérida", Guatemala City, Guatemala; and the Museum of Arts and Sciences, Daytona, United States. Likewise, she also exhibited in the Costa Rican spaces of the Regional Museum of San Ramón, Alajuela; Cuarto37 Gallery, San José, and the National Gallery, San José.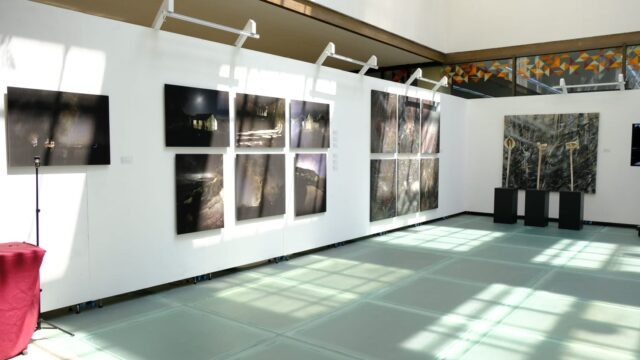 Mexico
Due to her Cuban-Costa Rican origin, Aimée participates in the exhibition "And that light? It is your shadow" inaugurated at the Anahuac University, Mexico, last Friday. In the exhibition, works in photography, painting and audiovisuals from her recent series "Mallorca" are presented, which shows an evolution of dark painting together with shades of light from her drawing stages. The exhibition is named after a verse from the unnamed poem LXXIII by the Cuban writer Dulce María Loynaz, referring to the stages of light and shadow that characterize the career of the artist.
Inaugurated on March 17th in the framework of the International Day to Promote Reading, the exhibition is available from 8am to 10pm at the Library of the Universidad Anahuac Campus Norte until April 17th, together with the photographic work of Marta María Pérez, a prominent artist from the Cuban diaspora as well.
USA
Also in relation to the multiculturalism of the Cuban-Costa Rican artist, at MOCAA, Museum of Contemporary Art of the Americas, in Miami, Aimée presents her work "Three heads" within the exhibition "Carmen sends me" together with 25 female artists paying homage to Cuban artist Carmen Herrera who passed away a year ago in New York City.
Carmen Herrera was one of the figures of Cuban art that broke down the barriers of her time so that today the art created by women can be exhibited with total freedom in most exhibition spaces in the United States and the rest of the world. This work is part of her series "The Shape of Time" which was exhibited last year at the "Casa del Reloj" cultural center, in the Matadero artistic complex, in Madrid.
Guatemala
The 2023 edition of the JUANNIO auction announced among its selection of works the Tica Aimée Joaristi who, among other prominent 24 Latin American artists and also the Costa Ricans Dino Urpí and Javier Martén, will be exhibiting at the "Carlos Mérida" National Museum of Modern Art in Guatemala this coming June.
TheTica participates with her work La Condenada, a work in mixed technique on canvas measuring 210×160 cm, which, from abstract expressionism, condenses the artist's emotions related to the pandemic and the connection with tropical gardens that characterizes her series "Jardín del Cielo y las Flores del Mal", work that was born as a tribute to those men, women and children who died during the pandemic, alone, and without their families accompanying them in hospitals. It is a post-mortem floral offering, as an accompaniment to the lonely and abandoned bodies.
JUANNIO is a high-level artistic and philanthropic event that has existed since 1964, positioning itself as one of the most important in Guatemala and Latin America. It is held annually, and by 2023 it will consist of a contest, private auction, and exhibition and sale of Latin American Art. The funds raised in the JUANNIO auction serve as a contribution to the operation of the Neurological Institute of Guatemala (ING).
Spain
On March 12th, the exhibition of Aimée Joaristi, "Umbrías", closed at the La Neomudéjar Museum in Madrid after 1 month of exhibition to the Spanish public. The exhibition reviewed the dark work of the artist's career between 2014 and 2023, including works from her well-known series Silencios y Gritos, Fantasmas, Guerra Continua, and her recent work on Umbrías, in which she also began photography. .
In Costa Rica, the La Neomudéjar Museum has held joint exhibitions with the Museum of Contemporary Art and Design (MADC), the Cultural Center of Spain (CCE) and the National Gallery, working together to promote exchanges between Spanish and Costa Rican artists. For its part, in Madrid, the Museum has exhibited Costa Rican artists such as Rossella Matamoros, Monserrat Mesalles, Juan José Alfaro, Adrián Coto and Man Yu.
More about Aimee Joaristi
Aimée Joaristi is a multidisciplinary Costa Rican artist who explores themes related to unconsciousness, playful transgression, migration, and women's vindication in her recent works. From painting and installation, to performance and video art, the multiple media are conceived as one more channel of communication for those messages that are born from intuition and self-exploration.
Among her outstanding exhibitions where she has represented Costa Rica are the 1st International Biennial of Contemporary Art SACO 2022, the IX International Video Art Festival of Camaguey 2021, the 13th Havana Biennial 2019, the Mantova International Biennial of Contemporary Art 2017, the Guayaquil Biennial 2016, the 5th Riga International Triennial of Fiber and Textile Art 2015, Matadero Madrid, C.A.V. La Neomudéjar Spain, Zapadores City of Art Museum Spain, PHOTO Spain, ARCO Madrid, ART Lima Peru, Daytona Museum of Arts and Sciences, among others.
Her works are found in private collections in Chile, France, Mexico, Madrid, and others, and important public collections, including the Wifredo Lam Museum in Cuba, the Museum of Decorative Arts and Design in Latvia, and the C.A.V La Neomudéjar Museum in Spain.